One of my finds at Swiss Days this year was a baguette bread pan from the Food Nanny! I have been making baguette bread on a cookie sheet and it works fine, but the baguette pan gives your bread the rounded bottom and it put the design of the holes on the bottom! Purely, cosmetic, but oh so fun!
Of course, you do not need a baguette pan to make this wonderful bread! This bread is so easy to make and is great for beginners because it only has a few ingredients! This bread is very versatile because you can cut it for sandwiches, hamburger buns, hot dog buns, french bread pizza, etc, etc, etc!
I have tried a few different variations of this bread and I like this version that I have changed from the Food Nanny.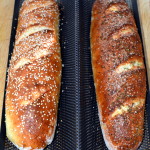 French Baguette Bread
2014-09-21 21:48:15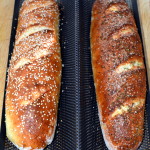 Serves 12
A delicious crusty bread! Add one of the toppings to change the whole flavor! Great for sandwiches, hamburgers, hot dogs or pizza!
Nutrition Facts
Amount Per Serving
Calories 128
Calories from Fat 7
Trans Fat 0g
Polyunsaturated Fat 0g
Monounsaturated Fat 0g
Total Carbohydrates 26g
9%
Sugars 1g
Protein 4g
* Percent Daily Values are based on a 2,000 calorie diet. Your Daily Values may be higher or lower depending on your calorie needs.
Ingredients
1 1/2 cups warm water, divided
1 1/2 tablespoon active dry yeast
3 teaspoons sugar, divided
2 teaspoons salt
3 cups all-purpose flour
1 egg yolk plus 1 tablespoon water
Toppings, optional: fresh or dried rosemary, sesame seed, kosher salt, garlic salt, or any of your favorite seasonings.
Instructions
In a small bowl combine 1/2 cup water, yeast and 1 teaspoon sugar. Stir just to combine and cover bowl with a plate. Let the mixture stand for 5 minutes or until it blooms a little.
In a large mixing bowl blend the flour, salt, the remaining 2 teaspoons sugar and the yeast mixture. Gradually add water up to the remaining 1 cup and mix until the dough forms a smooth ball that is not too sticky to handle. Turn the dough onto a floured surface and knead briefly, until the dough is smooth and elastic.
Cut the dough in half and shape the loaves into baguettes by folding the dough over once and shaping it from the center as you roll. Spray a baguette pan or large baking sheet with cooking spray. Place the loaves in the pan. Score the loaves down the middle or make deep diagonal slashes across loaf every 2 inches. Cover with a dishtowel and let dough rise in a warm place for about 30 minutes or until doubled in bulk.
Meanwhile, preheat oven to 450 degrees F. and place a shallow pan of water in the bottom of the oven to create steam. (This is what makes it crusty!)
Whisk the egg yolk and the water together and brush on the top of the bread before baking. Sprinkle with your choice of toppings if desired.
Bake the baguettes for 15 minutes or until golden brown.
Notes
Can brush with melted butter instead of egg mixture for a softer crust.
Adapted from from Food Nanny rescues dinner
Adapted from from Food Nanny rescues dinner
Pink Polka Dot Creations http://pinkpolkadotcreations.com/
This bread only takes about an hour from start to finish, so you can start it when you start making dinner and have hot homemade bread to go with your meal! Is there anything better than hot homemade bread?…I think Not!
Here is my bread dough, right after I placed it on the pan. You can also make a long slash down the middle of the bread instead of the diagonal ones. It is purely your choice!
Let the dough raise until it is double in bulk.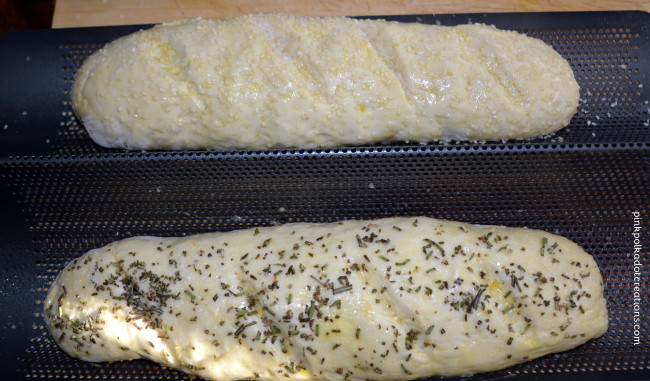 Brush the bread dough with the egg yolk mixture and sprinkle with your choice of toppings. The loaf on the top just has sesame seeds. The loaf on the bottom has chopped fresh rosemary and kosher salt! (Of course my favorite one is the one with the rosemary!)
See how easy that was! And you can have fresh, hot homemade bread slathered with butter (and jam) to go with your dinner tonight!
This bread is best eaten within a day or two. There are no preservatives and so it does not keep for a long time, however it does freeze well!
Are you ready to try out this simple but delicious bread! Your family will thank you…I'm pretty sure!
Thanks for visiting today! Have a Happy Monday!
Stay tuned tomorrow, I am going to do a Halloween roundup of all kinds of recipes, crafts, decorations and games! I will continue with ideas throughout the rest of the month and into October! It should be lots of fun, so please join me during this haunted, bewitching season!