It is January and I am still trying to do a little bit of organizing, I had this BIG stack of recipes that I had printed from different websites, pages that I had ripped out of magazines and some recipes that were handwritten by myself or given to me by a friend.  So I decided that I really needed to get them all organized, since they are recipes that I use and I was getting tired of flipping through the whole entire stack to find one recipe!  As I was looking through these recipes I noticed that some of them had been printed 3 years ago!  So I would say that it was definitely time to get my act together.  :)
I went to Costco and bought this plain white binder that you can put a page in the front of it and also in the spine.  This is the 2″ size.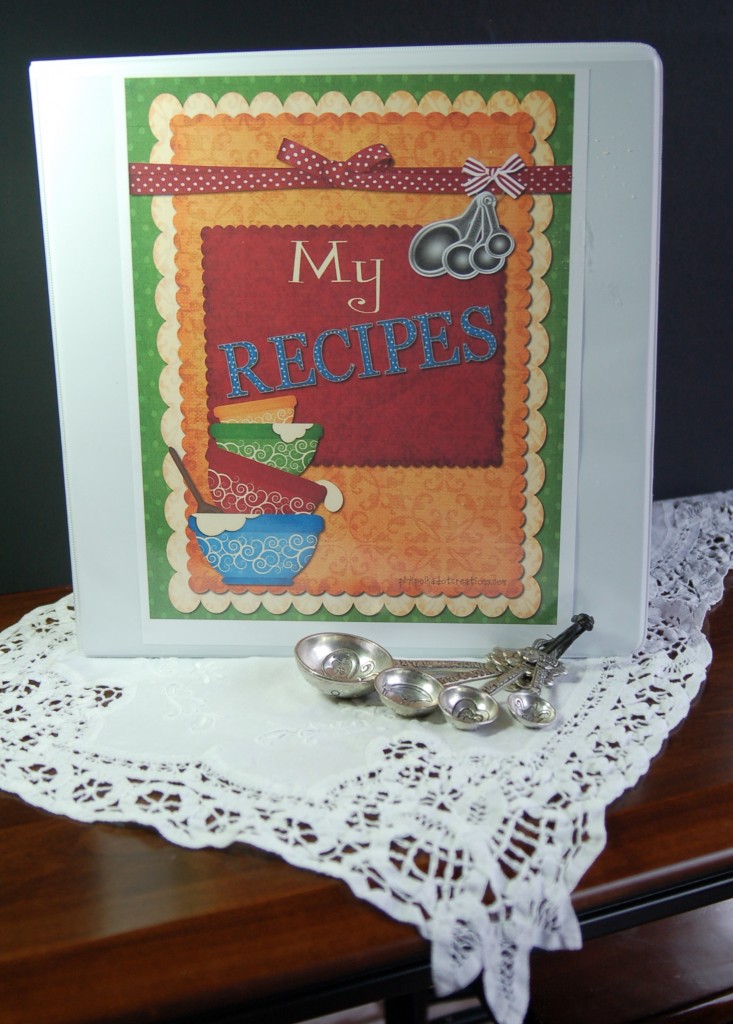 Then I went to an office supply store to get these sheet protector dividers.  If you put all of your recipes in sheet protectors like I did then you will need these sheet protector dividers or you will not be able to see the tabs.
I then designed these dividers that I put in the sheet protector divider pages with the tabs.  I used the "My Recipes" for the cover of my book and I created a spine title for the 2″ size binder.  There are tabs for each of the different titles and I also created some blank ones if you want to write in a category other than what I have included. These are the different categories pages that I made for my book.
If you would like to organize your recipes, here are the page dividers for you to print.  To print, right click and go to copy then open your favorite program like Word or Presentations, right click again and go to paste.  These are in 8 1/2″ x 11″ format to fit in the  standard size sheet protectors.
There are quite a few categories here so just pick the ones that you need and print them out for your own personalized book.
Here are the tabs and the spine title.  Just print, cut out and fold tabs in half and insert.
I hope that you can use these and that you can get all of your recipes organized.  It really is a great feeling!