Okay have any of you out there tried this homemade Miracle Fabric Cleaner?! It really is what it says! I don't where I have been all of my life, but this stuff is wonderful!! :)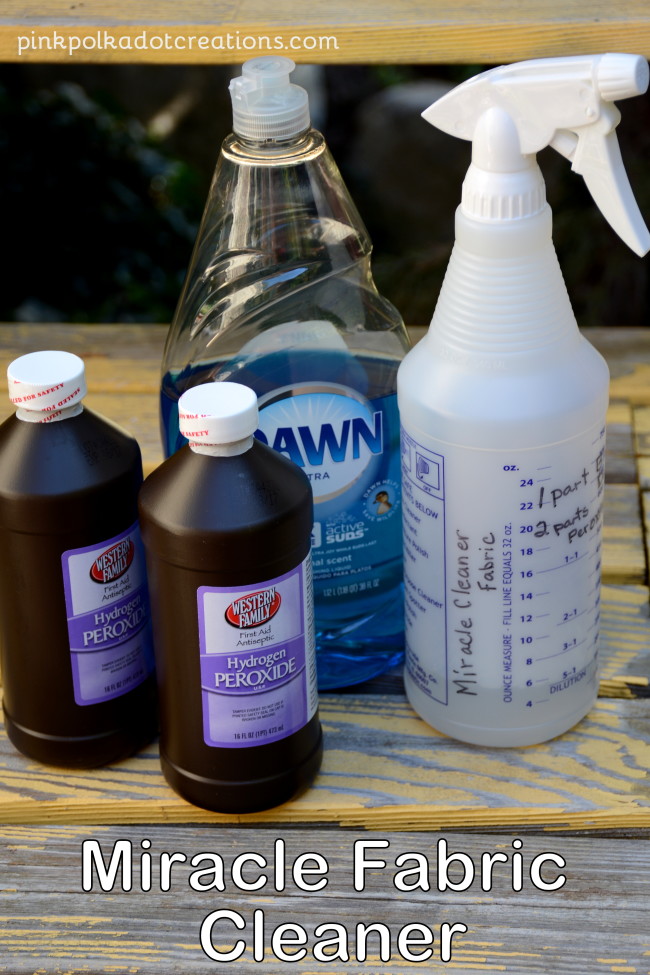 I have tried it on stains and they came right out. I have even tried it on old stains that have already been laundered and dried and the stains still came out! My husband has a white dress shirt that had some kind of black grease or tar on the sleeve (where do you get these kind of stains in a white dress shirt??) anyway, this shirt got washed before I knew that it was there and so I decided to try this miracle stuff on it and guess what…it came out. I did have to apply the cleaner twice to get it completely out, but it all came out! I am totally sold on this! It is so easy and inexpensive to make and it really does work wonders.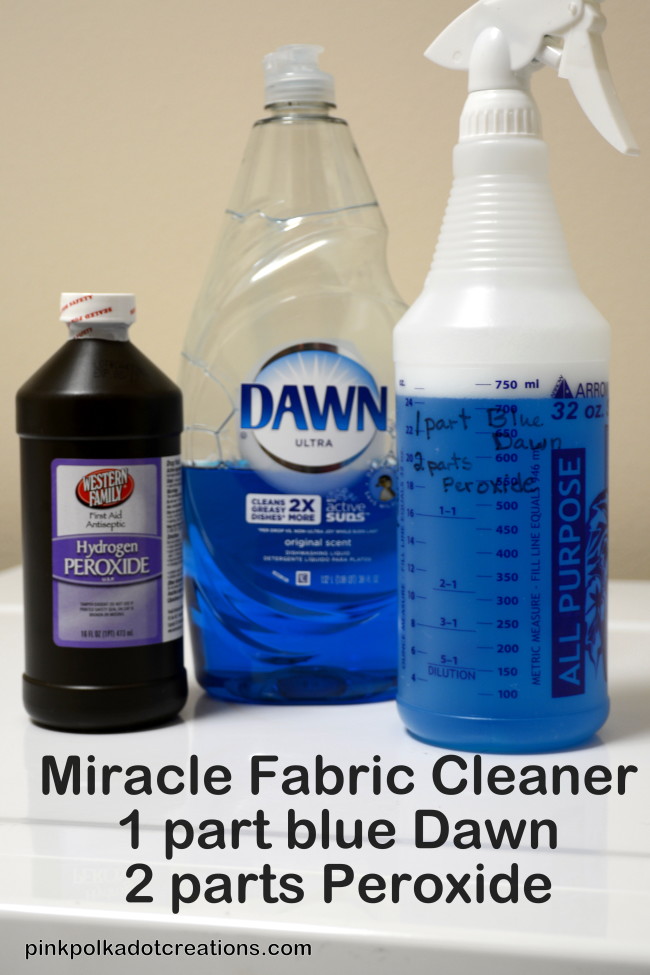 The recipe for homemade Miracle Fabric Cleaner
1 part blue Dawn dishwashing liquid
2 parts hydrogen peroxide
Mix and pour or spray directly on stain, launder as usual and watch it miraculously disappear.
I am always getting grease spots right down the front of me and before discovering this Miracle Spray, I would have had to use the shirt for a paint or cleaning shirt or ban it to the rags drawer! Now my shirts look like new again! It works great on set in grease, yellow arm pit stains, chocolate, blood and tire grease!
If you are worried about a really tough stain, you can use an old toothbrush and scrub the stain remover into the fabric. You can also sprinkle with a little baking soda to make a paste for a little extra scrubbing power, let it sit about an hour before washing.
As with any stain removers, you will want to do a spot test, but if it's an garment that's already ruined because of the stain, what do you have to loose?
I also tried this on a tough stain in my tile grout and it lightened it up quite a bit! I need to apply it again, but I have heard that others have used this Miracle Cleaner on carpet, upholstery, and many other places around the house with great success!
Have any of you used this Miracle cleaner? What have the results been? I would love to hear what ways you have used it and what your results have been!
If you like the miracle cleaner you might also want to try this DIY Fabric Softener.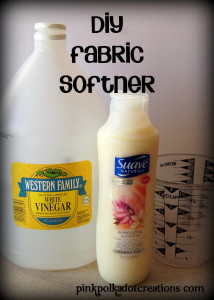 It is another inexpensive solution for your laundry needs.
Now, if someone would just come up with a way so that we did not need to do any laundry…think of how much more time you would have in your day!
But until they do…here are a couple of DIY things for you to try to make your laundry day easier!
Thanks for Visiting Today!