Today I want to share these delicious Cherry Cola Cupcakes!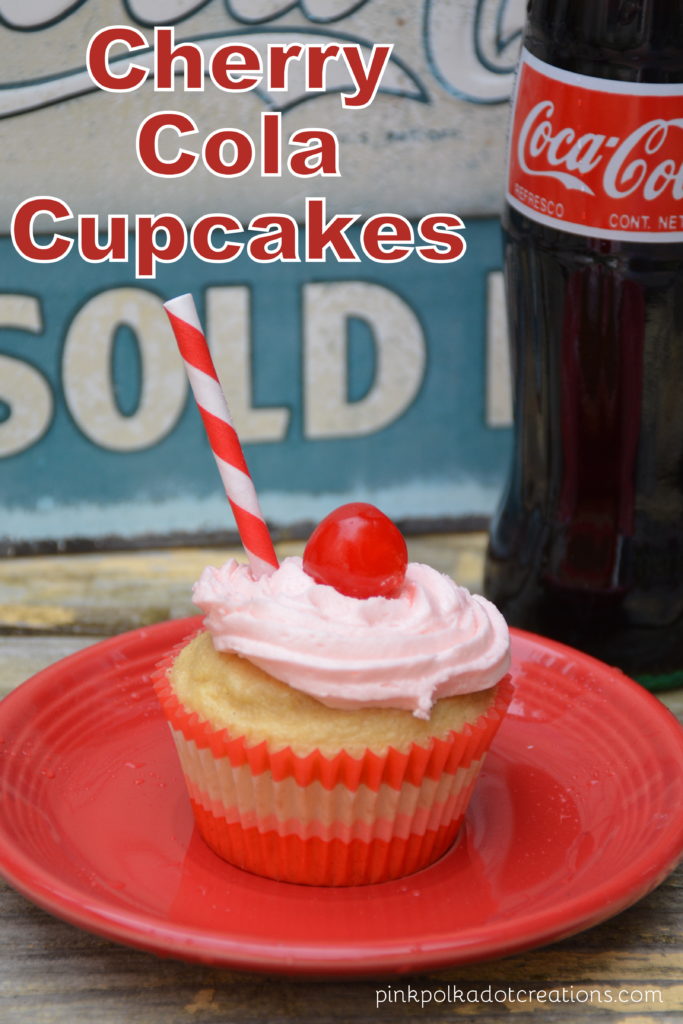 My Oh My!
To say that I am a cola lover is putting it mildly.
So…these cupcakes "take the cake" so to speak!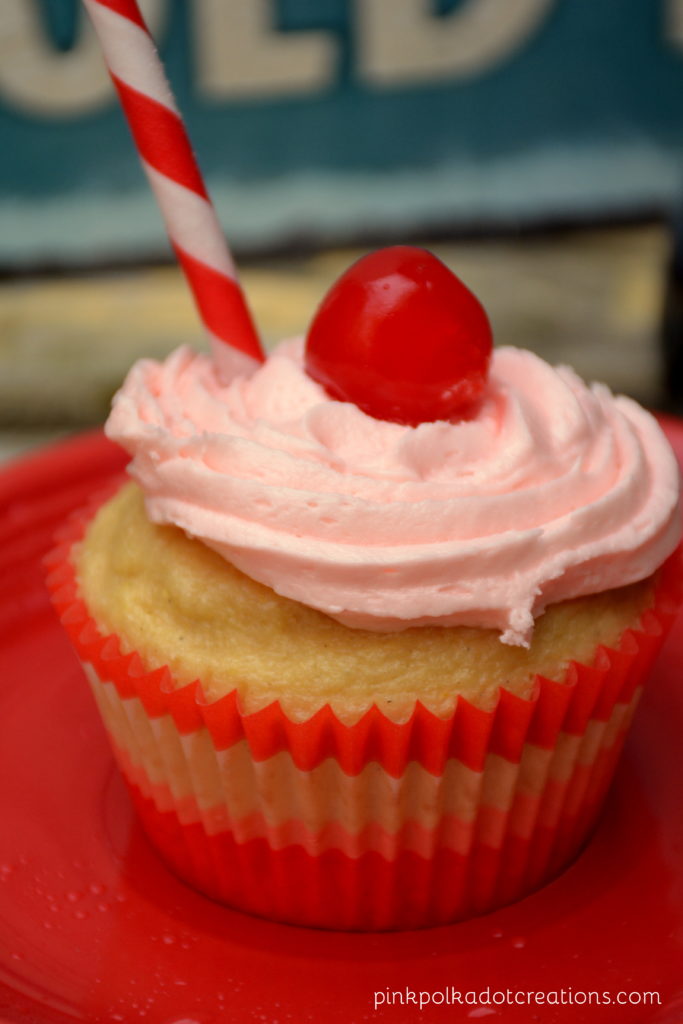 Took a recipe and put my own spin on it.
Because I did not have a cola extract and could not find it at my local grocery store, I made up my own recipe!
Adding cherry cola to the cake made it a moist, yummy cake!
This is kind of like my Weight Watchers cake, but Not…
because this is loaded with calories with the buttercream frosting!
That is what makes them so delicious! :)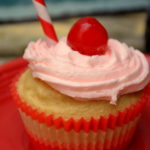 Cherry Cola Cupcakes
2017-08-17 20:01:25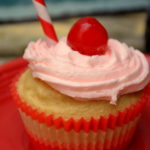 Serves 24
A delicious, light cupcake with a fun cherry buttercream frosting!
Nutrition Facts
Amount Per Serving
Calories 314
Calories from Fat 137
Trans Fat 0g
Polyunsaturated Fat 2g
Monounsaturated Fat 7g
Total Carbohydrates 42g
14%
Sugars 36g
Protein 2g
* Percent Daily Values are based on a 2,000 calorie diet. Your Daily Values may be higher or lower depending on your calorie needs.
Cupcakes
1 white cake mix
1 box instant vanilla pudding
1 cup cherry cola
1/2 cup vegetable oil
1 cup sour cream- I used light
1 tablespoon vanilla
4 eggs
Cherry Buttercream Frosting
1 cup butter softened
3-5 cups powdered sugar
4-6 tablespoons maraschino cherry juice (flavor to taste)
maraschino cherries to decorate
Cupcakes
Preheat oven to 350 degrees F.
Put paper liners in 24 cupcake tins.
Mix all cake ingredients together until smooth. Spoon cake batter into the paper liners. I used an ice cream scoop to get the batter even. Bake for approximately 18 minutes. Check with a toothpick in the center of cupcake. If it comes out clean the cupcakes are done. Allow to cool completely before frosting.
Cherry Buttercream Frosting
Whip butter until smooth and creamy. Add powdered sugar one cup at a time. Add the maraschino cherry juice until the consistency you want. You will want the frosting a little on the thick side. Pipe frosting onto cooled cupcakes. Add a cherry on top and a fun straw cut in half! Enjoy!
Pink Polka Dot Creations http://pinkpolkadotcreations.com/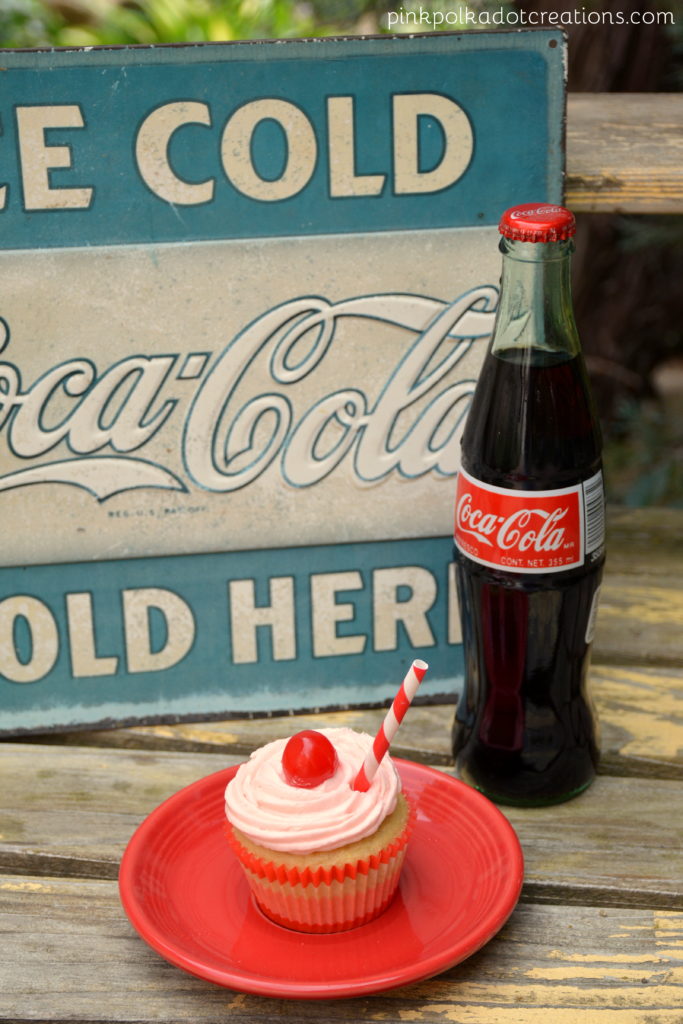 Cherry Cola Cupcakes would be perfect for an end of summer party, Labor Day, after school treat or for a fun birthday party!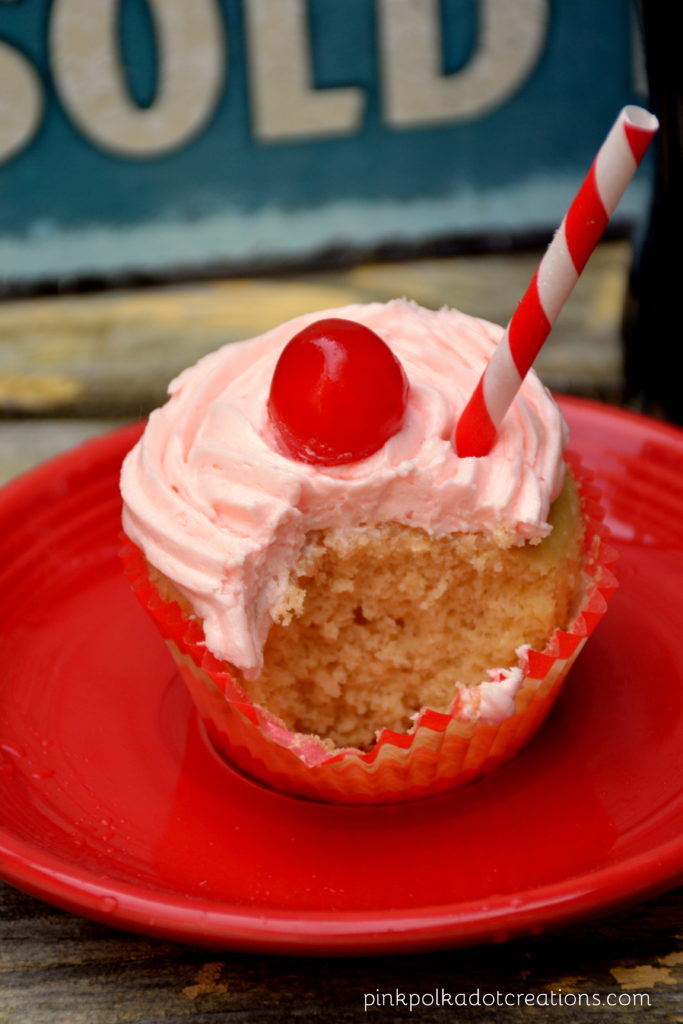 My mouth is watering, just looking at this picture!
It might just be time to make some more of these delicious Cherry Cola Cupcakes!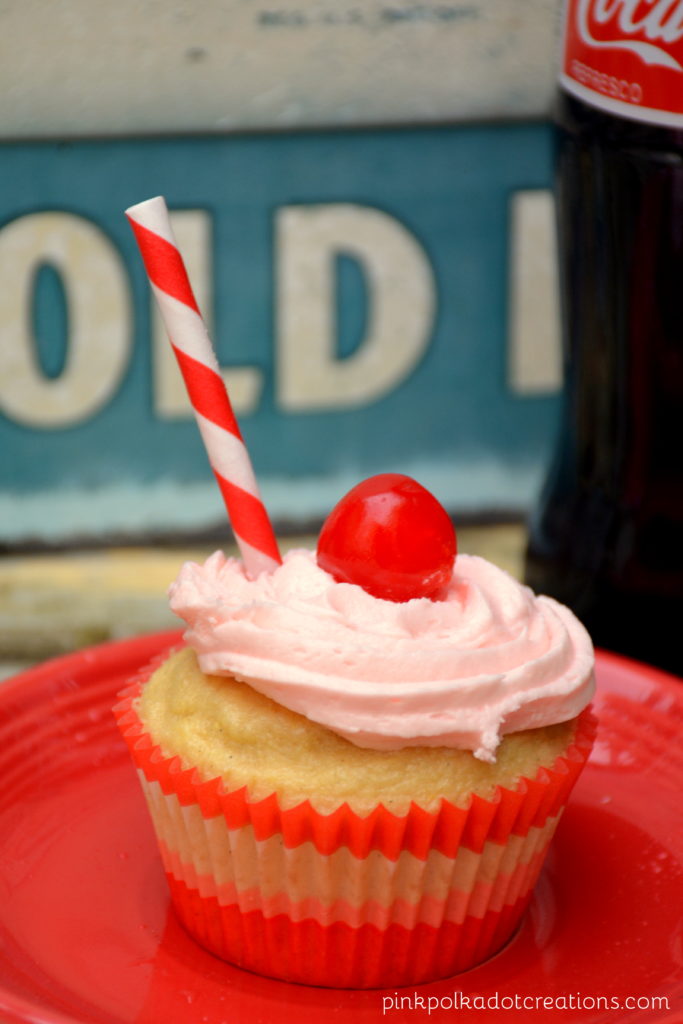 Do you have a favorite cupcake that you like to make?
Because I love the flavor of this cupcake…
You will find that this one is definitely going to be added to my arsenal!
This is the last weekend before our schools start! So everyone is getting their last big fling in before the kiddos all head back to school.
We have ballgames and family dinner planned for this weekend.
Do you have some fun plans for this weekend?
Hope that you get to spend it doing something you love…with someone you love!
Thanks for Visiting! Have a great weekend!