Last week the kids were out of school for spring break, so I thought that it would be fun to make a pinata for our Easter party with the two grandkids that I tend…
 WHAT WAS I THINKING?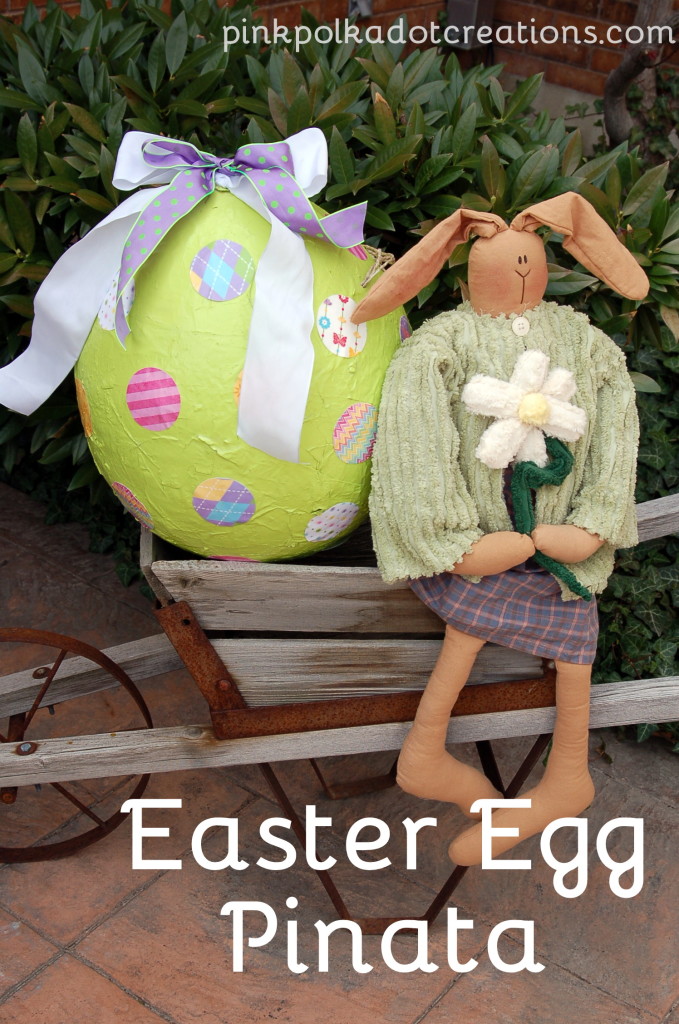 It  was a big fat mess making the pinata, but we did it and every thing turned out great, but a 4 year old helper with something like this was really not a great idea! :)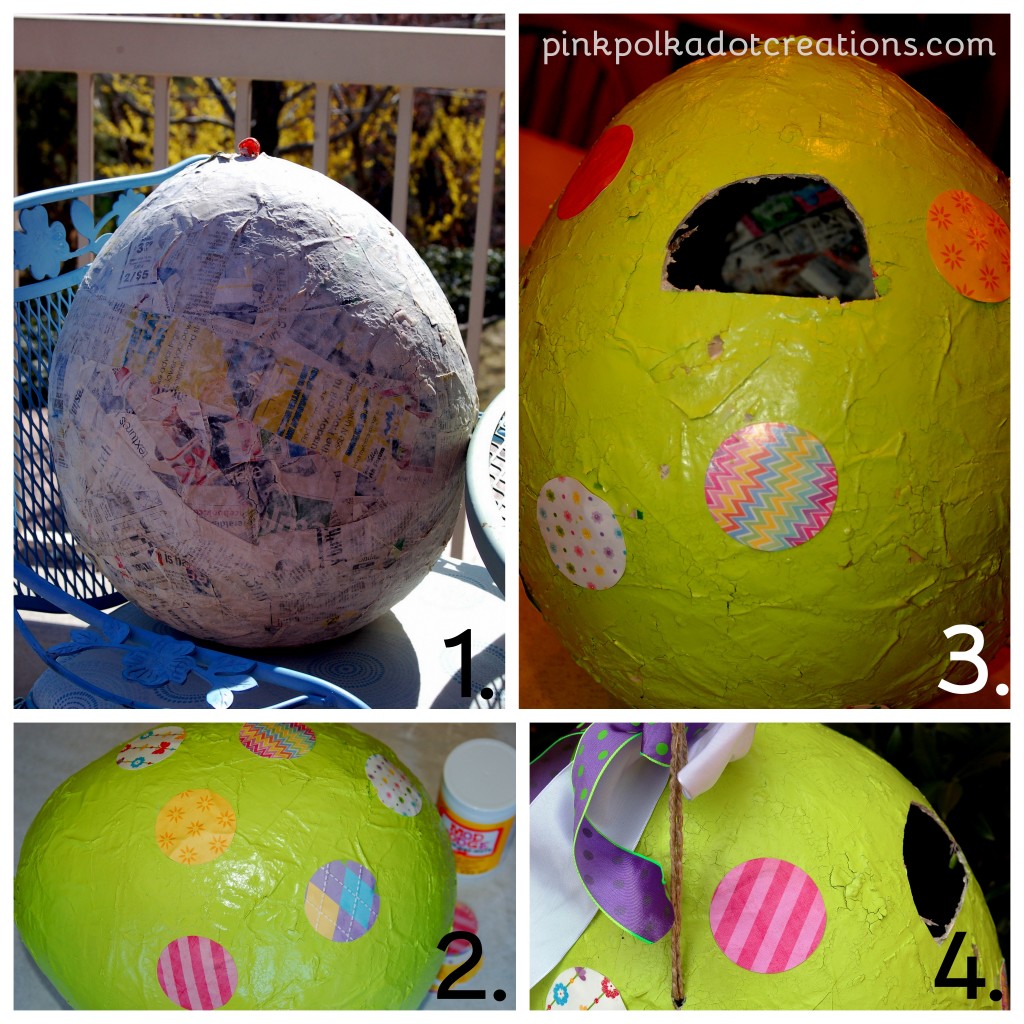 This was a super easy project as far as pinata's go, because all you need is the shape of the balloon to make the egg!
So do you want to make your own Easter Egg Pinata?
1.  Cut a bunch of newspaper into about 1-1.5 inch strips the width of the paper.  Then make a paste of 2 cups flour and 2 cups water, mix together.  There are a few lumps and that is okay.  Blow up a balloon the size that you want your pinata.  Dip the newspaper into the paste then lay the dipped piece on the balloon.  Smooth it down.  Keep repeating this step until the balloon is covered with 2-3 layers of newspaper.  Let dry overnight.  Do not pop the balloon!
2.   After the egg has dried, pop the balloon.  I spray painted our pinata lime green, and then we just mod podged circles cut out of scrapbook paper.  Let it dry good, then add a final coat of mod podge to make your pinata a little bit more sturdy.
3.  Cut a hole with an exacto knife, in the back of the pinata that is large enough for your hand to fit in.  This is where you will put the candy in, but you also need to attach your jute hanger at this point.
4.  Poke a hole on each side of your pinata with an awl or the pointed end of your scissors.  Put your jute through the hole into the middle of your pinata, then go out the other side and pull so that it is long enough to make a loop hanger.  I did this 3 times to make sure it would hold the weight of the pinata.  After you have filled the pinata with candy, tape the opening closed with packing tape or a good strong tape.  You could also add another polka dot over it if you wanted to.  I added a couple of bows to the top with ribbon, because as you know ribbon just makes everything cuter!  :)
And you are done and ready for the party to begin!
Have a great Easter weekend everyone!  I hope that you get to spend it with someone that you love.
 Are you ready for the big day?  Do you have an Easter feast or brunch?  We are going very low key this year because most of our families will be with their in-laws this year.  We are going to have an Easter Egg Hunt, our pinata and maybe a treasure hunt for our party. ( If I get the treasure hunt ready!) But our Easter dinner will be very minimal, which is okay with me! :)
Thanks for Visiting!  Love Ya!
Keep in touch…Like on Facebook and Pinterest