Last week at our Girls weekend, I showed you a picture of a couple of unfinished projects. I got one of those projects completed this week and I love how it turned out! These pumpkins are perfect for any fall decorating, not just for Halloween! I can leave these up through Thanksgiving! Hurray! And aren't they adorable??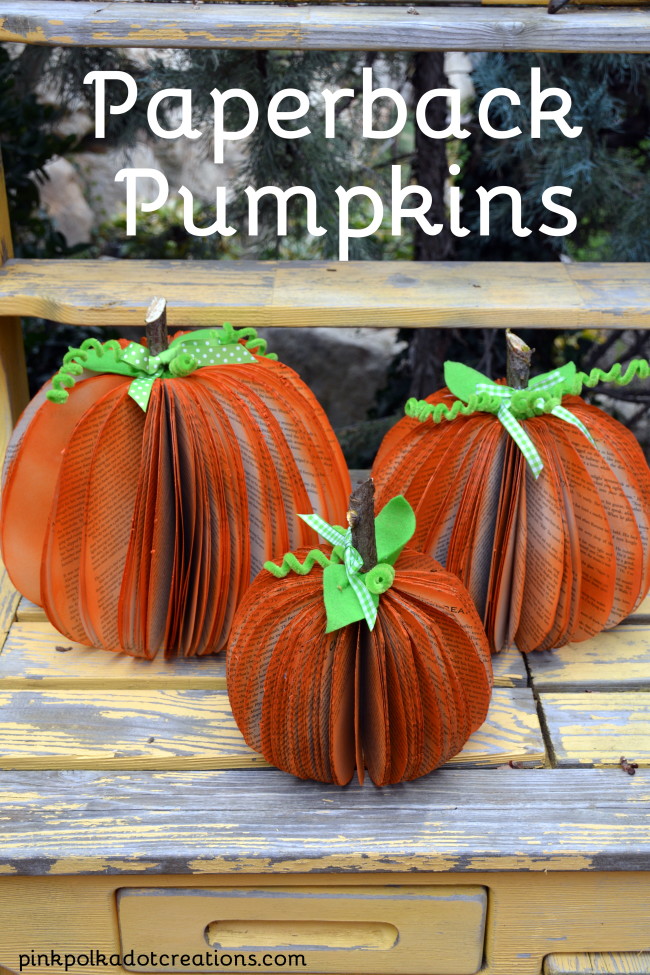 I told you when we were out shopping during our Girl's weekend that we made a stop at the DI. Well, this is what it was for…old paperback books! I think I bought 5 to make projects with and 5 more to read!
These make a darling centerpiece for your table. You can make a whole patch of pumpkins, or just one and put it up on a pedestal!
These are really easy to make…but just a warning…they are messy if you are cutting them out by hand! First, tear off the front and back cover and bend the book in the spine, so that it loosens it up. Then just draw the shape of pumpkin that you want. I did three different sizes and three different shapes. Make them tall and skinny or short and plump whatever you are in the mood for. With scissors and/or an xacto knife, just start cutting on the line that you drew. They do not need to be perfect. I cut about 8-10 pages at a time depending on the thickness of the paper. The old books with yellowed pages are great for this project. Keep cutting until you have cut the entire book. Roll the spine to get the pages separated and then glue down the spine and the front and the back pages together. I also glued in places where there was a little gap, but again these do not need to be perfect!
Spray paint the edges of the pumpkin orange and then add a couple of felt leaves, a twig for the stem and green pipe cleaners for the vines! Hot glue it all on the pumpkin and you are done!
I have heard of these being cut with a band saw and I think that would work really well, but since I don't own a band saw, I had to cut by hand, but you could cut all three of these easily in one evening!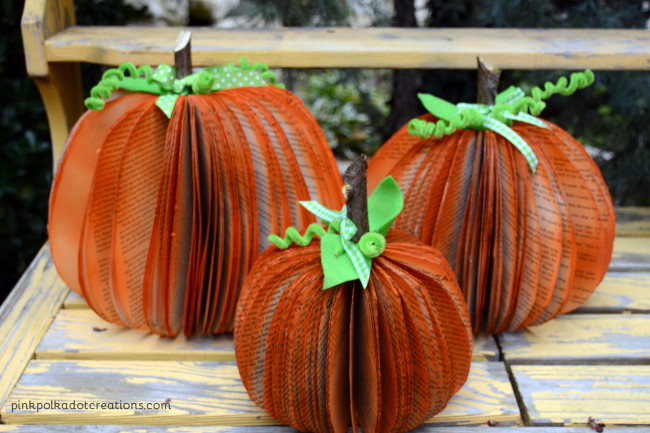 So now you have a project that you could complete this weekend! And they are perfect for the whole fall season…so what are you waiting for…go find some old paperback books and get started!
Thanks for visiting today!