Today my thought is one that you have probably heard before. I have had it for several years written in vinyl in my hallway. And President Utchdorf used it in one of his conference talks, so it must be a good one right?!
I have to remind myself of this when I tend to get critical of others.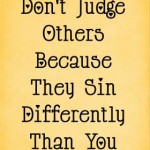 This is a good thought to print and have where it is a constant reminder…at least for me it is!
This print is now available in my shop as a pdf download
Happy Thursday Everyone! Love Ya!