How many of you did the Black Friday thing?  I do not do that anymore, but my daughter did and I have to tell you what happened to her!  She decided to meet up with one of her friends and they decided to meet at Wally World at 10:00 pm.  My daughter left her home at a little after 9:00 pm to drive about 15 mins away.  (She wanted to get there a little bit early.)  She pulled onto the freeway and looked up ahead and the traffic was stopped!  There was a 4 car pile-up wreck, and the freeway was totally blocked!  It took her almost an hour and a half to go 15-20 miles!  Needless to say she did not get very much of what she had set out to get, because she was 1/2 hour late.  (Oh how I do not miss those days!)  They then went to Kohl's for the midnight opening and the line was clear down around the store, but at least she got the things that she wanted in there!  She got home at about 1 am and went to bed for a couple of hours and then got up and ordered some more things online!  Oh my! What we as mothers don't do for our little beloved children!  Boy am I glad that all of my little beloveds are grown and I can just go to bed at night!
So here is a recipe for all of you that did the Black Friday thing and need to reward yourself just a little bit.  One word of warning, these are very, very rich but very, very yummy!
My daughter made these and brought them for Thanksgiving.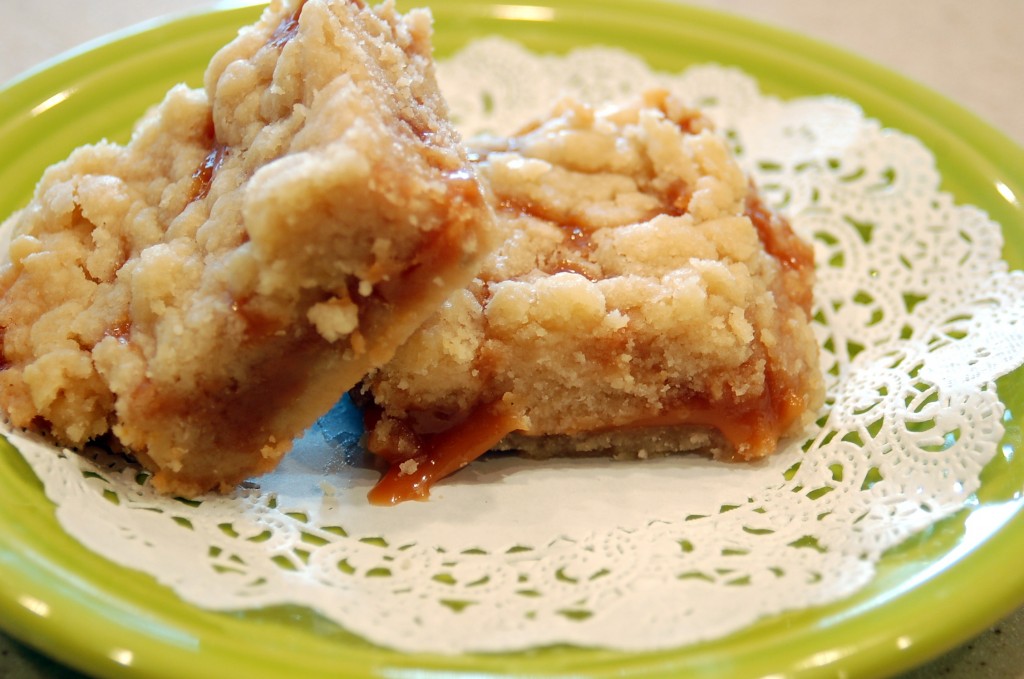 Salted Caramel Butter Bars
For the Crust:
1 lb. salted butter room temp
1 cup sugar
1½ cups powdered sugar
2 Tbs vanilla
4 cups all purpose flour
For the Filling:
1 bag 14 oz. caramel candies (about 50 individual caramels), unwrapped or 14 oz Peters   caramel
1/3 cup milk or cream
½ teaspoon vanilla
1 T. coarse sea salt (optional)
To make the crust:
In a large bowl, combine the butter and sugars. Using mixer on medium speed, beat together until creamy. Add the vanilla and beat until combined. Sift the flour into the butter mixture and beat on low speed until a smooth soft dough forms.
Spray a 9×13 inch baking pan lightly with non-stick cooking spray. Press one-third of the dough evenly into the pan to form a bottom crust.
Preheat to 325F.
Bake until firm and the edges are a pale golden brown approx 20 minutes. Transfer pan to a wire rack and let cool about 15 minutes.
While the bottom crust is baking and the remaining dough is chilling, make the caramel filling. Place the unwrapped caramels in a microwave-safe bowl. Add the cream. Microwave on high for 1 minute. Remove from the microwave and stir until smooth. If caramels are not completely melted, microwave on high for 30-second intervals, stirring after each interval, until smooth.
Pour the caramel filling over the crust.  If you are going to salt the caramel sprinkle it on caramel layer now.
Remove the remaining chilled dough from the refrigerator and crumble it evenly over the caramel.
Return the pan to the oven and bake until the filling is bubbly and the crumbled shortbread topping is firm and lightly golden, about 25 – 30 minutes.
Let cool before cutting into squares
When I make these I  just use 14 oz of the  Peters caramel, then you do not have to unwrap all the individual caramels. I am lazy that way!)
Have a great weekend!