This month for the visiting teaching handout for my church the message is: Divine Mission of Jesus Christ: Messiah.
I knew that I wanted to use these fun ice cream images from Just So Scrappy, so I went with the title, "Here's the Scoop!"
I chose the thought from President Utchdorf, because I love everything that he says, I just really relate to him and I love his message about Christ being the promised Messiah!
Here is the printable card with the message…
And here is the blank card for those of you that would like to translate, or for those of you that need a fun invitation for an ice cream party!
Click here to download the PDF version: Aug 2014 VT
These are formatted to a 4 x 6 card for those of you that want to print your own on photo paper, or for those of you that want to save your ink, you can send them to your favorite photo processing center!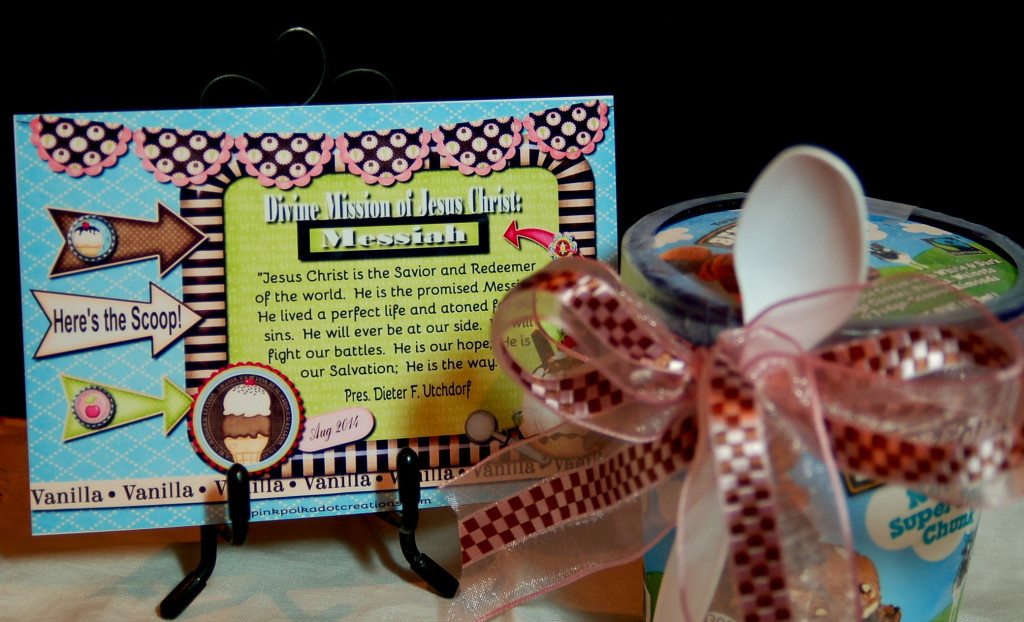 I paired my card with a carton of Ben and Jerry's ice cream tied up with a ribbon and a spoon! You could also do any of your favorite ice cream treats, recipes, an ice cream scoop or just take the card. Remember that the visit is the most important part, not the handouts!
So there is my handout for this month. I hope that everyone can get out and visit the sisters that you teach and let them know how much you love and care for them!
Happy Visiting!