March 2017 Visiting Teaching Handout
I know I say this every month…but where did the time go?? It seems like we just got Christmas over with and put away, and now it is the time for the March 2017 handout!
Today I have a handout for visiting teaching for The Church of Jesus Christ of Latter Day Saints.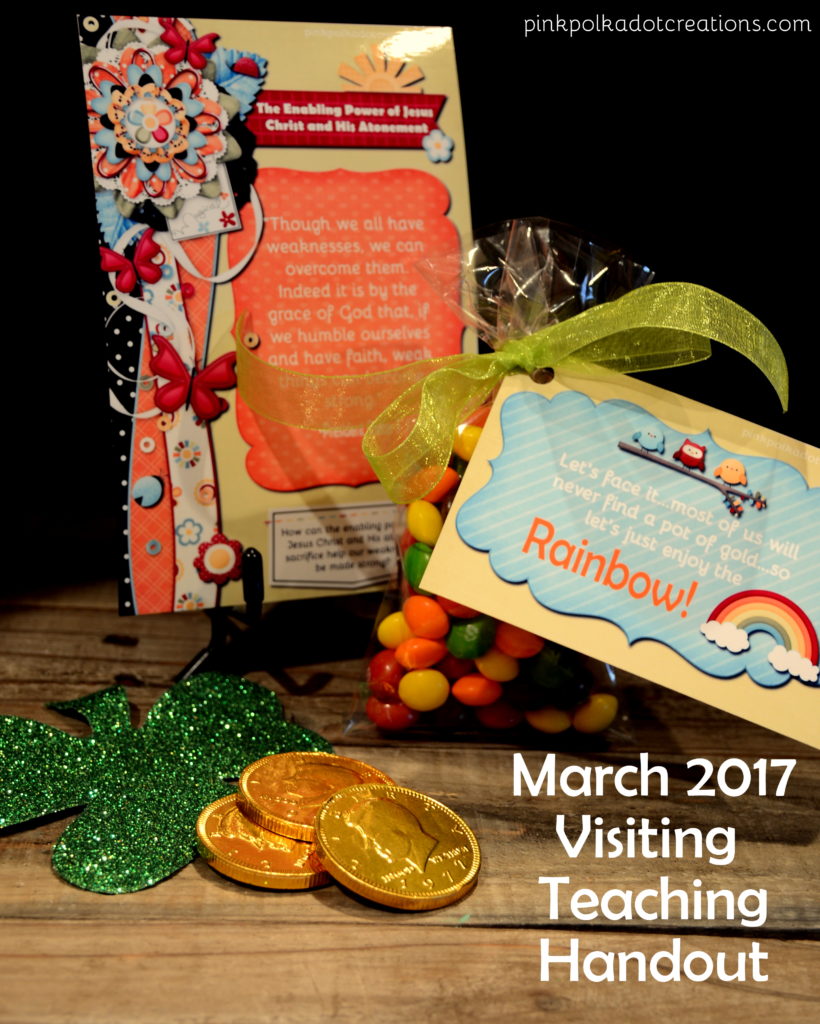 The title of the message this month is: "The Enabling Power of Jesus Christ and His Atonement."
There are some wonderful thoughts in this article. But, I chose the thought from Pres. Dieter F. Uchtdorf about how our weaknesses can become strong!
Also included is the "Consider This" question. Which can lead into a great discussion with the sisters that you visit!
Here is the message card. It is formatted to a 4 x 6 size. Perfect to print your own, or send it out to your favorite photo processing center.
To print as a photo, right click over the image and go to "save image as". Then save in a folder. You can print from there.
And…the blank card for those of you that would like to translate. This is also great for handouts, invites, note cards or reminders.
As always, please remember that all of my printables are for personal use only!
Since it is March, I thought it would be fun to add a thought about a pot of gold and rainbows!
Tie this tag to a package of skittles, M & M's, or anything with the colors of the rainbow! Use your imagination!
Again, for those that would like to translate, is the blank version…
Or fun tag for St. Patrick's Day celebrations!
For those of you that would like the PDF download, just click on the link that you would like:
Blank March 2017 VT
Rainbow Tag March 2017 VT
So, this is my March 2017 Visiting Teaching Handout.
Please Remember…it is the visit that is important…not the handout!
Make sure the sisters you visit, know how much you care about them and that you hold them dear to your heart!
Thanks for Stopping By!
Happy Visiting!
In conclusion, images for these handouts are from "justsoscrappy.com", from the "Chasing Rainbows" collection. They are used with a CU licence.