Sept. 2013 Visiting Teaching Handout
This month the Relief Society message for our church is Self-Reliance.
I really like this quote by Elder Hales about the purpose of both temporal and spiritual self-reliance. Here is the printable for this month:
This is the blank one for those of you that would like to translate the message, or if you just want a cute blank card…here you go!
These are formatted to a 4 x6 size, so you can simply print your own, or send to your favorite photo processing center.
I also made a cute oversized tag to go with this month's handout! I am just loving this fun graphic kit from Just So Scrappy, this is the new "It's Almost Fall" kit.
These are formatted on an 8.5 x 11 page, so that you can simply print and cut out!
I made a "Fall Sweet and Salty Mix" (I will share the recipe next week!) put it in a cellophane bag and put it in this cute berry basket that I found at our local party store! Then I simply tied it up with a couple of ribbons, added the tag and I was done!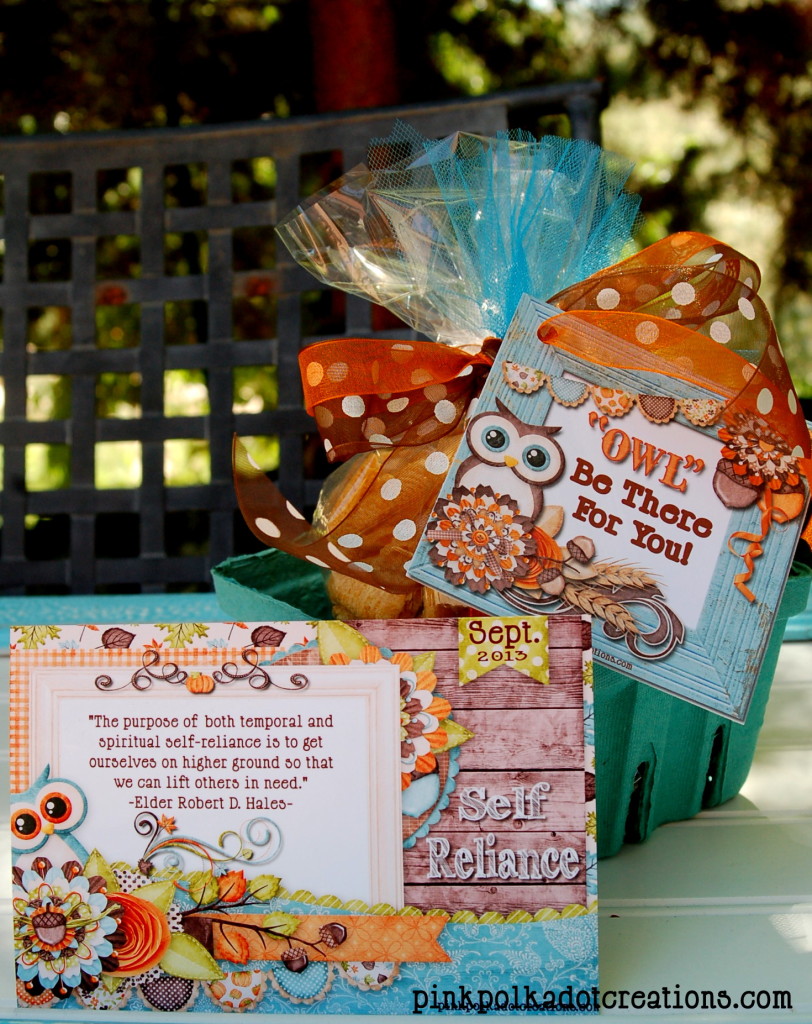 Happy Visiting this Month! Love Ya!
You are welcome to share these printable with others but please remember that all of my printables are for personal use only!
Keep in touch…Follow on Facebook and Pinterest!

I am off this weekend to my favorite boutique of the whole year…Swiss Days! It is about the only event that I can say the crowds don't bother me! I usually will avoid crowds at all costs, but I seem to forget about the crowd when I am in this craft heaven! :)
Pin It
Tags: free printable, Owl be there for you, owl be there for you tag, owl tag, self reliance handout, self reliance thought, Sept 2013 visiting teaching handout, Sept 2013 visiting teaching message, Sept visiting teaching message, Sept VT message, Sept. VT handout, The Church of Jesus Christ of Latter Day Saints, VT handout