Stitched Christmas Quilt Blocks (WIP)
I have so many projects going on right now that I am driving myself crazy! I tend to do this every year in the fall, I get the bug to start sewing, crafting, reading, baking, canning and organizing! I just need to pace myself and finish one project before I start the next one! Do any of you do that too, or am I the only crazy one???
I am working on 4 different quilts right now with the patterns and fabric for several more! I bought my quilting machine a few months ago and now I think that I have to use it all the time… it just keeps calling my name…but I love learning how to use it!
This quilt that I am trying to get finished up this week, my WIP (Work in Progress), is from Bird Brain Designs and the name of the pattern is Snowmen & Reindeer Bluework Quilt. I got this pattern last spring when we were in Arizona on our little annual vacation. I am doing it all as a redwork so that it will match my other Christmas quilts that I have already made.
I have been working on these block since last spring and I have all but one of the blocks completely stitched and I am hoping to get the last one done this weekend!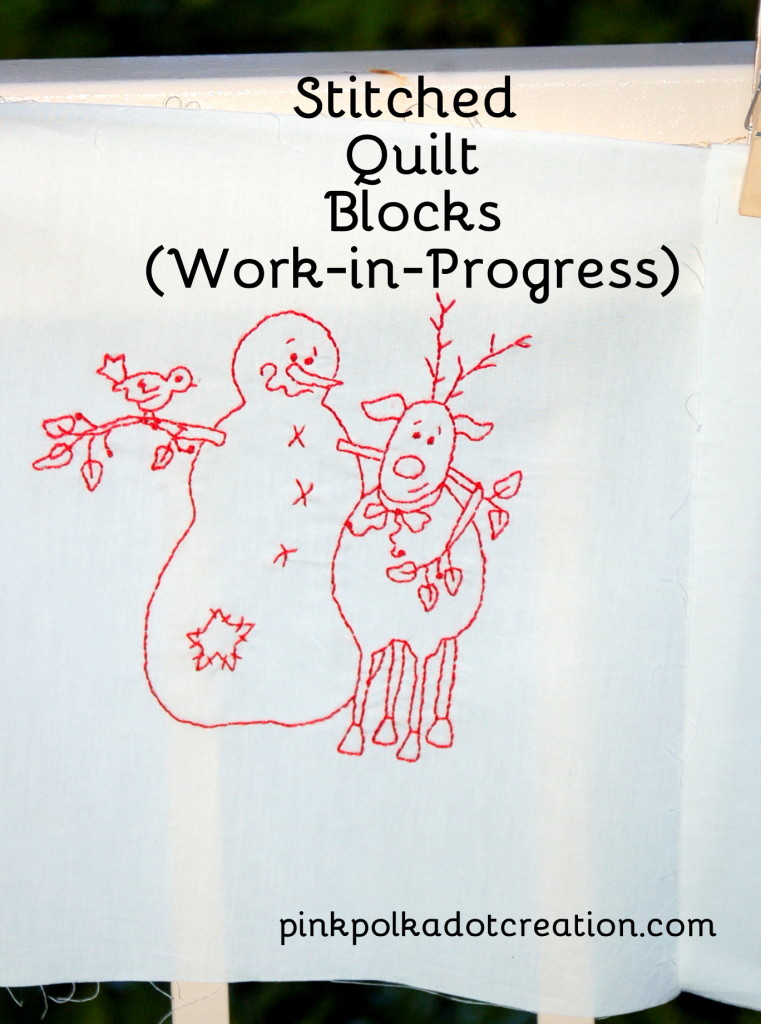 Here are the first 4…all in a row!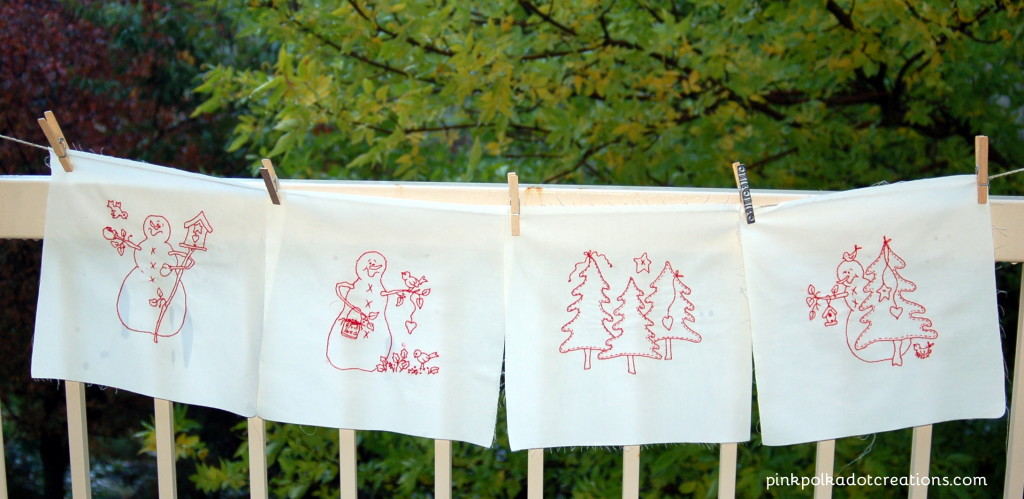 The next four…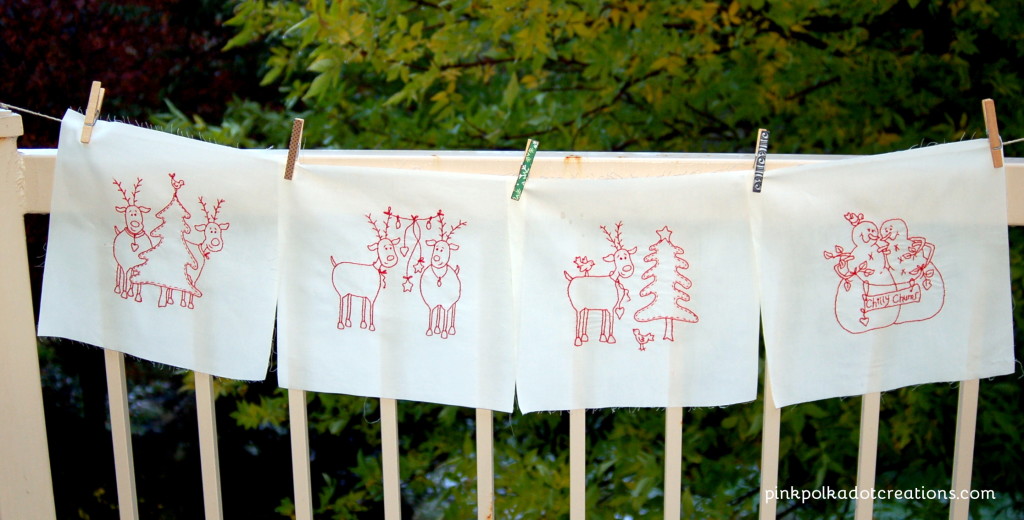 And the last 4, with one only part way done!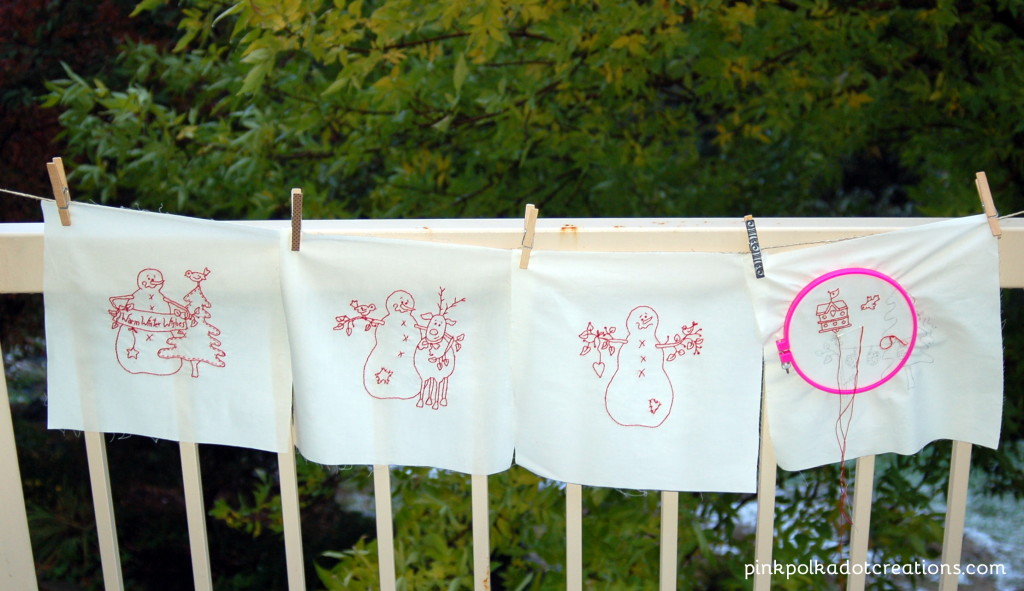 I used a blue disappearing ink pen to trace the pattern on some of the first blocks, but had a heck of a time getting all of the ink to disappear, so I traced the pattern with a pencil on the rest of them and I liked it a whole lot better, because the lines are thin, the stitching covers them really well.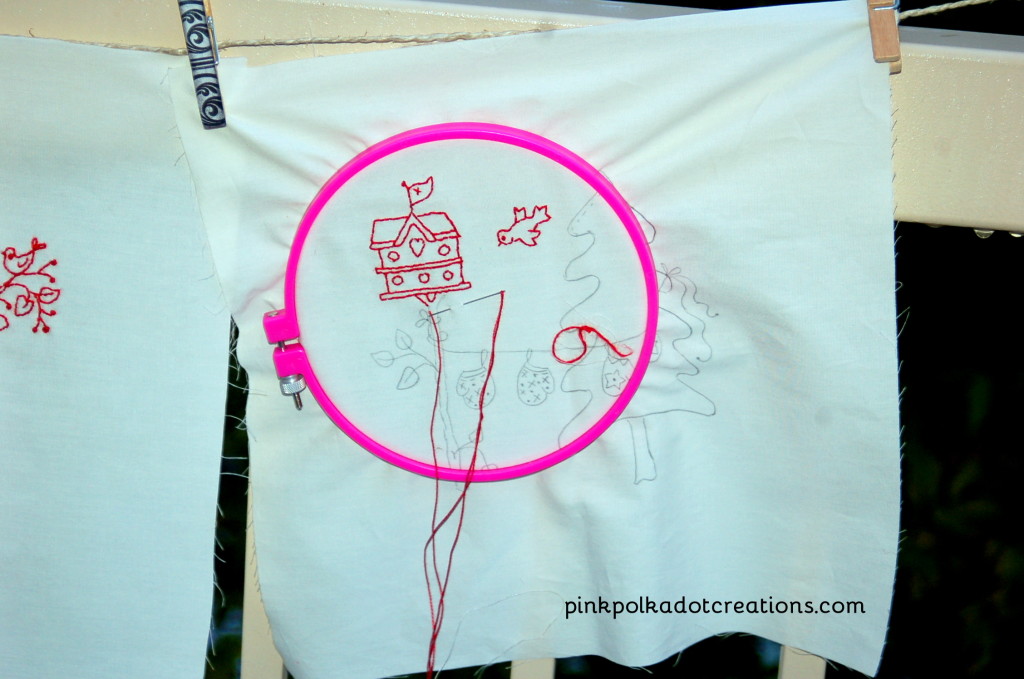 I am excited to get all of these blocks done and put the quilt together. I love the redwork in these blocks and the fun snowmen and winter scenes. (Which, by the way, I woke up to snow this morning! UGH!)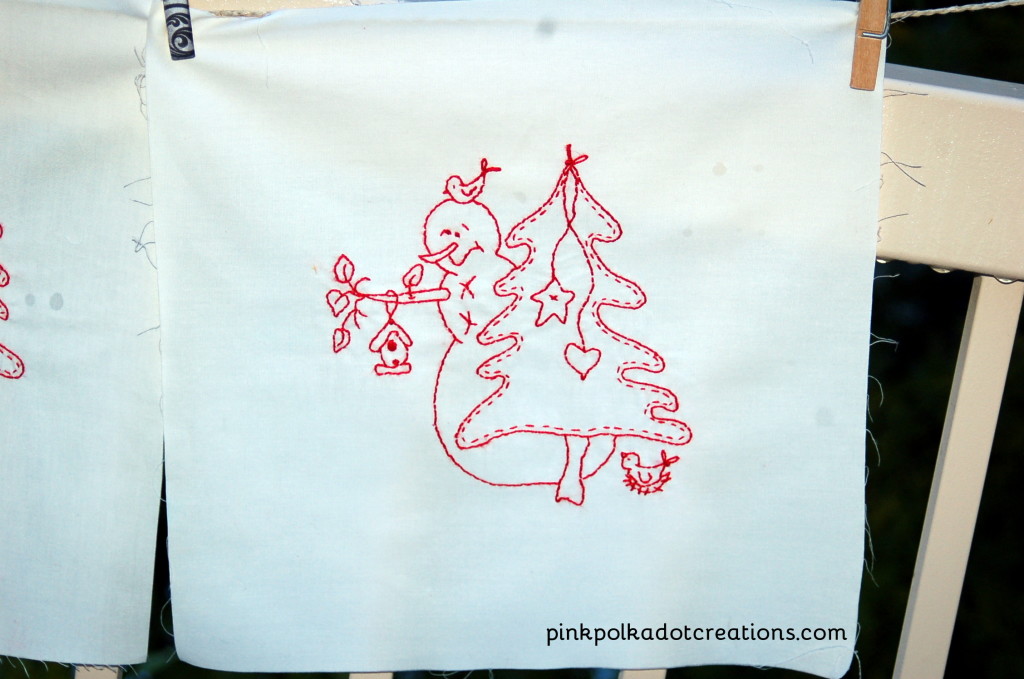 I need to finish this quilt, so that I can get to the other 4 …or 5…or 6 quilts!
I have quilted a quilt that my daughter put together, and a chevron Halloween quilt and now I just need to do all of the hand sewing around the binding and those two will be done! I will have pictures soon.
I am working on a fun Halloween table quilt and hope to have that one done this next week, it is really a last minute pattern that I found and just could not resist it. :) It is by Kimberbell Designs. I love table quilts, because they go in my kitchen where I spend a lot of time, so I get to see them all the time! I also found the Thanksgiving Table quilt pattern when we were in St. George a couple of weeks ago, and it is by the same company as the Halloween one and I am so excited to get that one going next!
Are any of you as crazy as me? Do any of you have any quilting projects that you are working on? I would love to hear about them! I am hoping to get a lot done this weekend, so wish me luck! I will let you know how far I get on Monday.
Have a great weekend everyone! Love Ya!
Keep in touch…Like on Facebook and Pinterest!
I have added several new things to the shop for Halloween and there are conference snack tags for those of you that are going to watch the LDS General Conference this weekend. I would love for you to check them out!
Pin It