Today I have the 35 Day Conference Reading Challenge-Oct 2017 Conference!
Okay everyone…Are you up to the challenge???
This is for The Church of Jesus Christ of Latter Day Saints.
October General Conference 2017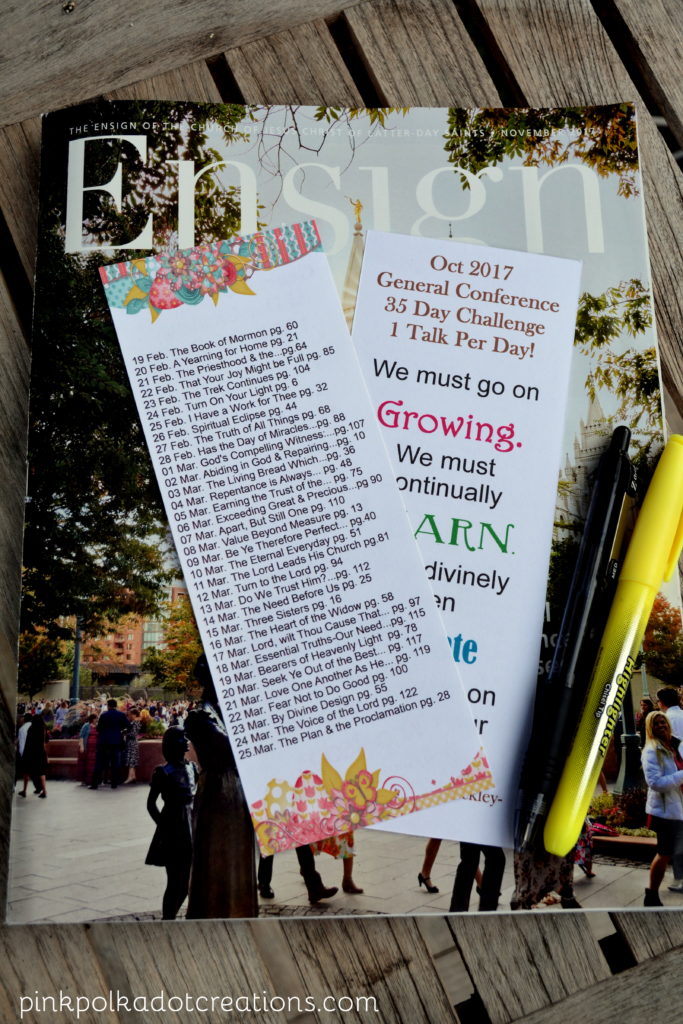 Note the change in the amount of days! I changed it from the 40 day challenge to a 35 day challenge!!
I took out the days that said to read your favorite talk from the last conference.
One of the articles at the end of the conference talks is the new counsel format for the Relief Society and Priesthood meetings…and I figured everybody should know that by now.
So I shortened the reading to 35 days!
It is very doubtful that anyone will object! :)
The 35 Day Conference Challenge-Oct 2017 will begin on Feb 19th! So today I have the bookmarks ready for you to print and to start getting all your supplies together!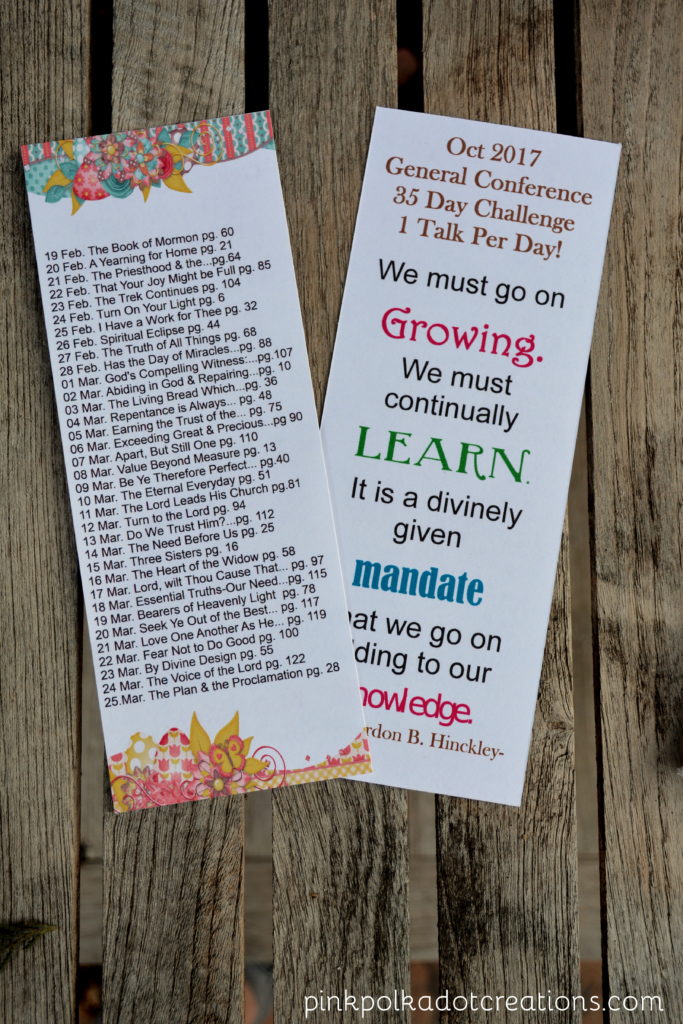 There is a front and back to the bookmark.
You can print both sides if you want, or you can simply print the reading schedule on one side.
They are formatted to 3 bookmarks to a page, for those of you that need to print multiples.
For those of you that just need one bookmark, I have included both the front and back on one page.
There are no jpeg images of these bookmarks, only the PDF download. You can print them from your own printer on an 8.5 x 11 paper.
Click on the download that you want.
1. 35 day conference bookmark Oct 2017
2. 35 day conference bookmark Oct 2017-backs
3. 35 day conference bookmark Oct 2017 one set
For a fun challenge, get your family, friends, or visiting teaching sisters in on the challenge with you. It is fun to discuss your reading and compare notes!
I always recommend getting your own Conference Talks Magazine so you can mark it all up and write your thoughts in the margins!
The page numbers are for the November 2017 magazine with the conference talks.
Also, I came up with a fun reward idea in this 40 Day conference Challenge treat that I made a while back. Click on that link for the free printables.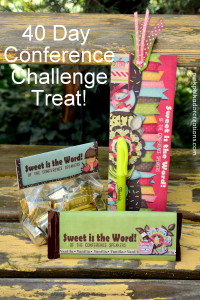 And, if you like your magazine to lay flat…it is a great idea is to spiral bind your magazine:
Just take your magazine to a copy center or any place that does book binding. It is also a good idea to laminate the front and back cover to give it a little more stability.
Or…you can also use a big paper clip to keep the bookmark in place.
It is a great experience to read all of the talks in the suggested random order for 35 consecutive days and remember the counsel that we were given in conference.
You have a few days to get everything together and we can all start together!
So this is the 35 Day Conference Reading Challenge-Oct 2017!
Are You Up to the Challenge?