Today I have a fun pillow wrap with a full pattern for you!  You might just want to run out a purchase the supplies so that you can make one of these this weekend! They are so easy and so cute.
By making a simple pillow cover and different wraps, you will be able to change the look of ONE pillow for any season of the year.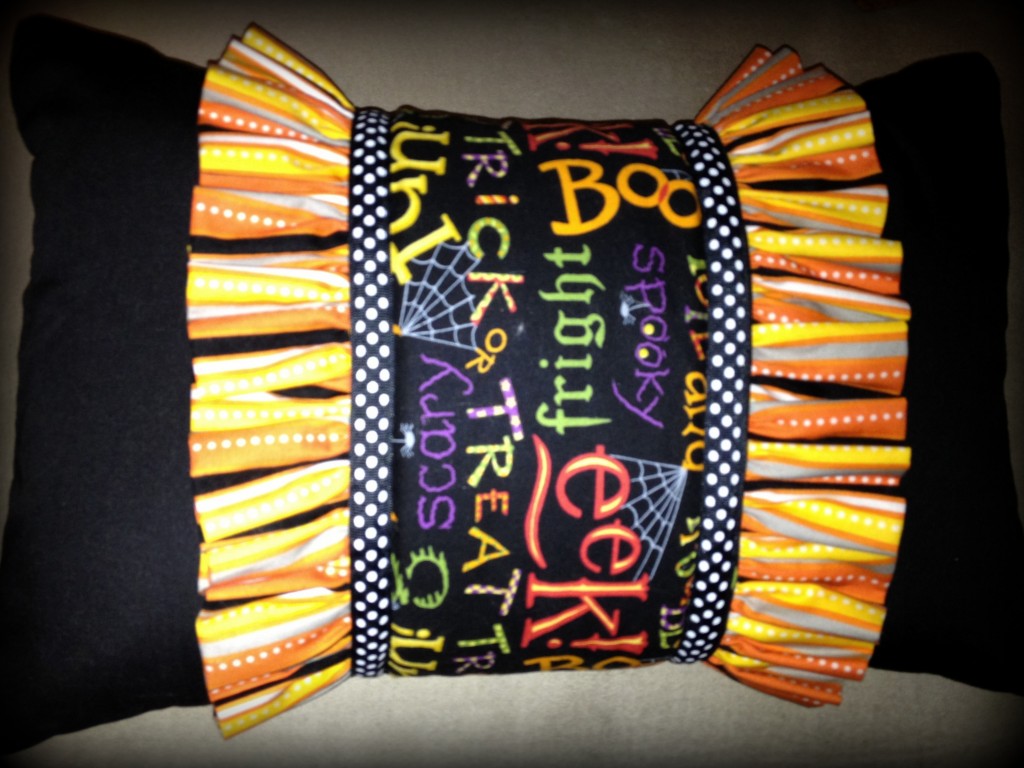 This is a pillow that my friend Kathy made.  I love her bright fun Halloween print!  The pattern comes from her good friend and neighbor, Karen, and Karen has consented to let me share it with you!  Thanks Karen. :)  Karen is so talented in the fact that she can design patterns and has a whole notebook of quilt patterns that she has figured out and designed herself!  So does anyone want to make a fun wrapped pillow?
First of all you will want to make your pillow form.  This is one idea, that makes me ask… now why didn't I ever think of that?!  It is so easy and inexpensive and you could cut the pillow to any size or shape that you need.
A great way to make inexpensive pillow forms!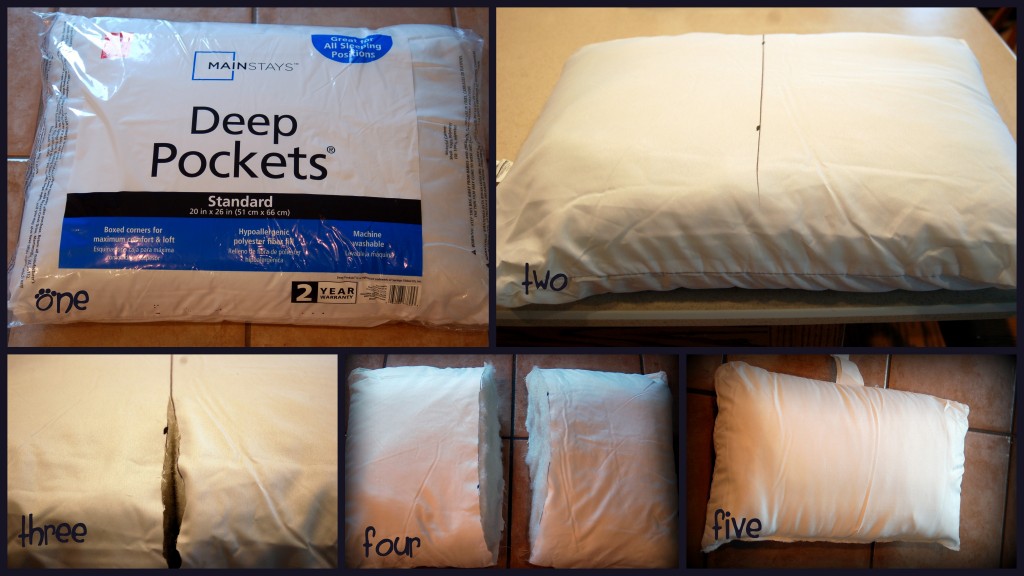 1.  Buy pillow.  (These are $2.50 at Wally World!)
2.  Mark the middle of the pillow.
3.  Cut pillow with your scissors.
4.  Cut in half to make two pillow forms.
5.  Stitch cut edge closed.  You can serge it, or just use a zigzag stitch.
Now lets make the pillow cover and the wrap to go on it!
You will need:
(1) pillow (cut in half and sew shut-thus making 2 pillows)
(1) 13 1/2″ x 19 1/2″ fabric for pillow front
(1) 13 1/2″ x 26 1/2″ fabric for pillow back
(1) 7″ x 26″ center panel for wrap
(1) 7″ x 26″ center panel lining for wrap
(3) 5 1/4 " x width of fabric, ruffle fabric
1 1/2 yards ribbon (desired width)
Instructions for pillow cover:
Fold 13 1/2″ x 26 1/2″ piece in half and cut, making two pieces 13 1/2″ x 13 1/4″ and hemming the 13 /12″ sides on each piece.  Lay pillow front, right sides together with the two hemmed pillow backs overlapping the hemmed edges. Pin. Sew around the outer edges using 1/4″ seams.  Clip corners and turn through opening and insert pillow form.
Instructions for wrap:
Stitch 3 ruffle strips, right sides together, end to end.  Press seams open.  Fold and cut in half making two strips approximately 5 1/4″ x 63″.  Hem short ends of each strip with a narrow rolled hem.  Press each strip half, wrong sides together and stitch with a basting stitch 1/4″ from edge and again 3/8″ from edge.  Put a pin to mark the middle of the strip, and another pin to mark the middle of the center panel.  Pull bobbin threads evenly to make gathers, matching center pins.  Match raw edges with the long edges of center panel, right sides together, ending ruffle approximately 1/2′ to 3/4″ from ends.  Do this for each side.  Stitch in place.
Lay lining on ruffled panel, with ruffles still lying inward and pin, right sides together.  Turn over and stitch from opposite side so you can follow previous stitching.  I like to sew just a hair on the inside of the previous line, thus making sure the other stitching won't show.  Leave one end open for turning.  Stitch, trim corners and turn right side out and press.  Stitch opening shut.
Folding under 1/4″, stitch ribbon to each long edge of center panel.  Wrap around pillow and decide on the placement of your velcro.  You want it to be a snug fit.  Sew velcro to each end so they overlap.  Wrap around your pillow and you are done!
 Here is the pillow that I made.  I love this spider web print that I found.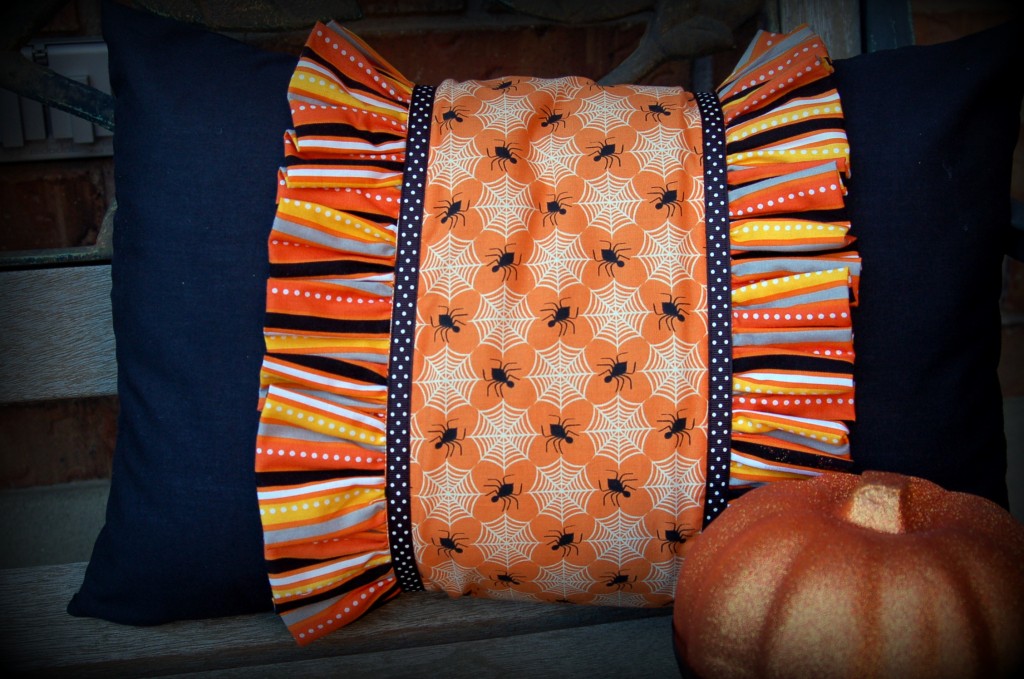 I am going to find some Thanksgiving print that has a black background, so that I can use my same black pillow for Thanksgiving!  I am  also going to make a beige linen pillow that will go with a lot of different fabrics for some of the other holidays!  I love this idea of being able to use the same pillow for many different holidays!
Thanks Kathy and Karen for being so willing to share.   You are both the greatest!
Have a great weekend everyone!  Love Ya!
This post is from pink polka dot creations. If you are not reading it from our feed, it has been STOLEN. Please contact Rita to let us know. Please enjoy the posts!