My family absolutely loves Chocolate Butterscotcharoo Bars, so when I saw a recipe for Chocolate Butterschotcharoo cookies…I knew that I just had to try them. And they did not disappoint…no, not even a little tiny bit! :) I have to make this recipe when I know that I have lots of people to help eat them or I know I can give away a couple of platefuls.
I used the same recipe that I used for the bar cookies, but you substitute Chex cereal for rice crispies and add M & M's candies.
These cookies are a cinch to make and they are perfect for a fast summer treat…or if your kids have already started school, they are great for an after school snack!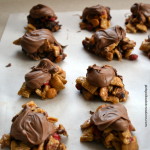 Chocolate Butterscotcharoo Cookies
2015-08-06 19:54:04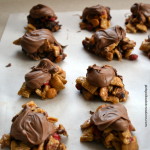 Serves 36
A delicious cookies with chocolate, peanut butter and butterscotch, along with M & M's candies! Perfect for a quick, tasty snack or lunch box treat.
Nutrition Facts
Amount Per Serving
Calories 176
Calories from Fat 51
Trans Fat 0g
Polyunsaturated Fat 1g
Monounsaturated Fat 2g
Total Carbohydrates 29g
10%
Sugars 17g
Protein 3g
* Percent Daily Values are based on a 2,000 calorie diet. Your Daily Values may be higher or lower depending on your calorie needs.
Ingredients
1 cup corn syrup
1 cup white sugar
1 cup peanut butter
6 cups Chex cereal (or rice crispies)
1-12.60 oz pkg. M & M's Candies
1-11.5 oz pkg chocolate chips (I used milk, but you could use semi-sweet)
1-10 oz pkg butterscotch chips
Instructions
In large saucepan bring corn syrup and sugar to boil. Remove from heat and add peanut butter, stir until smooth. Add Chex cereal and gently stir until coated. Add M & M's and toss lightly. Scoop cookie size portions onto a cookie sheet lined with parchment paper.
In a medium size microwavable bowl add butterscotch and chocolate chips. Microwave in 30 second intervals. Stirring after each interval until smooth Be careful not to scorch the chocolate! Spoon chocolate mixture over cookie mounds. Let stand until chocolate is set. Enjoy!
Pink Polka Dot Creations http://pinkpolkadotcreations.com/
Do you need a quick easy treat? You might just want to try these Chocolate Butterscotcharoo Cookies! If you like peanut butter and chocolate…then you will love these cookies!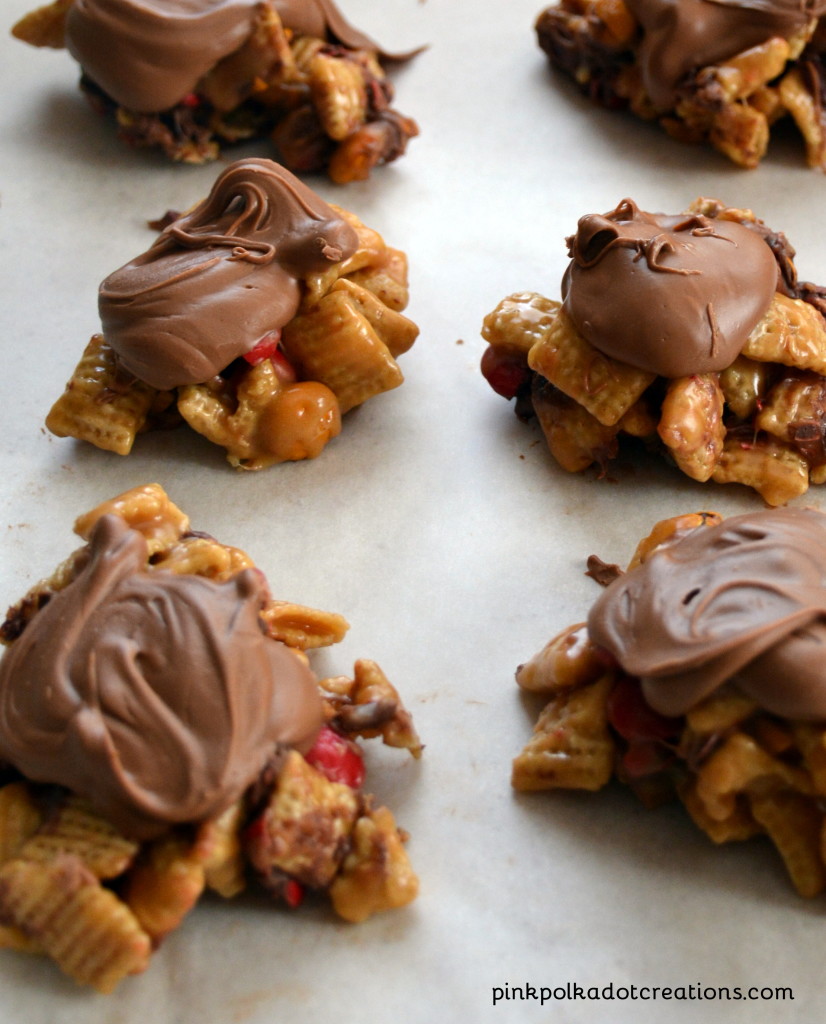 I wish that I could just pass these through the computer to you, but then they are really simple to make, so I guess you will have to try this one out on your own…perhaps maybe even this weekend! Your family with thank you and you will be loved by all! :)
Thanks for visiting today!