Some of you have been asking about the 40 day conference reading challenge…I will posting the bookmark next week and the actual challenge will begin on the 17th of August and end the Sunday before October Conference! It seems crazy to think that we are that close to another conference! Are you ready for the challenge??? Get your friends, family and neighbors, your VT sisters and any others you can to join you in the challenge…it is always more fun when you have someone to do it with you!
I feel like summer is starting to wind down a little bit. It is not quite so hot here in Utah and the evenings are actually starting to cool down a bit. But the calendar still says it summer and it is warm during the days, so we still need some refreshing desserts, right?? I still have lemons on my mind because we just had a Relief Society activity and it was about making lemonade from lemons. I volunteered to take a lemon dessert and I came up with these fun Lemonade Cupcakes!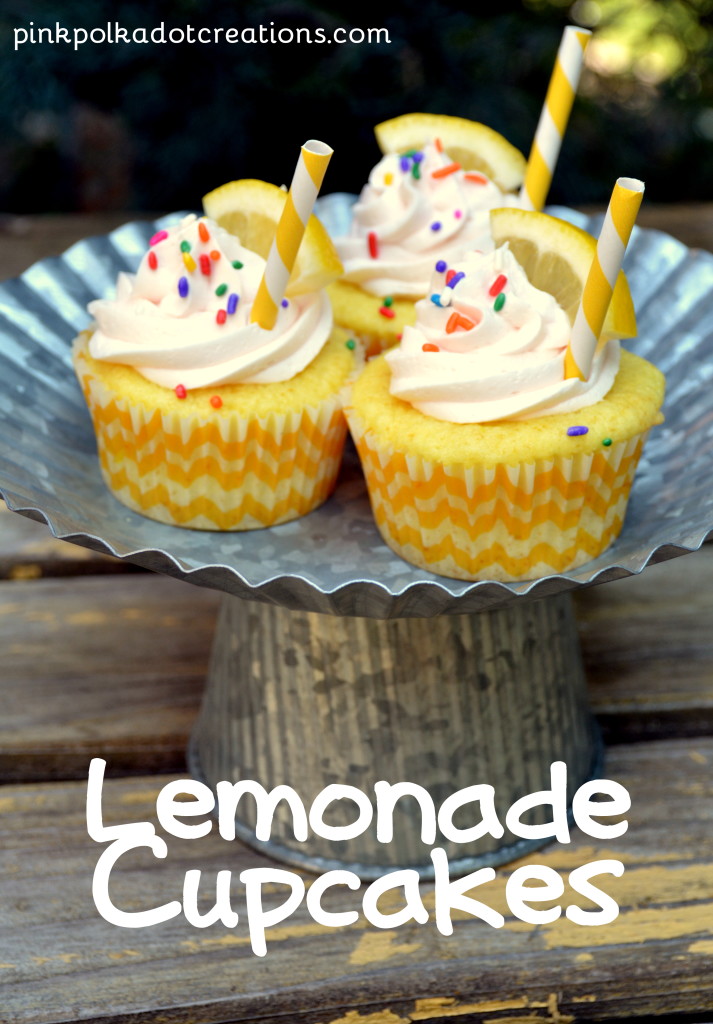 This was a combination of two or three different recipes…because that is kind of the way I roll! But it is an easier version of those recipes because it starts with a boxed cake mix! I am all about easy, especially in the summertime!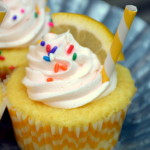 Lemonade Cupcakes
2016-08-04 12:14:47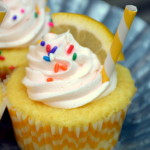 Serves 24
A delicious lemonade cupcake with just the right amount of tartness. So refreshing!
Nutrition Facts
Amount Per Serving
Calories 284
Calories from Fat 92
Trans Fat 0g
Polyunsaturated Fat 1g
Monounsaturated Fat 3g
Total Carbohydrates 49g
16%
Sugars 38g
Protein 3g
* Percent Daily Values are based on a 2,000 calorie diet. Your Daily Values may be higher or lower depending on your calorie needs.
Ingredients
1 box lemon cake mix
5 egg whites
1/2 cup milk
1/3 cup sour cream- I used light
3/4 cup unsalted butter-softened
Zest of one lemon
1/4 cup frozen lemonade concentrate, thawed
For the Frosting
1 cup unsalted butter, softened
4 cups powdered sugar
6 tablespoons frozen lemonade concentrate, thawed
For Garnish
sprinkles
24 lemon wedges
straws cut into thirds
Instructions
In a small bowl, whisk together the egg whites, milk and lemon zest. Set aside.
In a large mixing bowl, whip the butter for 2-3 minutes until smooth. Add the cake mix and beat until combined. Add the egg mixture and beat on high for another 2 minutes until fluffy. Drop the batter into cupcake tins with liners (about 2/3 full). Bake at 350 degrees F for about 15 minutes or until an inserted toothpick comes out clean. Remove from oven and cool on rack until completely cooled.
For the Frosting
Beat the butter for 4 minutes with a whisk attachment on an electric mixer. You want the butter to be smooth and pale in color. Add the powdered sugar and the lemonade concentrate. Beat an additional 3-5 minutes until smooth and fluffy. Scrape the sides of bowl as needed. Pipe onto cupcakes and add sprinkles immediately. Add lemon wedge and straws before serving, if desired
Notes
Can also use pink lemonade concentrate, or to make limeade cupcakes substitute limeade concentrate!
Pink Polka Dot Creations http://pinkpolkadotcreations.com/
These cupcakes are as fun to eat as they are to look at! They would be a great addition to any party, BBQ, family dinner, or just for a treat for yourself!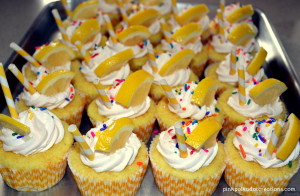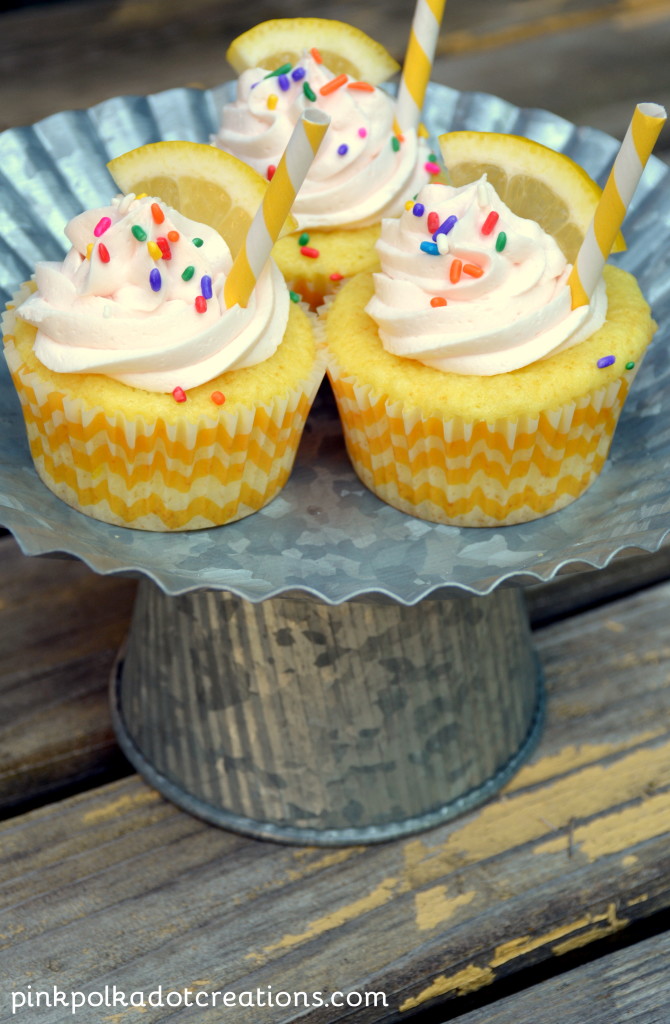 These lemonade cupcakes just look like a party…don't they? They would be a good excuse to have a party, dinner or BBQ, don't you think?
Thanks for Visiting Today…Hope you have a great weekend!