I saw a bag of salted caramels at a boutique in our neighborhood last weekend, but for some reason I did not buy any and then I could not seem to get them off my mind! So I came home a decided to give my hand a try at making some. I found a recipe that used sweetened condensed milk and adapted it to make these. I asked my husband to taste them and tell me what he thought. He said that there was something wrong with them and I thought he was going to say that they were salty, but he said what was wrong was that you could not eat just one! He loves them! He has made several comments since on how good they are! So that is quite the compliment!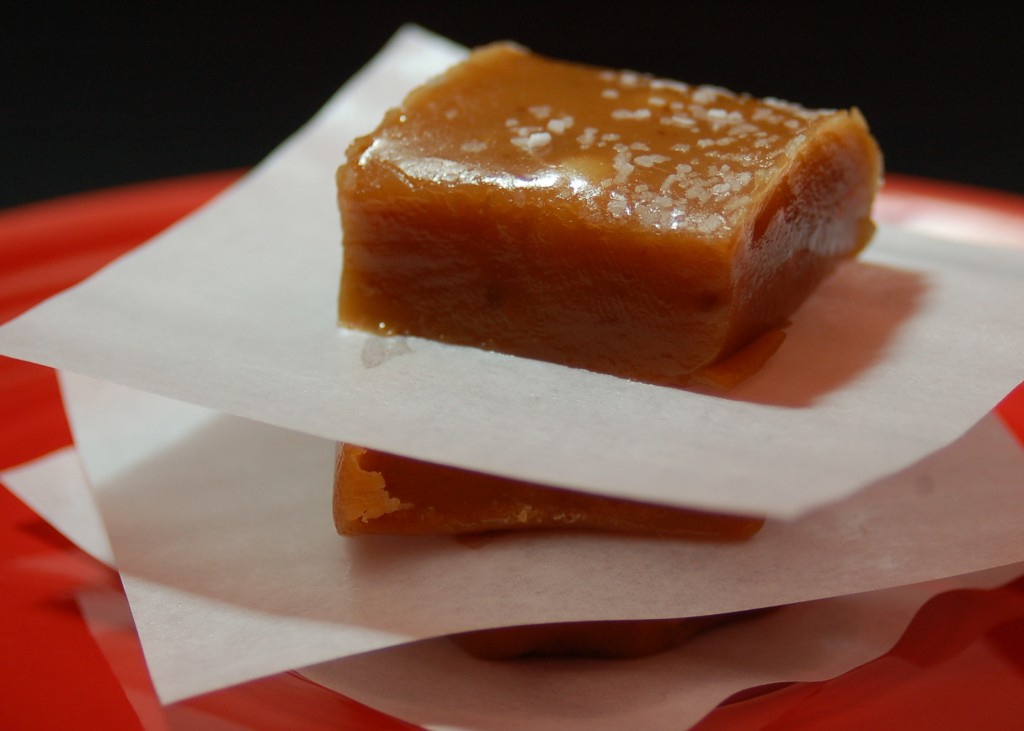 These were quite simple to make with the sweetened condensed milk. You do need a candy thermometer but they are easy to make and I would say that it would have to be pretty close to a no-fail recipe!
Salted Caramels
1 c. butter
1 (16 oz.) pkg. brown sugar (2 cups firmly packed)
Dash salt
1 c. light corn syrup
1 (14 oz.) can sweetened condensed milk
1 tsp. vanilla
kosher or sea salt
Generously butter 9 x 13 x 2-inch pan. In heavy 3-quart pan, melt butter. Add sugar and dash of salt. Stir thoroughly. Stir in corn syrup. Gradually add sweetened condensed milk, stirring constantly. Cook over medium heat, stirring constantly to prevent scorching, to 245 degrees (firm ball). Mixture should boil gently over entire surface for 15 to 20 minutes. Remove from heat and stir in vanilla. Pour into pan and sprinkle with Kosher or Sea Salt. Cool completely. Cut with wet, sharp knife. Wrap in wax paper.
This is how my caramels looked in the pan after I had sprinkled the salt on them. (Don't mind the messy sides, I was trying to take pictures and pour the caramel at the same time… didn't work!)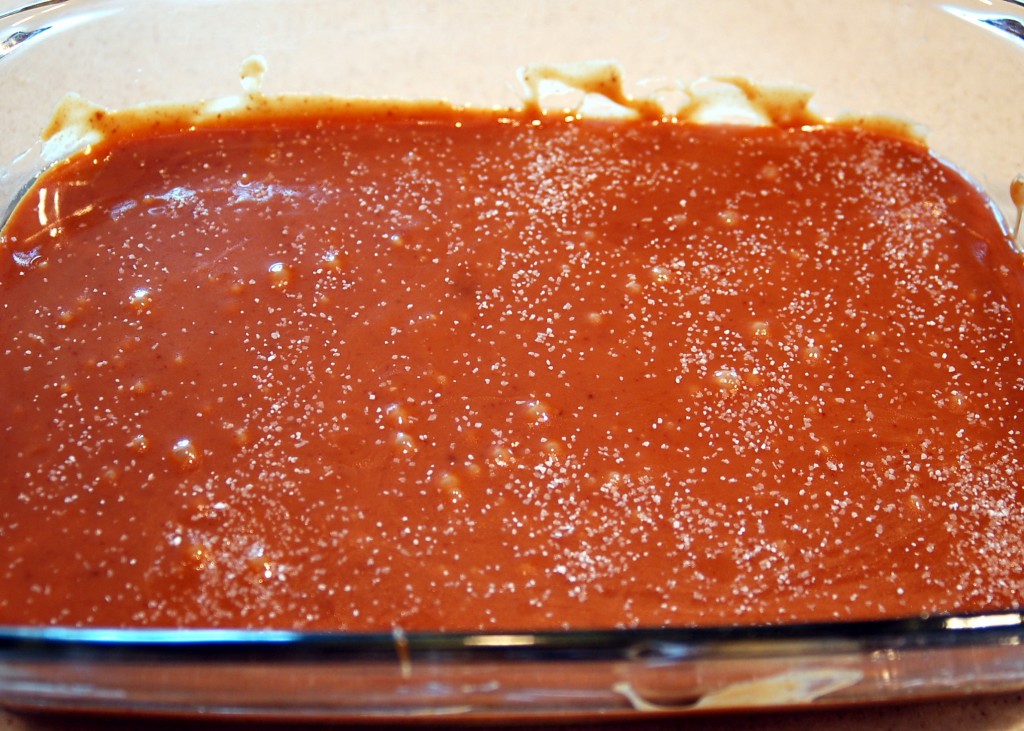 I happened to find these waxed paper squares at Gygi's this weekend and so it was perfect for these caramels!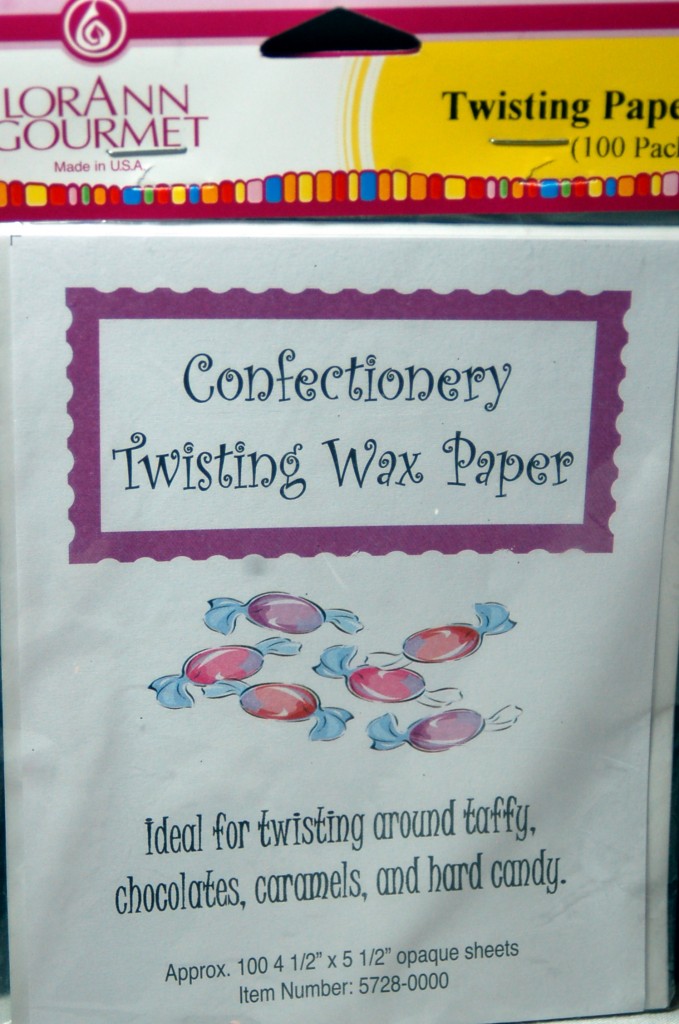 Here is my bowlful of Valentine Caramels!
There is only one thing wrong with them…you can't eat just one!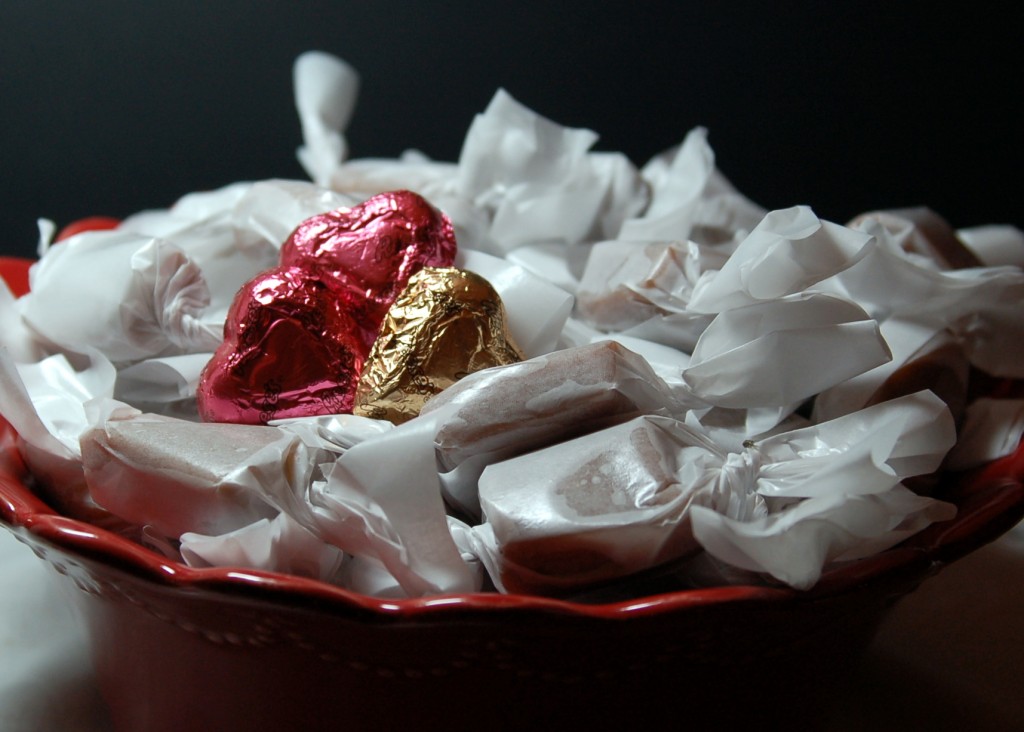 Wouldn't your Valentine love these in a fun little container like the Chinese take out boxes, a cellophane bag, a cute bowl or mug, or a little basket!