I'm excited to bring you my Dec. 2017 Visiting Teaching Handout for The Church of Jesus Christ of Latter Day Saints!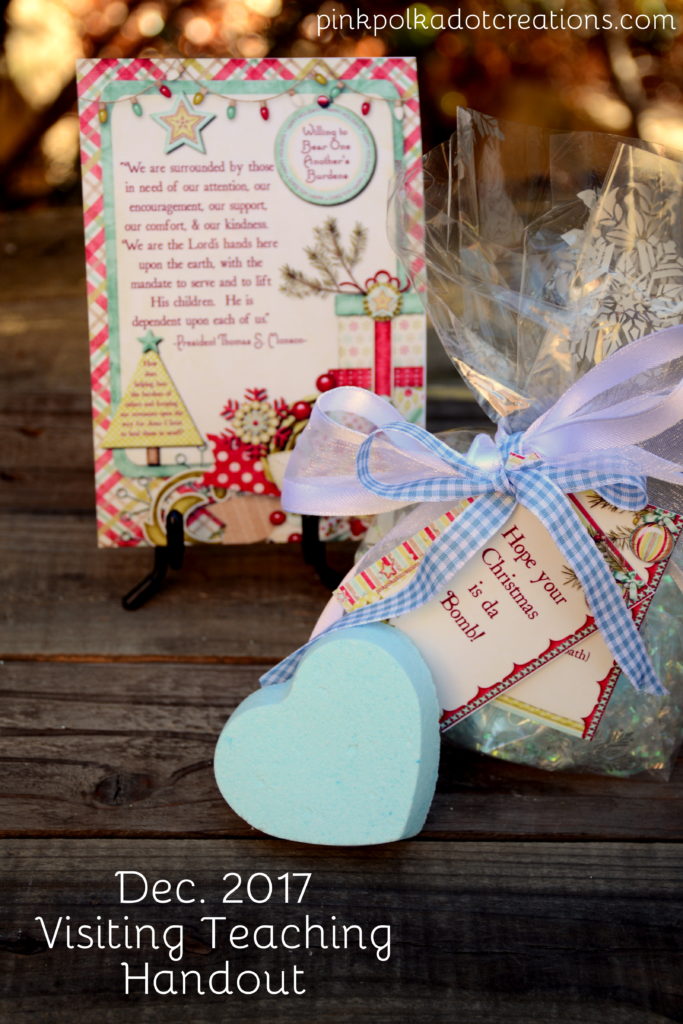 Can you believe that we are closing in on another year??? Wow!
But love this time of year…even with all the hecticness!
This month the message is "Willing to Bear One Another's Burdenss".
Perfect for service-minded sisters!
I chose Pres. Monson's quote and the last sentence pretty much says it all…He (meaning the Savior) is dependent upon each of us, to serve others and help bear their burdens. Pretty Straight Forward!

Here is the message card. It is formatted to a 4 x 6 card as always. If you would like to print it as a jpeg image, right click over the image. Go to "save image as" then save it in a folder. You can print from there.
This blank card is perfect for those that would like to translate. Or you could use it for a card, a tag, or an invite!
But please remember, as always, these printables are for personal use only. Not for resale.
Here are the tags that I used for my handout.
I tied up a shower bomb to give to my sisters. But, you could also do a bath bomb, a treat, a decoration, the frosted jars that I showed you here, gloves, scarf, jewelry or just simply print the message card!
And I have blank tags that you could use! Simply print them out and write on them or type your message on them before you print. Either way, I usually like to print mine on photo paper, for a nice glossy tag!
For those of you that would like the PDF download, simply click on the link(s) below:
So there you have the Dec. 2017 Visiting Teaching Handout.
I made shower bombs, which are super easy to do, but I had to experiment a bit to get them the way I wanted.
I will be sharing a post on how to make them on Monday. If you are planning to go out visiting before then, you can simply buy some shower bombs or just do something else.
Please remember, as always…it is the visit that is important!!!
Not the handout!
Thanks for stopping by…Happy Visiting!
The images for these handouts are from "justsoscrappy.com". "Tis the Season" collection. They are used with a CU license.