We have had a very mild winter here in Utah with hardly any snow.  We have had unseasonably warm weather and it seems like it should be spring, not the dead of winter!  But all good things must come to an end and the forecast for the next week is snow and rain almost every day, with winter storm warnings.  Ugh!  I got way too spoiled with the good weather and do not look forward to the cold so I decided to bring some of that spring time feeling into my kitchen.
This arrangement sits right behind my kitchen sink and I love how much it brightens up that corner!  Every time I walk into my kitchen this is the focal point.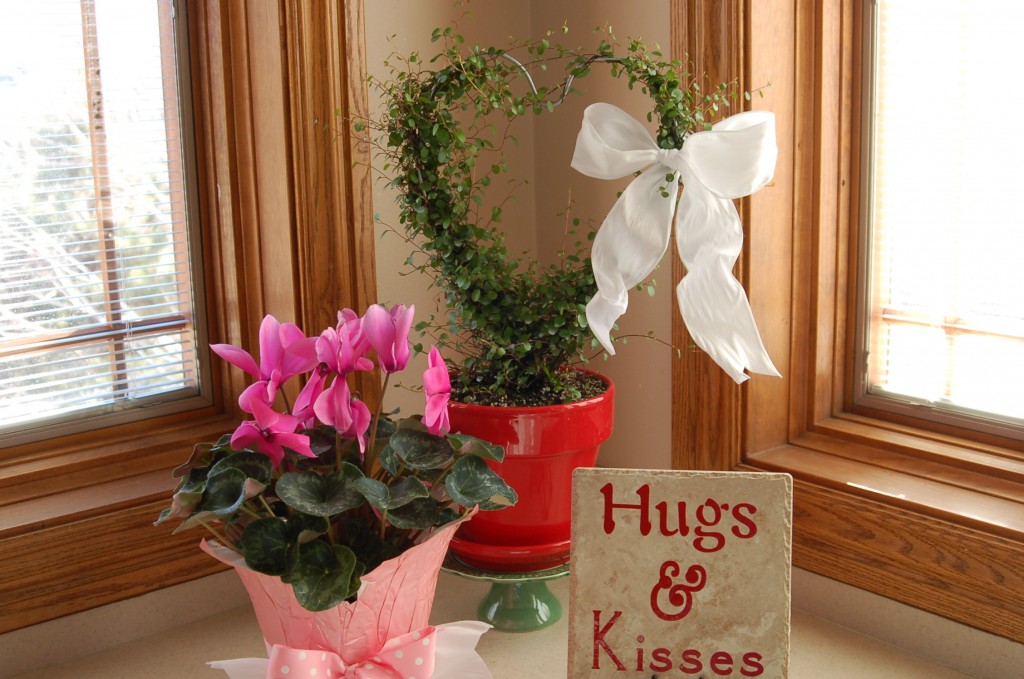 My next door neighbor and great friend, Susan, works at a greenhouse and she lets me know what is blooming and when to plant different plants and how to fertilize etc, etc, etc. I really do not have the best green thumb but with her help I am learning a lot about different plants and how to take care of a lot of different flowers.
She told me about this pink plant and that it was in bloom right now, so I went down to see her at work and I got this "cyclamen" flower.  Isn't it beautiful?  The blooms do not last for very long so I will have to enjoy it while they do.  There are several new buds coming so I should be able to enjoy it for a little while.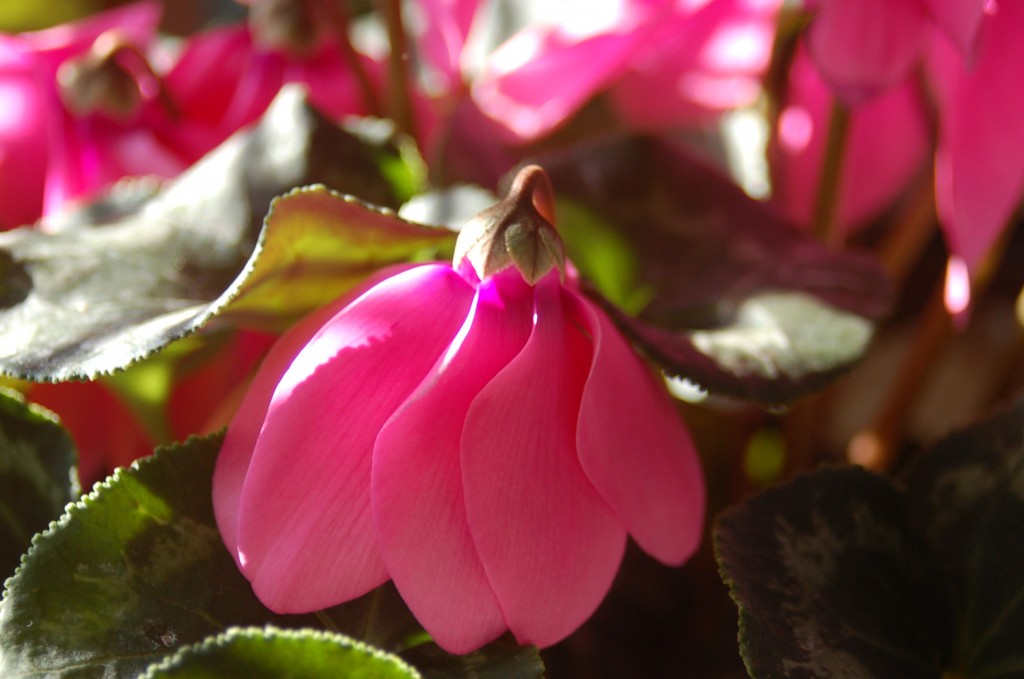 I also saw this fun heart topiary and thought how cute they would look together for Valentines Day!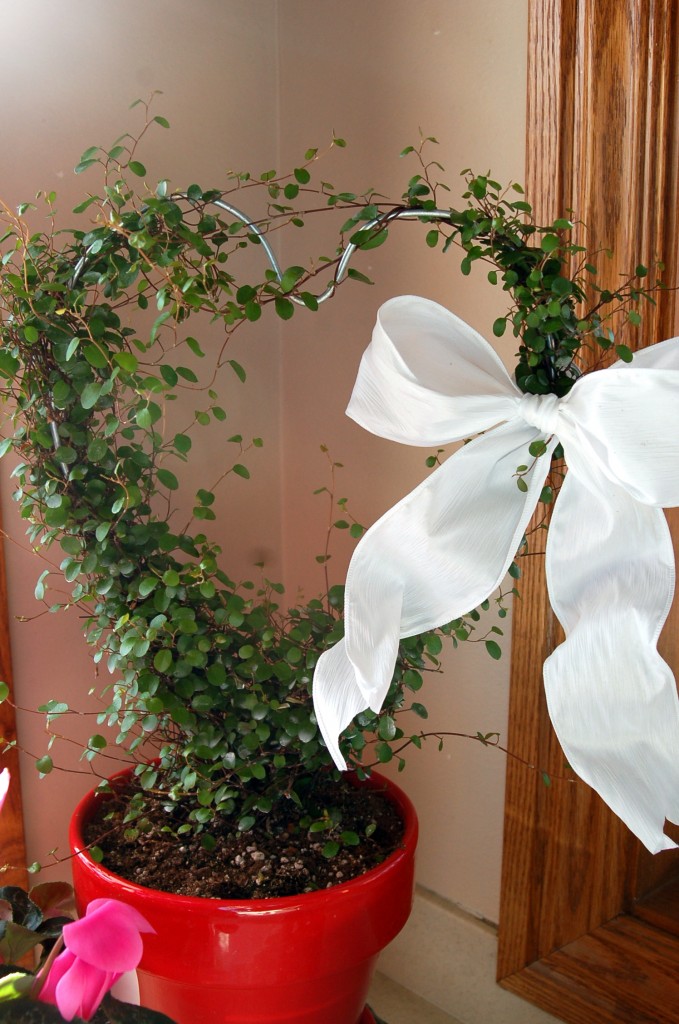 I tied a couple of ribbons into bows and made a vinyl with "Hugs & Kisses" to put on a tile to finish off this little winter arrangement.
I love the sunlight of the morning coming through my south window in this picture, it really does make me happy!  Now I just need to look at this picture during the coming week when all the snow storms are here (Ugh) and remember that spring can be here in my kitchen!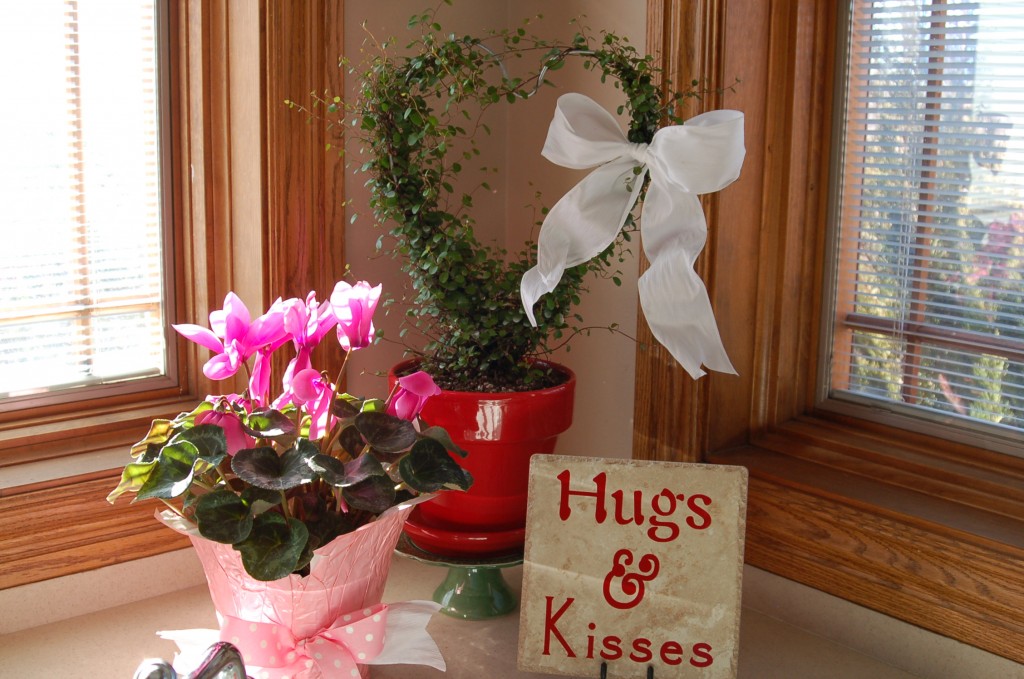 What do  you do to chase away the winter blues?