Check out this fun Fall Table Centerpiece Box!
I hope that everyone had a great Labor day holiday. I took the LABOR part quite literally! After getting home from working at the cabin, I came home and bottled peaches one night and got up the next morning and bottled spaghetti sauce! I also picked raspberries and froze them for later use! So needless to say…this old body is tired. I am just glad that the LABOR Day holiday is over! :)
As many of you know…I did some remodeling this summer and in the process I found a wonderful handy-man…and he is one of my neighbors! When we had most of the work on my house done, I asked him to make me a wooden box for a table centerpiece.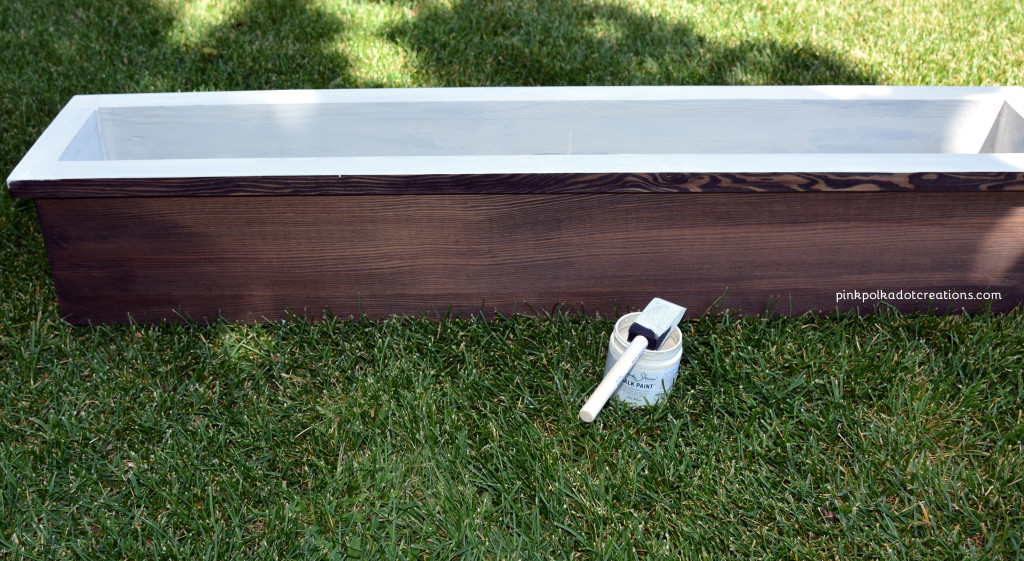 The box measures 36″ long by 6″ deep and 6.5″ high. It is made out of pine wood. He added this cute lip to the top of the box. I stained the entire box with a walnut stain and when that had dried, I did a coat of Ivory Chalk Paint from Annie Sloan. I love working with this paint. It sands really nice. I distressed the entire box and sanded a little more in some places than others and I love the look of this box! Thanks Issac!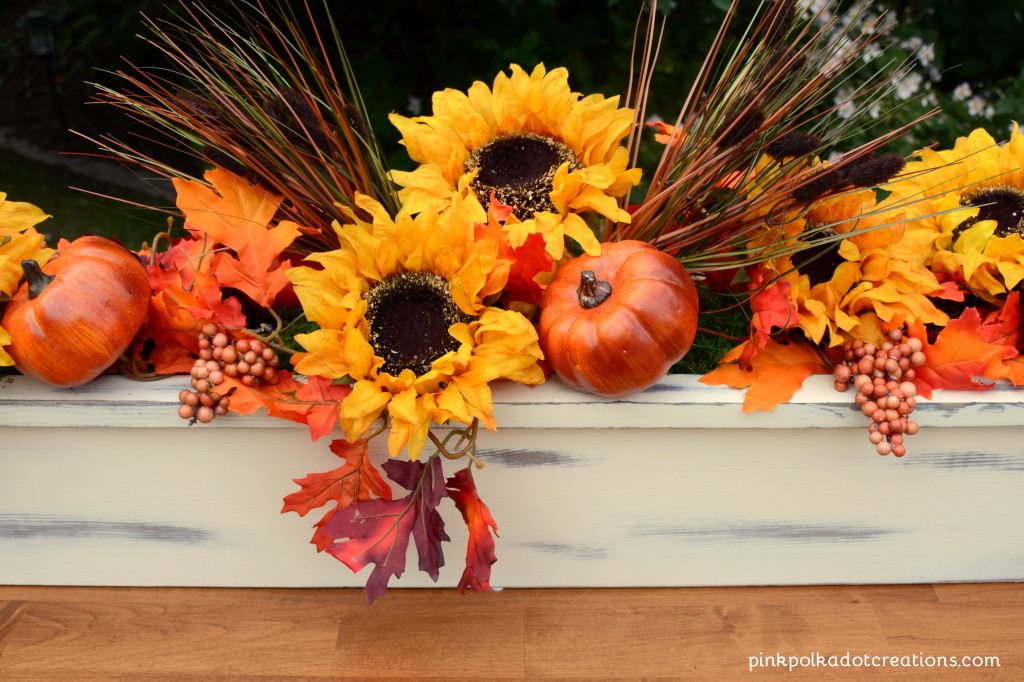 I bought some fall flowers, pumpkin picks. autumn leaves, cattail grasses, berries and a couple of fall clusters. I filled the box with floral Styrofoam, added some moss to cover it and then just started arranging all of the flowers.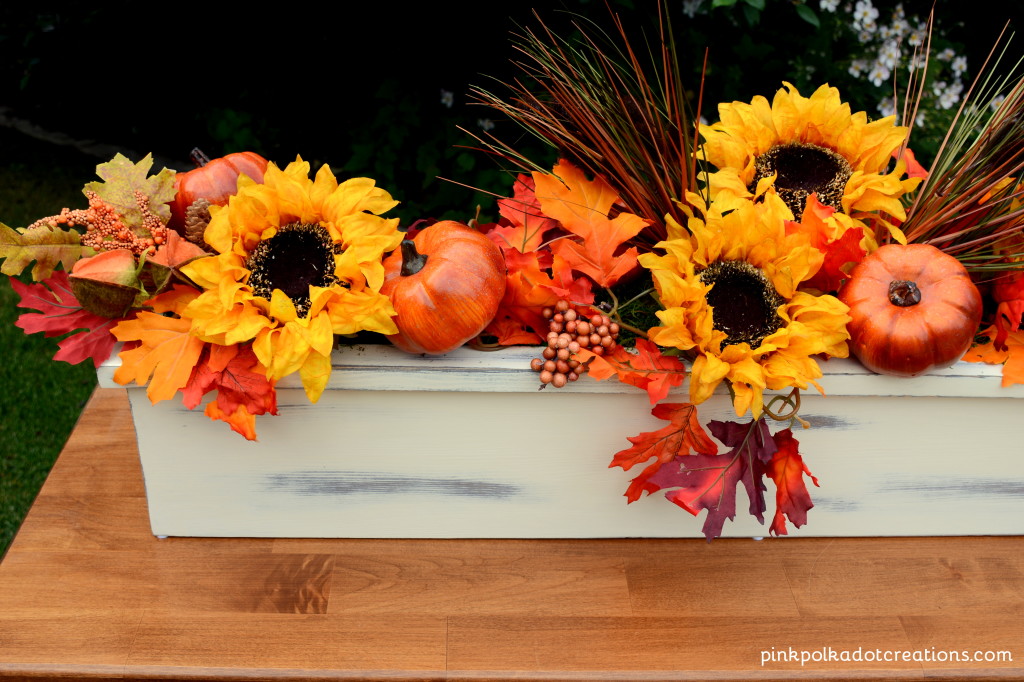 I love the bright yellow sunflowers with the red and brown leaves and the orange pumpkins. It is cheery and welcomes in the fall season! I will change this box out every season. It sits on my kitchen table, so everyone who comes into the kitchen will be welcomed by these warm wonderful colors.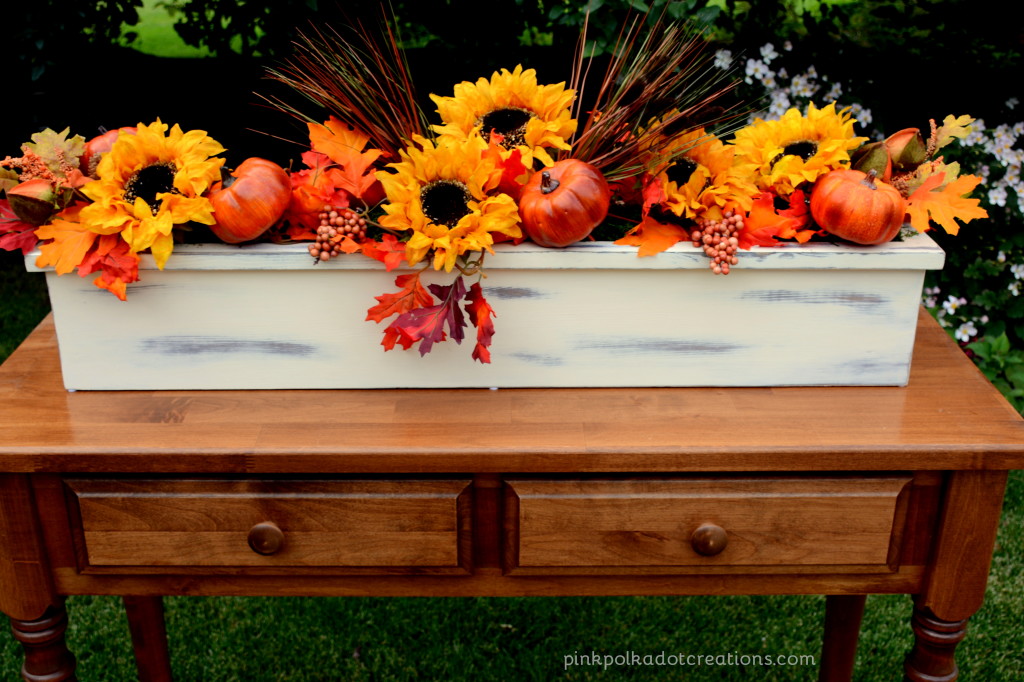 I love this Fall Table Centerpiece Box and I think that it will be a fun addition to my home. I love that I can change it out for every season and all I will have to store is the flowers! It is a win-win situation.
Do you have a focal point in your home that you can change for the holidays or for the seasons? I love this concept!
Thanks for visiting, have a great day!