I am excited to show you my Boo-Berry Ghost Pies!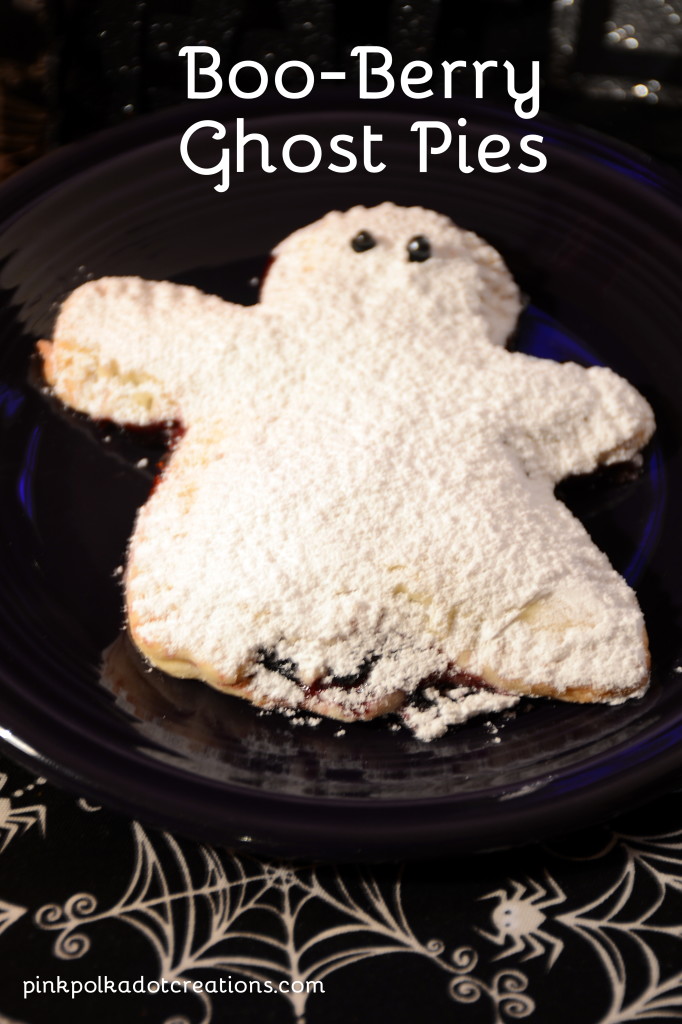 They have a been a little while in coming because I was looking for a larger size ghost cookie cutter and I could not find one anywhere! There were a couple of stores that had a place on the shelf for this cookie cutter but they were all out…I guess that is what you get for waiting until October to find a ghost cookie cutter! Well, I decided to order one online and it said that it would be here in 2 days, so I went ahead and ordered it, and in two days, I got a notice that they had delivered my cookie cutter! But it was not in my mailbox…so I called the company and they agreed to send me a new cookie cutter. Well long story short, I did not get a new cookie cutter, but a rather distant neighbor called me and said that a package had been delivered to her house! So I got my cookie cutter and it came in time that I could still make my Boo-Berry Ghost Pies!
One of my walking friend's gave me the idea for these cute pies and also the recipe for a sweet pastry crust. She made apple pies into cute fall leaves.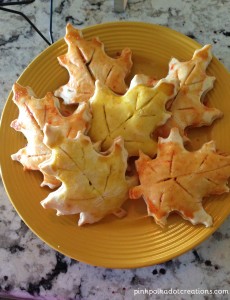 So there are lots of possibilities for these fun hand held pies!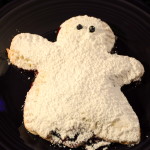 Boo-Berry Ghost Pies
2015-10-25 21:27:53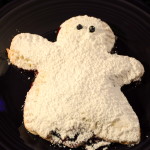 Serves 4
A fun delicious sweet pastry crust that can be cut into any design for different holidays! These are cute little hand held pies!
Nutrition Facts
Amount Per Serving
Calories 1058
Calories from Fat 363
Trans Fat 0g
Polyunsaturated Fat 11g
Monounsaturated Fat 17g
Total Carbohydrates 163g
54%
Sugars 13g
Protein 14g
* Percent Daily Values are based on a 2,000 calorie diet. Your Daily Values may be higher or lower depending on your calorie needs.
Sweet Pastry Crust
1 1/2 cups all purpose flour
1/8 teaspoon salt
1/2 cup butter-softened
1/4 cup sugar
1 large egg, lightly beaten
Filling
Pie filling-can use canned or make you own. Any flavor. (I used blueberry for the ghosts)
Instructions
Preheat oven to 400 degrees F. In a separate bowl, whisk the flour with the salt. Place the butter in the bowl of your electric mixer, or with a hand mixer, and beat until softened. Add sugar and beat until light and fluffy. Gradually add the beaten egg, beating just until incorporated. Add the flour mixture all at once and mix just until it forms a ball. Flatten the pastry into a disk, cover with plastic wrap, and refrigerate for 15-30 minutes or just until firm. (Can place in the freezer for about 10-15 minutes.)
Once the pastry has chilled, roll out to about 1/4" thick and cut with desired cookie cutters. Place on a parchment lined cookie sheet. Add a spoonful of pie filling to the middle of the shape, place another cutout on the top of the filling and seal around the edges with a fork. Cut slits in the top pastry or poke holes with a fork. Place cookie sheet onto middle rack in the oven. Bake crust for 5 minutes, then reduce the temperature to 350 degrees F. and continue to bake for about 10-15 minutes until crust is a nice golden brown color. Remove from oven and place on a wire rack to cool. Sprinkle with powdered sugar and decorate as desired. You could also make a glaze to top the pies with. Enjoy
Notes
If you want color on the crust, brush with an egg wash with food coloring added.
Pink Polka Dot Creations http://pinkpolkadotcreations.com/
There are a lot of fun things that you can make with this sweet pastry crust! I am thinking that these would be great for Thanksgiving too, because we all make pies at Thanksgiving, right? A cute turkey cutout, or the fall leaves, a cornucopia, well you get the idea.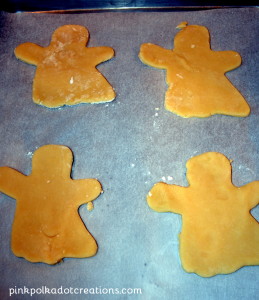 This is how I made these pies. Cutout your pastry crust, place on cookie sheet. Add a spoonful of pie filling of your choice. Add a top cutout and seal the edges with a fork, so the filling does not escape. (although some of my filling did escape…you can cut it off when you put on wire rack!)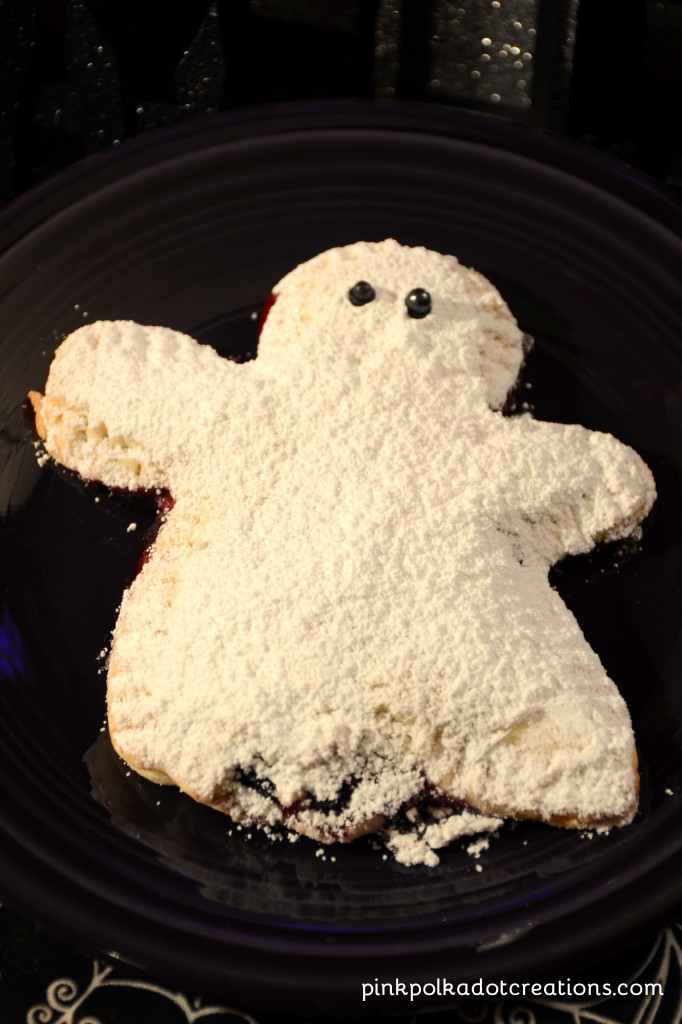 These fun little hand held Boo-Berry Ghost Pies are the perfect little treat to make for all those little spooks in your life!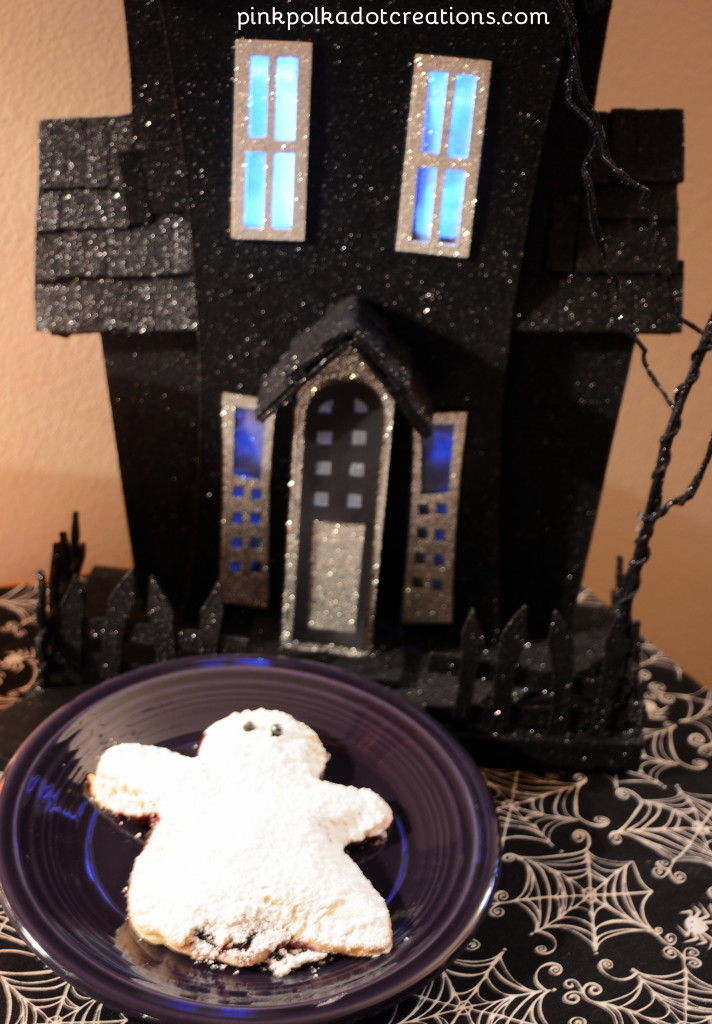 I have been getting ready for our Halloween Party tonight, and these cute little ghosts are going to make an appearance at the party!
Hope you are having a great day! Thanks for Visiting!