We had our family Halloween Party and we did this fun Halloween Punch Out Game!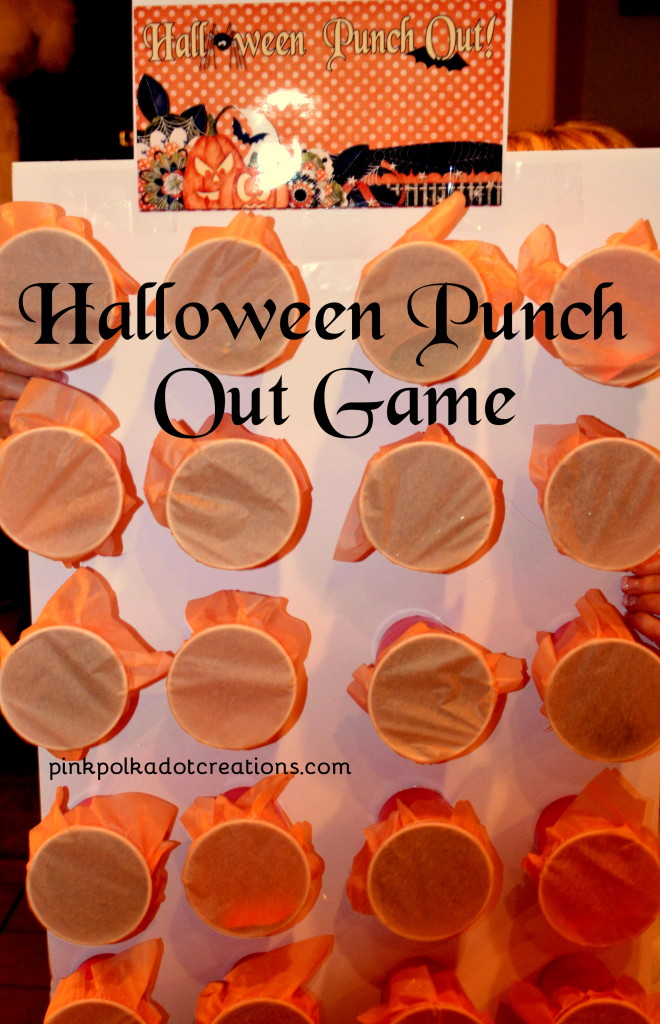 This is a fun game for kids and adults. It is an easy game to make and it can be used over and over for different parties!
To make this Halloween Punch Out Game board you will need a foam core board, large size cups, tissue paper cut in squares large enough to cover the opening of the cups, rubber bands and the prizes! I wanted 20 cups because that is how many we have in our family. I placed the cups in rows with a little space in between each cup. Place a prize in each cup. I used money, candy and toy spiders in mine. Place one of the tissue papers over the top of the cup and place a rubber band around the top to hold the tissue paper in place. Then hot glue each cup in place. (The next time you play the game you will just have to add the prize to each cup and place the tissue and rubber band on. That is why you will want to leave a little bit of space between each cup.) I had enough cash prizes to make it interesting for the kids and for the adults! :)
This is the printable that I attached to the top of the foam core board. I printed it on photo paper and just taped it to the top of the board. You could make any title that you want for this game! I know this game will make another appearance at another party! :)
To print the title as a jpeg, right click over the image and go to "save image as" then save in a folder. This is formatted to an 11 x 6 size, so you can print it from your own printer. If you would like the PDF format, click on this download:
Halloween Punch Out Game
We did some fun minute to win it games! There are a lot of these out there if you just google it!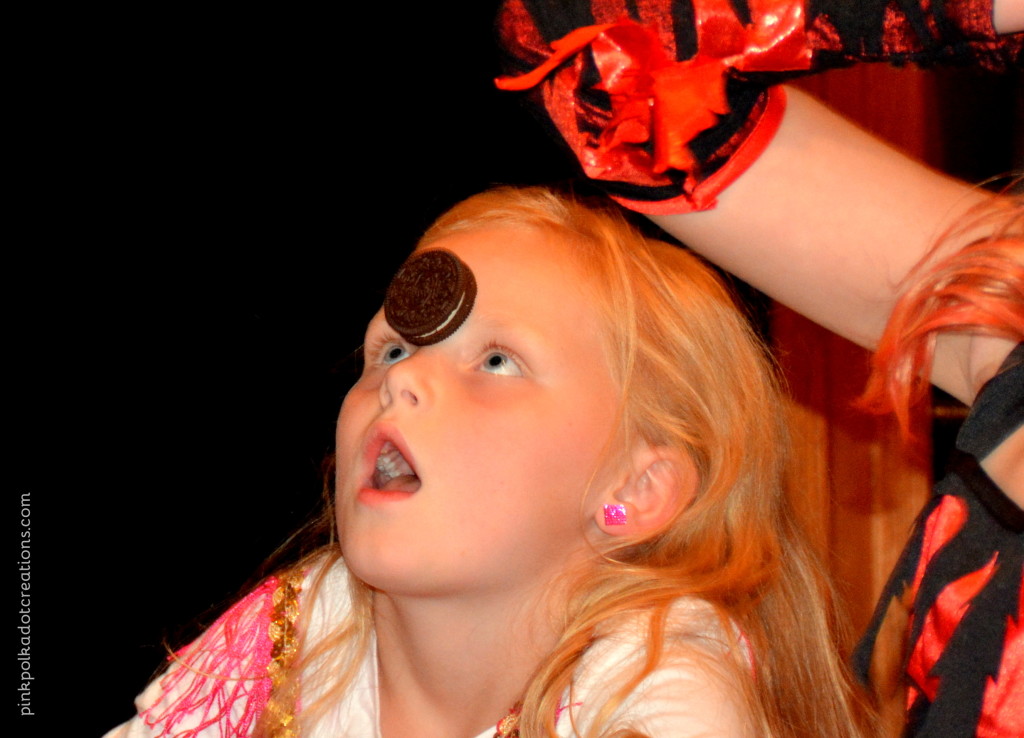 I love her concentration!
More minute to win it games! We also had a fish pond by request from one of my little grandsons. He wanted to make sure that we kept this tradition going! :)
For dinner we had homemade chicken noodle soup, broccoli soup, Frankenstein Parts, Crusty Bones, Vampire Blood to drink and Eye of Newt.
For dessert we had Poison Apples, Arsenic cookies and donuts, and lots and lots of candy!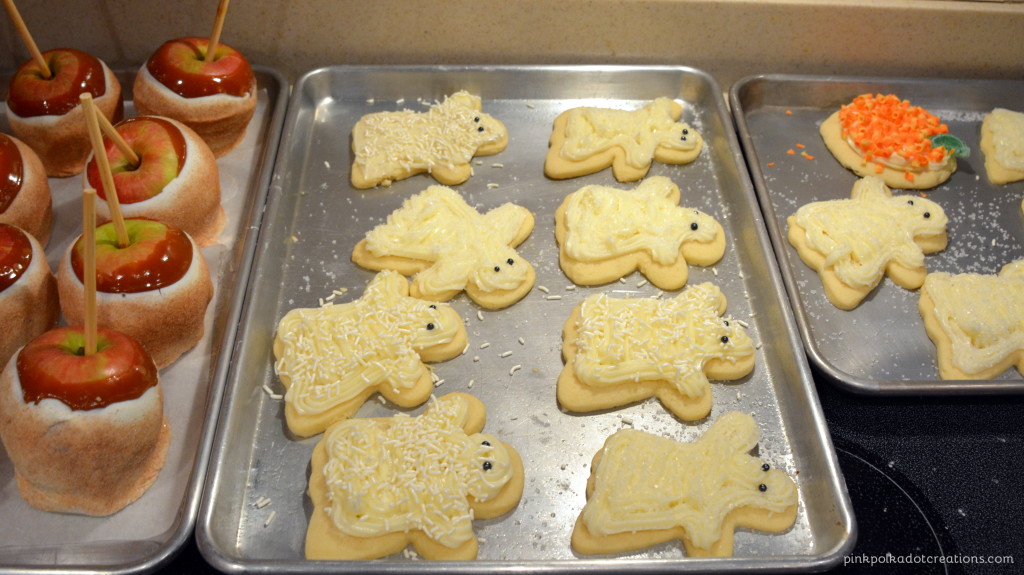 My daughter came over the night before the party and we made the Apple Pie Caramel Apples and some sprinkled Ghost Sugar Cookies. Click on each link for the recipe! Both of these recipes are family favorites and I can only make them if I know I know that I will have lots of helpers to eat them! Otherwise I just keep eating them all myself! I am so lucky to have a daughter that is willing to help me out..she is a wonderful daughter and friend…I think that I'll keep her!
The kids all wore their costumes. We did not have a contest for the best costume…but if we had…this one would have won it! This grandchild's name is "Wilson", can you figure out what he is…hint…Tom Hanks…Castaways! Nooo! Willlllson! This was a classic!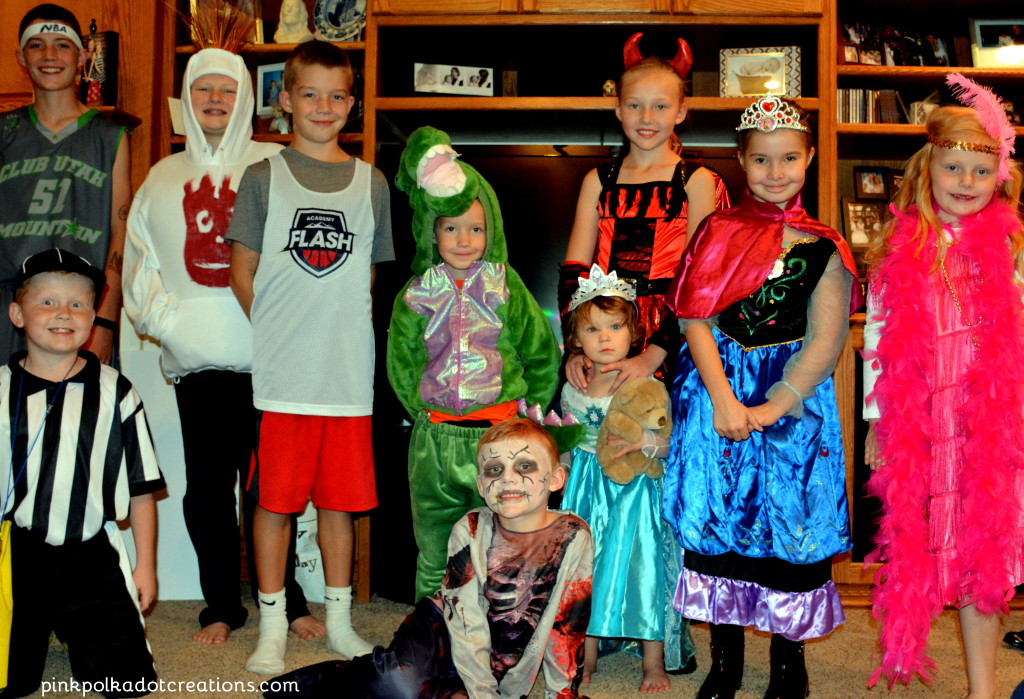 So from our house to yours…we wish you a Haunting Halloween!
Thanks for Visiting!