I used to decorate for all the holidays when my children were at home, but now I usually decorate a lot for Halloween… a little bit for Thanksgiving… for Christmas I still go all out… and then I kind of just go spring/Easter and Summer/Patriotic.
But I still like to have a few decorations and candies in my kitchen for each holiday! So for Valentines day, I decided to make up these darling button trimmed dishtowels! I got the supplies for these last spring, when we went on our trip to Arizona. My husband basically took me on my very own, private, quilt shop hop on that trip! We went to about 15 different quilt shops while we were there for Spring Baseball, it was like having the best of both worlds! :)
So here are my button trimmed dishtowels: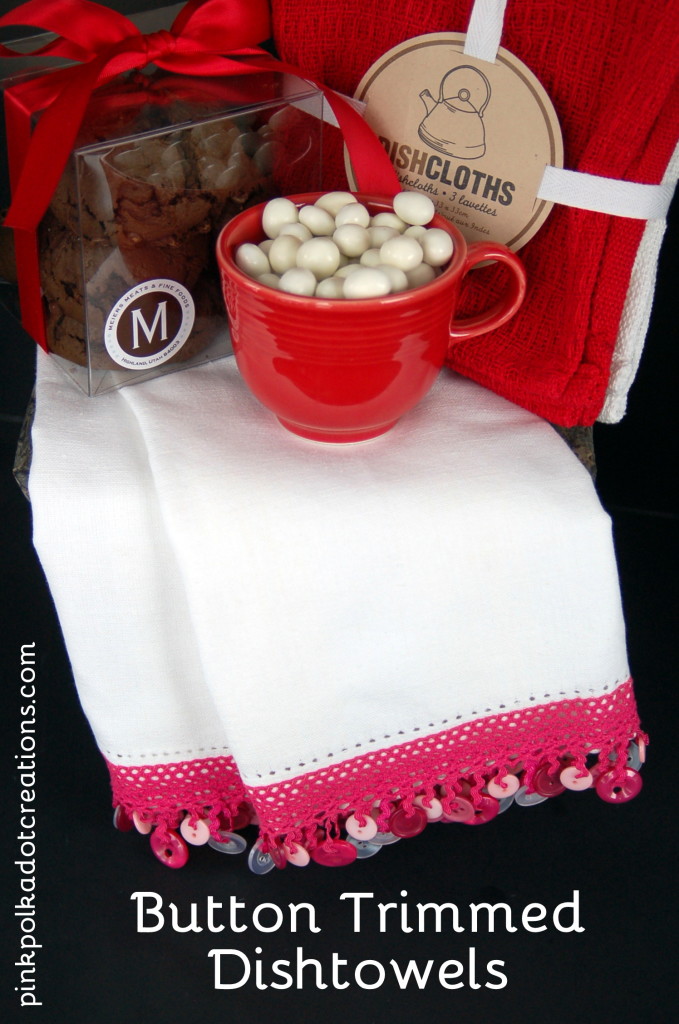 This is my little Valentines vignette. I love the red and pink together!
We have a new little grocery store near us called, Meieres Meat and Fine Foods. It has so many fun specialty items that it has become my new favorite store to shop in! I love to just go in and look around and get my creative juices flowing. I could put a lot of fun gifts together from just the bakery department! I am thinking that it is a chain store, but I have never seen it before, so I am not sure about that. I am thinking it might just be in Utah.
But back to the dishtowels, all you need to make these cute little things are a couple of dishtowels and some fun sewing trim.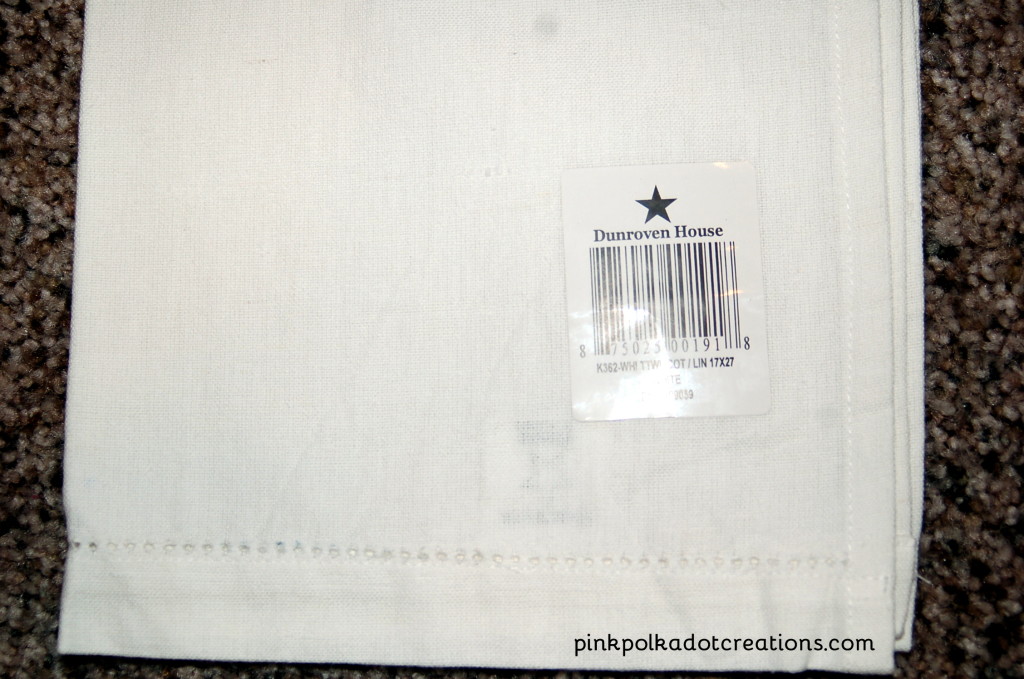 These are the dishtowels that I used they are from Dunroven House and they are called Cotton Linen Hemstitch. I love the little hemstitching row across the bottom, it just makes them look so elegant! This company has a ton of beautiful dishtowels, I got mine at a quilt shop, but you can order some from this link. They are inexpensive and I think that they are the prettiest white dishtowels!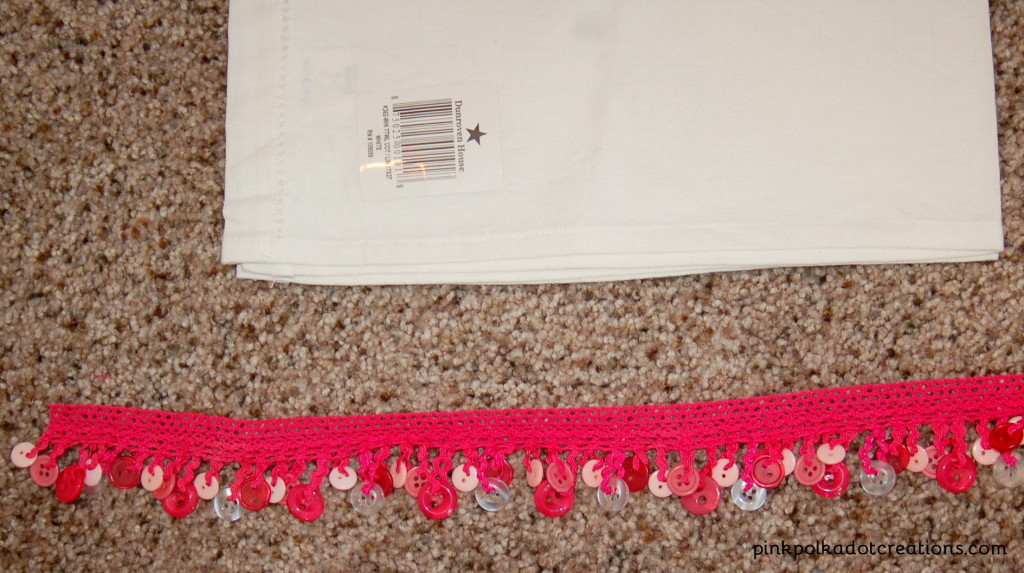 Next you will need to find some pretty trim. I loved this button trim, but you could use ric rac, or a fun fringe, or even the pom pom balls would be cute!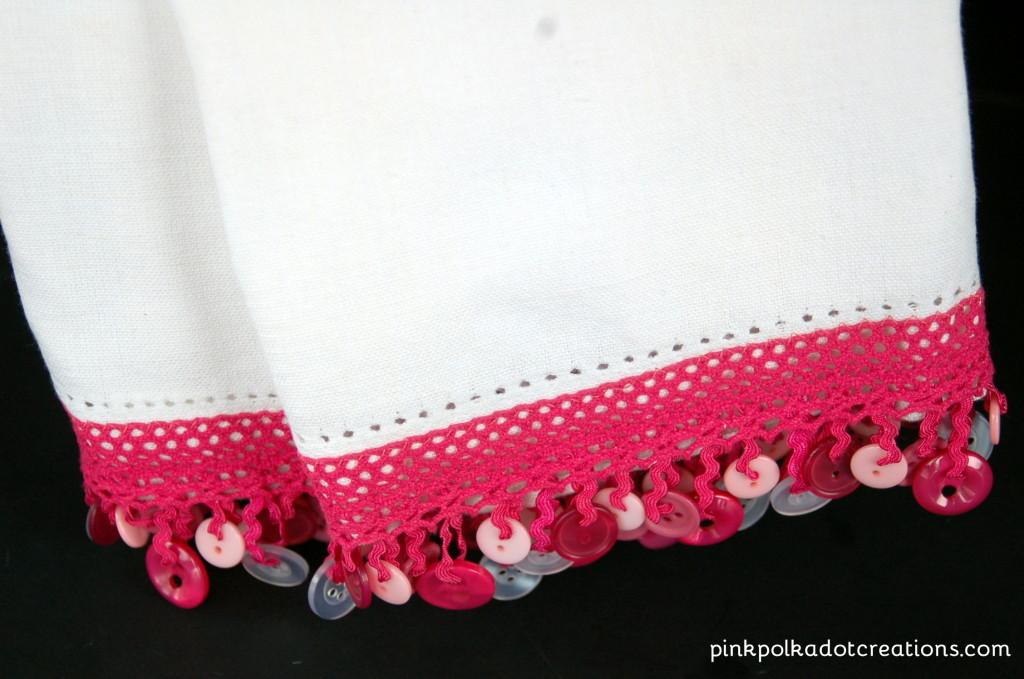 This is a super easy sewing project, that even a beginner could do! All I did was fold the ends under and do a zig zag stitch across the top of the fringe! I spaced it just a little bit below the hem stitching and I am loving these! What do you think, do they make a fun kitchen Valentines accent? Of course you could do any color of trim and make them to match your everyday decor. I have one more set of these dishtowels, so I guess that I will be on the hunt for another fun trim to put on them! Look out quilt stores, here I come! :)
Wouldn't these make a fun gift for someone you know?!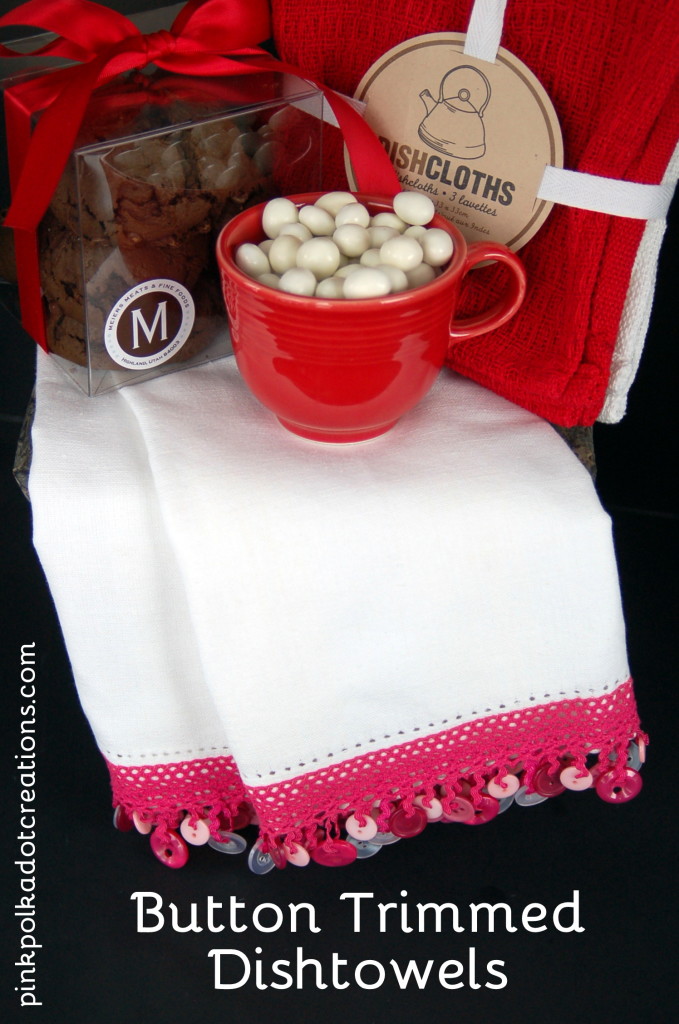 So this is my Valentines decor for my kitchen. I have a couple more jars filled with candy and a couple of framed Valentines prints. So easy and simple, but yet it puts "Love in the Air"!
Do any of you have a fun, simple Valentines decoration that you love? I would love to hear about them.
Thanks for visiting today! Love Ya!
Keep in touch…Like on Facebook and Pinterest