Dipped Valentine Wafer Cookies
Before I tell you all about these cookies…I have had several people ask about the 40 day conference reading challenge. The bookmarks will be ready this week! The challenge will start next week and end the Sunday before April conference. Can you believe that we are only 40+ days away from April???
Now onto today's post…
Do you need a super easy…fun…yummy…
Valentine treat? These Dipped Valentine Wafer Cookies are just the thing to fit the bill!
These are fun to make and a good way to use up some of those sprinkles that you have been hoarding! Your kids will also love to help with these cookies!
To make these Dipped Valentine Wafer cookies. Simply melt some white chocolate chips, or discs in a tall glass in the microwave. I heat the chocolate for one minute at 50 % power. Then stir and repeat if necessary. Next, dip the wafer cookies into the melted chocolate. Tap on the side of the glass and place on a piece of waxed paper or parchment paper. Sprinkle with your choice of sprinkles while the chocolate is still wet. Let set.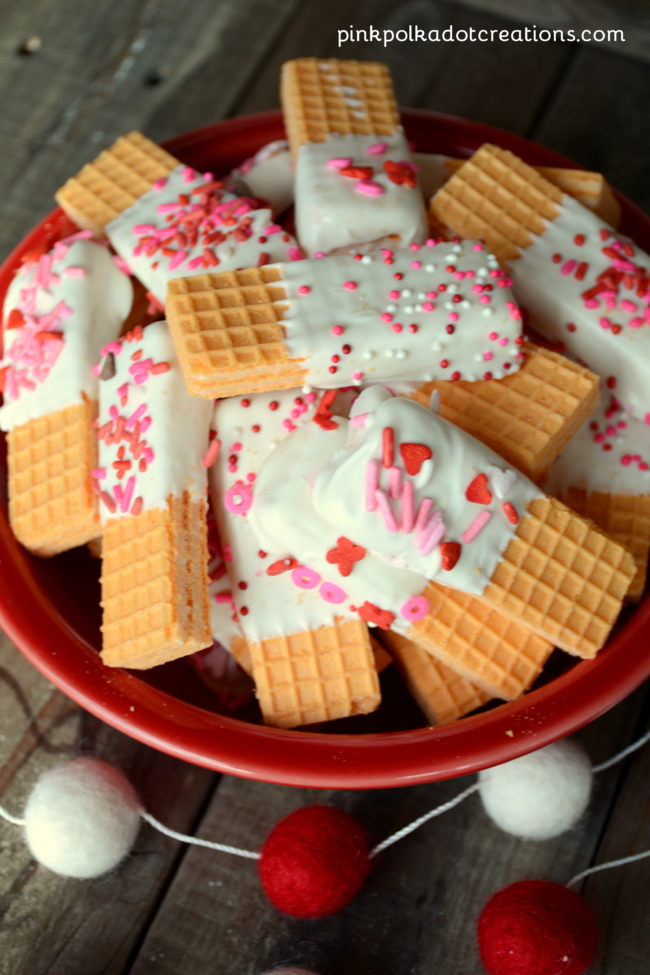 I made these for our Super Bowl dinner and there were only a few left over after the game. The kids…of all ages enjoyed this little treat!
This is the plate that I put the cookies on for our party.
I think that they are so festive!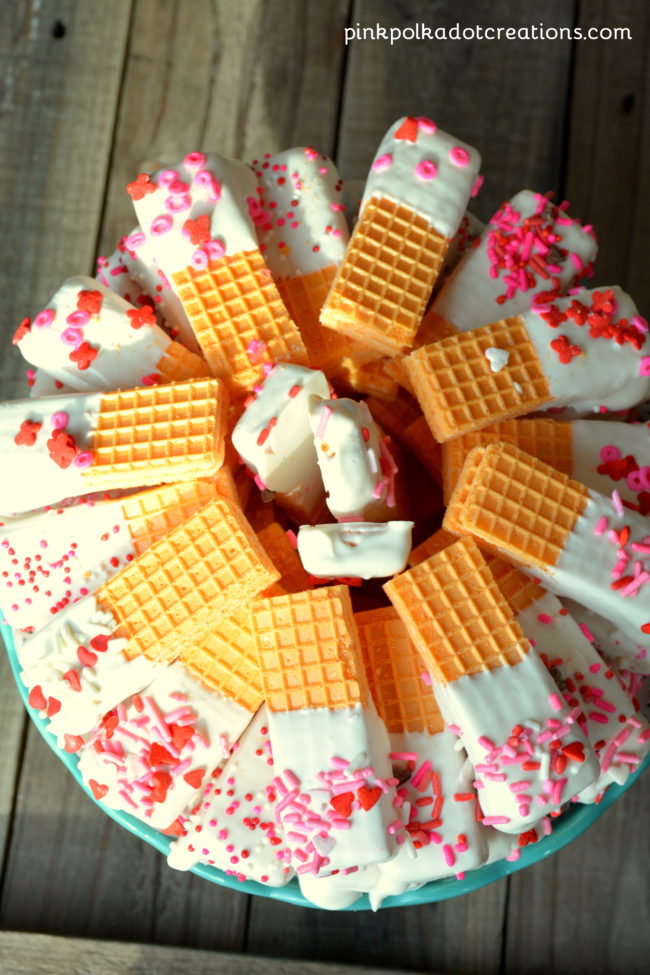 Do you have a reason to make these Dipped Valentine Wafer Cookies? I hope so!
They would be fun for any holiday just by changing out the sprinkles! I think I need to make some Spring/Easter cookies! The sun is finally starting to shine and I AM READY FOR SPRING! This has been a loooong winter!
Thanks for Visiting! Hope you have a Happy Day!