Valentine Muddy Buddies
I had some of the grandkids here the other day, so we decided to make some Valentine Muddy Buddies!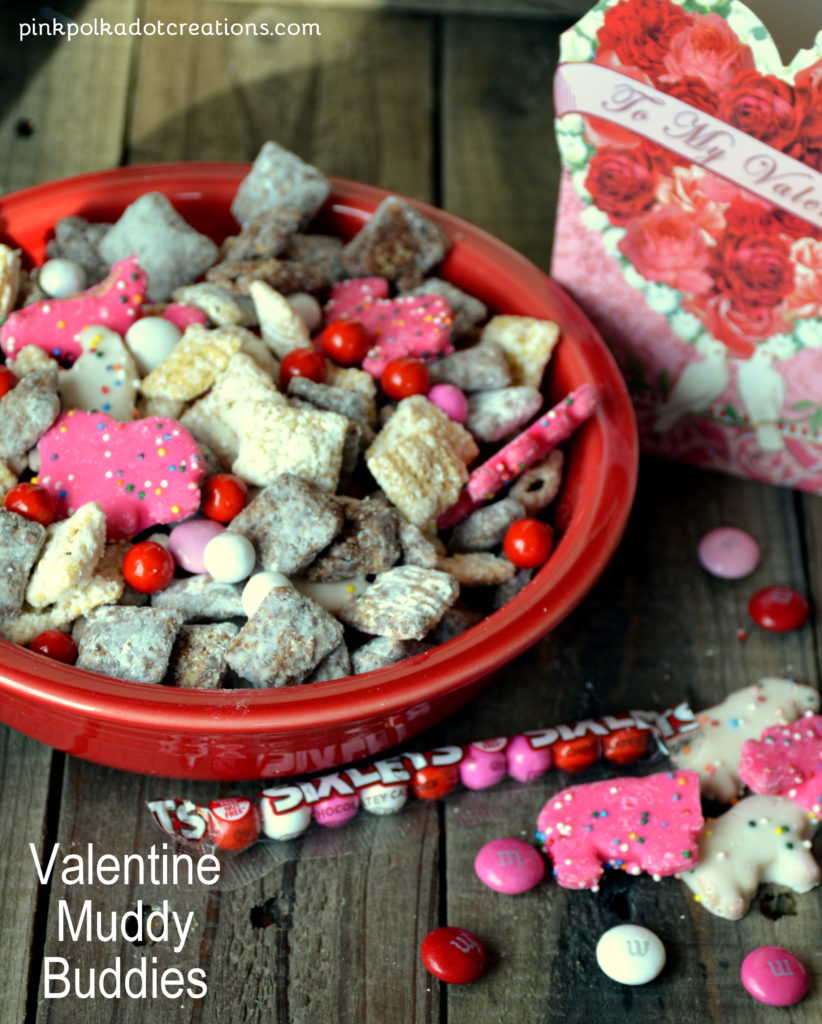 This is a fun version of Muddy Buddies because it has Circus Animal Cookies in it!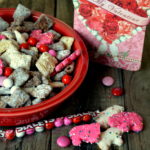 Valentine Muddy Buddies
2017-01-19 20:01:18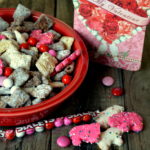 Serves 18
A fun Valentine version of the original Muddy Buddies!
Nutrition Facts
Amount Per Serving
Calories 359
Calories from Fat 145
Trans Fat 0g
Polyunsaturated Fat 1g
Monounsaturated Fat 5g
Total Carbohydrates 50g
17%
Sugars 38g
Protein 4g
* Percent Daily Values are based on a 2,000 calorie diet. Your Daily Values may be higher or lower depending on your calorie needs.
White Muddy Buddies
6 cups rice cereal (Chex)
1 1/2 cup white chocolate chips or chocolate melts
1/4 cup butter
1 teaspoon vanilla
1 1/2 cups powdered sugar
Chocolate Muddy Buddies
6 cups rice cereal squares
1 cup chocolate chips, (I used milk chocolate)
1/2 cup creamy peanut butter
1/4 cup butter
1 teaspoon vanilla
1 1/2 cups powdered sugar
Optional
1 bag circus animal cookies
1 package Valentine M & M's
1 package Valentine Sixlets.
Any valentine candies, such as conversation hearts, ju-ju hearts, or any candies or cookies that you would like to add!
Instructions
Prepare two cookies sheets by lining them with waxed paper or parchment paper.
For the white Muddy Buddies
Measure the cereal into a large bowl and set aside.
Also measure the powdered sugar and pour into a large ziplock bag.
Put white chocolate chips and butter in a small microwave bowl and microwave until almost melted. Stir until smooth. Add the vanilla and mix, then pour over the cereal. Mix until all the cereal is well coated. Pour the coated cereal into the ziplock bag with the powdered sugar. Shake to coat all the cereal pieces and then pour out onto one of the prepared cookie sheets. Spread out and let cool until chocolate is set.
For the chocolate Muddy Buddies
Prepare the same as the white ones, substituting the chocolate chips for the white chocolate and adding peanut butter to the chocolate chips before melting.
After the cereal is cooled, mix the two together and add your favorite candies and or cookies. Enjoy!
Pink Polka Dot Creations http://pinkpolkadotcreations.com/
This recipe is similar to these Halloween Muddy Buddies that I made.
We did not add any peanut butter to the white version of the muddy buddies. You just have the white chocolate and butter! Then of course they are coated with powdered sugar!
Do you want a sweet treat to make with the kiddos?
It seems like my grandkids love to help me in the kitchen and I love to have them help!
And…it is good for children to learn what the different measurements are and learn a little bit about fractions!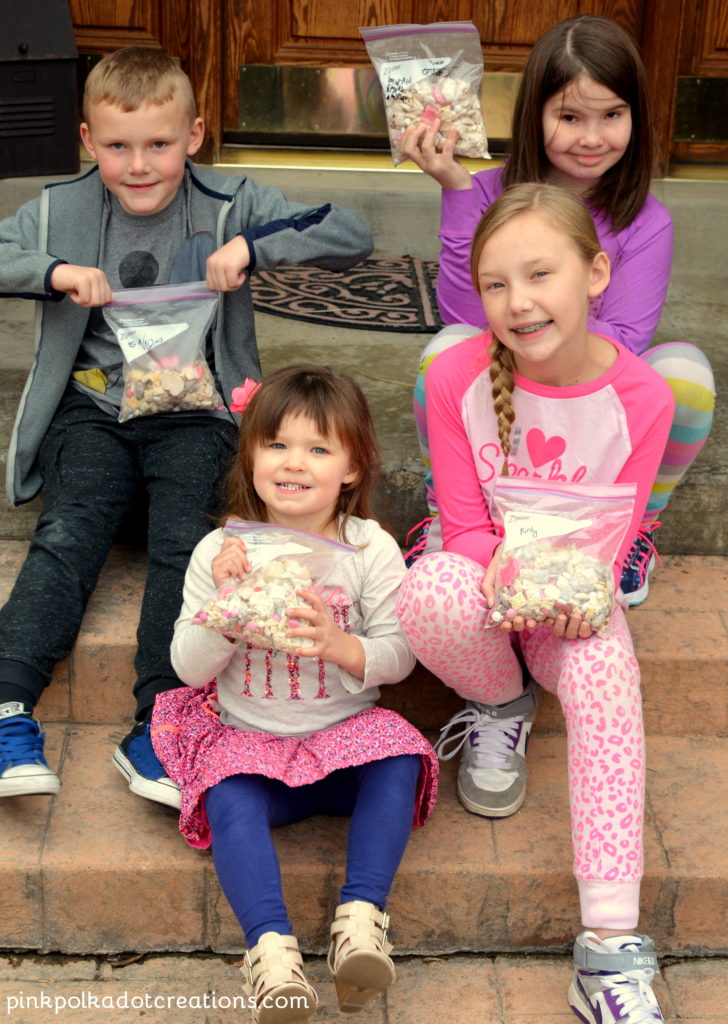 The kids were just excited that they each got their own bag of Valentine Muddy Buddies to take home!! :)
Do you have a fun treat that you like to make with your kiddos?
Cooking in the kitchen is such a fun way for kids to learn how to:
follow a recipe,
learn measurements,
and that the clean-up is part of the process!
Thanks for Visiting…Hope you have FUN weekend!