August 2017 Visiting Teaching Handout
My oh My…where has this summer gone?
I know that I have had a busy summer and we still have several big events to go, but can it really be August already???
School will be starting in about 3 weeks and I, for one, am not ready for everyone to be back on a schedule! I haven't even had time to play yet!
But, this month the visiting teaching handout for The Church of Jesus Christ of Latter Day Saints is about "Living a Consecrated Life."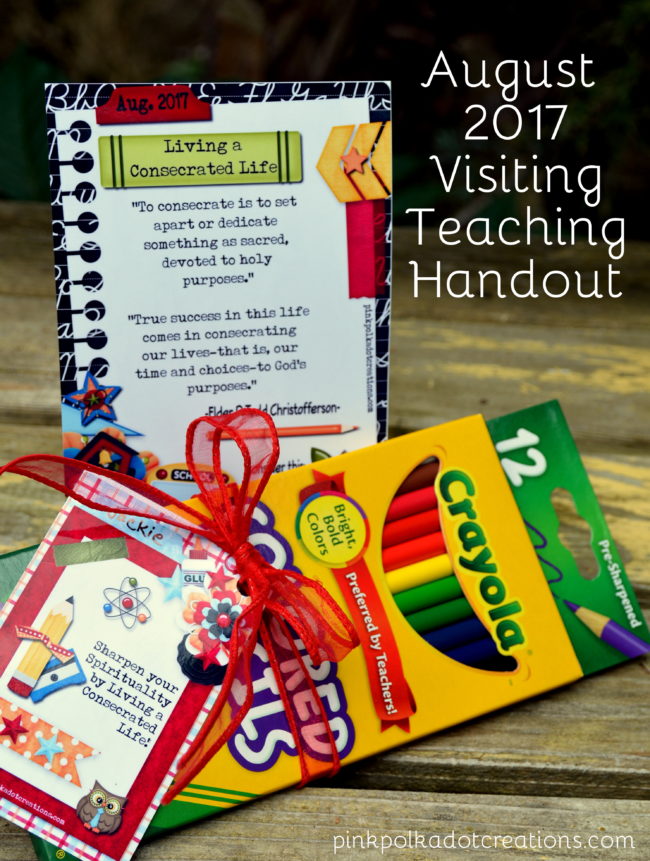 Since a lot of schools are starting back this month, I decided to go with a school theme!
I chose the quote from Elder D. Todd Christofferson.
The part that says,
"True success in this life comes in consecrating our lives-that is, our time and choices-to God's purposes."
is my favorite!
Here is the blank card for those of you that would like to translate. Or for those of you that need a blank card, note, or invite!
But please remember that all of my handouts are for personal use only. Not for resale!
There is a fun tag to go with your handout too!
You could tie this to a package of colored pencils, #2 pencils, or perhaps a red/blue scripture marking pencil!
And, here are the blank tags for you to use!
All of these handouts are formatted to a 4 x 6 card. You can print your own or send them out to your favorite photo processing center.
For those that would like the jpeg version, right click over the image and go to "save image as", then save in a folder. You can print from there.
If you would like the PDF download, simply click on the links below:
I bought these fun colored pencils, because coloring is still quite the thing!
And all of the school supplies are out in all the big box stores, so you should be able to find something fun to give to your sisters.
So that is my August 2017 Visiting Teaching Handout.
Please remember, as always…that it is the visit that is important…not the handout!
Make sure the sisters you visit, know how much you love and care about them!
Thanks for stopping by today…Happy Visiting!
Images for these handouts are from "justsoscrappy.com", from the "School Rules" collection. They are used with a CU license.