June was a very busy month and I cannot believe that it is soon going to be the 4th of July! Summer is going by way too fast…but with that said, it is time for the July 2016 Visiting Teaching Handout for The Church of Jesus Christ of Latter Day Saints!
This month the message is "Our Potential for Parenthood"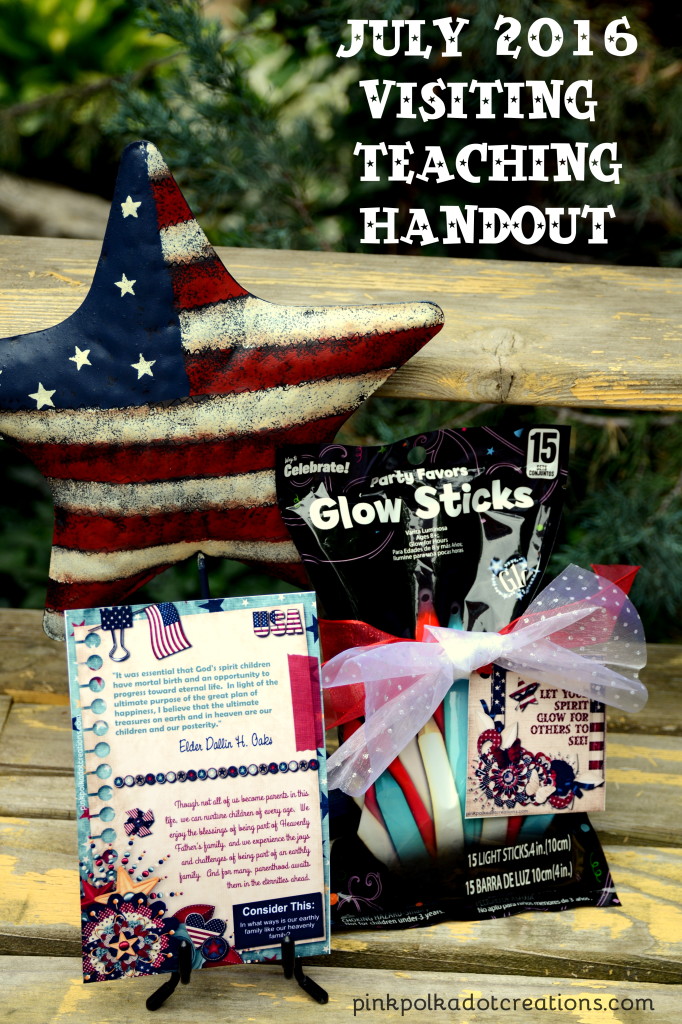 I chose two different quotes this month. The first one is from Elder Dallin H. Oaks…I love the last part of the quote that says "I believe that the ultimate treasures on earth and in heaven are our children and our posterity".
The second part is that if you do not have the privilege of becoming parents in this life that the opportunity for parenthood awaits you in the eternities ahead, but that you can experience the challenges and joys within your own family.
Here is the blank card for those of you that would like to translate, or if any of you are in need of a fun patriotic card. All of these are for personal use only!
If you would like to print these as a jpeg, right click over the image and go to save image as, then save in a folder. You can then print your own or send it out to your favorite photo processing center.
I thought that these would be fun to tie to a bag of glow sticks. Since all the sisters I visit have children or grandchildren, they can share the glow sticks with them. You could even give the children a short message about letting their spirits glow for others to see how wonderful the gospel is!
And here is the blank ones! I printed these on 4 x 6 photo paper also. Then cut them out and you have a cute tag! Again, all of these handouts are for personal use only!
For those of you that would like the PDF versions, just click on the link or links below: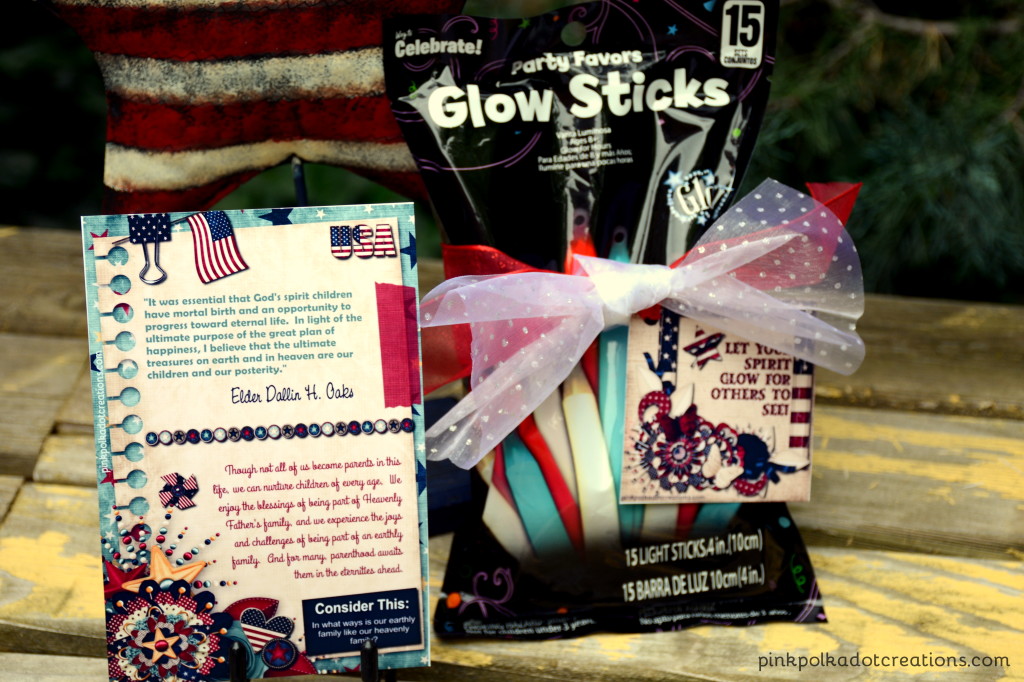 I paired my handout with a package of glow sticks, but you could use anything patriotic, or red, white and blue, a fun treat or a fun fashion accessory!
So that is the July 2016 Visiting Teaching Handout. I hope that you can share it with the sisters that you visit…But as always…it is the visit that is important, not the handout!
Thanks for stopping by…Happy Visiting this Month!
The images for these handouts are from "justsoscrappy.com", from the "Let Freedom Ring" collection. They are used with a CU licence