I feel like I have been on a bit of a roller coaster ride these last three weeks. It started off with our girls retreat, then I was home for a week, but it was a very busy week, then my husband and I took a whirlwind Trip to Canada! So I have been quite a bum ever since school started and I have had a little more free time!
I was born in Canada, so going back, is a little bit like going home for me. I was a baby when my parents moved to Utah, but all of my grandparents lived in Canada and many of my aunts, uncles and cousins. We had several trips to Canada as our family vacations. One of the things that I have always loved are the grain silos and barns. They are just such a wonderful memory to me. I love all of the old buildings and the fact that most of the towns have one out by the railroad tracks with their name on it!
Alberta, Canada has some of the most beautiful landscapes. It is way different than here in Utah, because it is very flat and you can see forever! There are not a lot of mountains. But it is very rich farm country and the fields are beautiful. I found several fields of sunflowers and I just love how the heads are so heavy with seeds that they are just drooping over!
I got to visit my grandpa's old farm. It is getting quite run down now, but boy, oh boy…did it bring back some wonderful memories of a much simpler time with lots of fun and good times. My grandpa was a farmer and had lots of horses. I remember as a young girl, going out in the chicken coop and gathering eggs. I thought that it was so scary, but yet I wanted to do it! I also got to visit the place that I was born, where my parents went to school and where my other grandma was living when I was a little girl. So it was quite a walk down memory lane for me!
I was able to visit the graves of all of my grandparents and some of my great grandparents. My grandma Stevens was such a sweet lady and she was always one of my idols. She was so kind and always put other people first…and even though we lived very far apart, I always looked up to her and loved her! I loved the saying that was on a memorial bench in a park, that is such sweet tribute to someone that has passed on.
You will laugh at me, but one of the main reasons I wanted to go on this trip was to meet with my cousins, so they could help me learn how to do a pantograph on my quilting machine!! They live in a very small farming community called Hillspring, and they have a community quilting machine that they can sign up to use. It was so fun to learn this new technique, but even better were the great teachers that I had! We went to one of their homes afterwards for a delicious lunch and my husband and I were jealous of the view out their dining room window, because it overlooked all of their acreage, and it was just so beautiful and calm! I love the slower pace of their lifestyle and the satisfaction that they get of putting in a hard days work! The town of Hillspring is close to the town of Cardston, where they have an LDS temple. This is the temple that my parents were married in, so it was fun to visit and take a few pictures.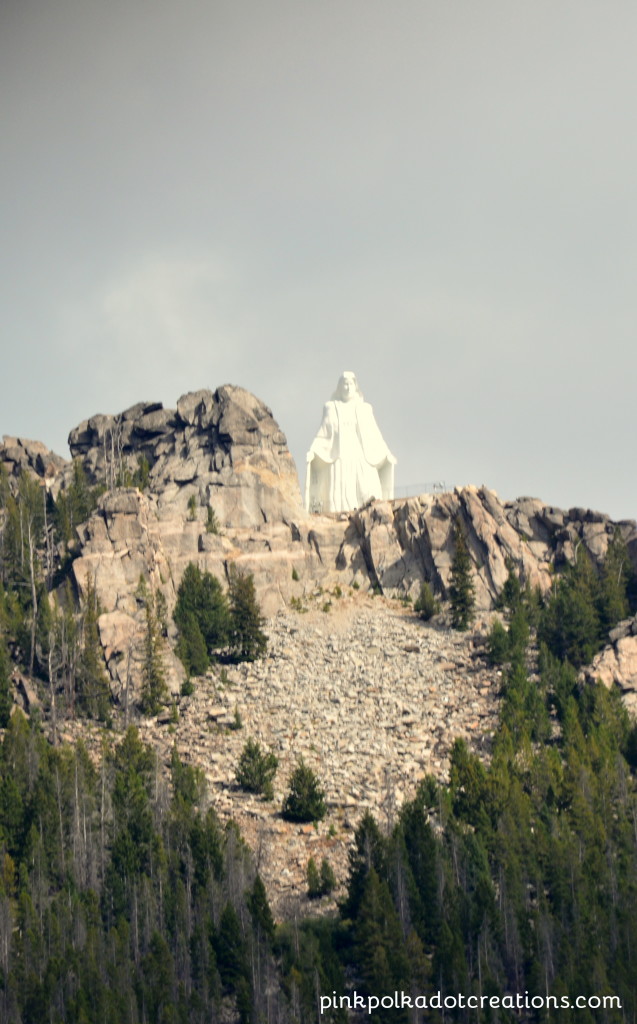 On the way up to Canada, in Butte, Montana we saw a statue on top of the mountain. We could see if from the freeway and wondered what it was. It is called "Our Lady of the Rockies" and it is a tribute to women. I had never heard of it before, but I think that it is beautiful. I had to google it to find out about it, but it is a sweet tribute to all women and the service they give to others!
So that was our trip to Canada, I apologize to any of you that have been waiting on me for replies to your comments. I did not take my computer to Canada and I was really on vacation! We had a wonderful time and it was so fun to go back "home" if only for a few days!
Thanks for Visiting! Hope you have a great weekend!