I am back after being absent for Two Long Weeks.
We had a medical emergency at our house and it was more important for me to be at the hospital than at home blogging.
But we have received blessings unnumbered! And I am so grateful for my children, their spouses, and our grandchildren. They were such a help and a comfort to me! I am one lucky mama and grandma to have all of my family live in the same town!
I took this picture a few days before our incident and this tree was just starting to turn all of it beautiful colors. Now, two long weeks later, about half of the leaves have already fallen!! I missed the first two weeks of October!
We have received many blessings and prayers that have been answered. I am grateful for so many good friends and ward members that have supported us through this incident.
I know that there are many of you out there that have difficult trials that you are going through. Hopefully you will find a way to find peace and comfort through the hard days.
My daughter and granddaughter stayed with me through the first few days and I am so lucky to have such a kind, thoughtful daughter.
And her daughter is learning to follow in her footsteps!
They were both such a blessing to me and they held me up during those first few days!
One night, after being at the hospital all day long, my daughter quoted Stuart Smalley from Saturday Night Live. The next night my granddaughter put it up on my letter board!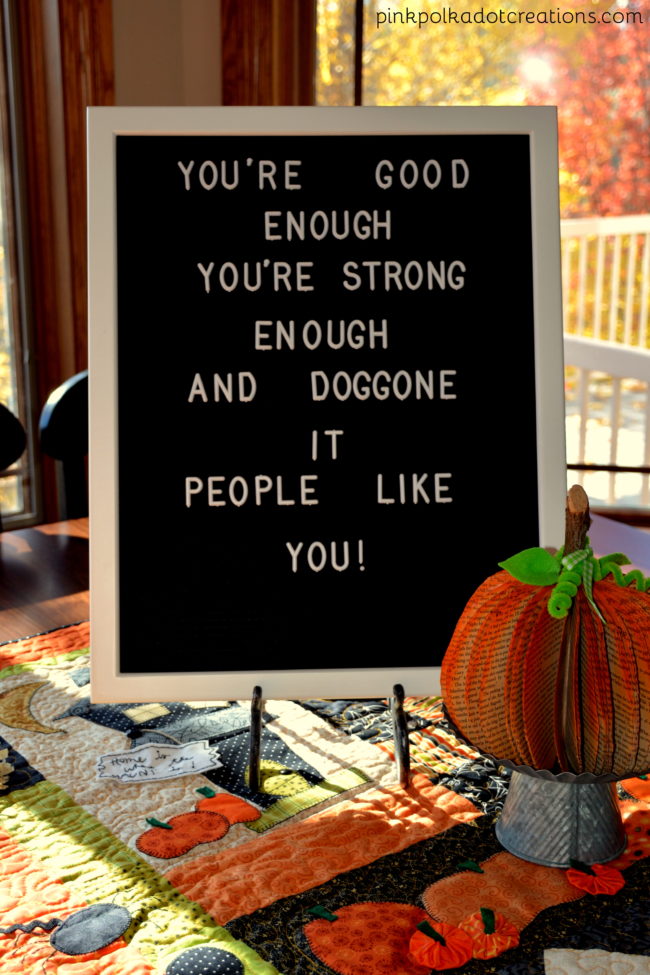 We were able to laugh about my daughter's imitation of him! We put it up on the kitchen table and every time I walked by…it would put a smile on my face!!
All of my kids have been such a help and a support to me. They have really stepped it up and done so much. I don't know if I have thanked them enough or said "I Love You" enough, but hopefully they know!
After Two Long Weeks, my husband is well on his way to recovery and we expect him to get back 100%. Thanks to all of you for your prayers and concern.
If you are going through a tough time right now, please know that you are loved and you are not alone! Remember:
You're Good Enough
You're Strong Enough
And Doggone it
People Like You!
Hope you have a wonderful Day…Thanks for Visiting!