With all of my recuperating time from my accident and now with summer coming to an end really quick (the kids start back to school next week!) I did not get to my usual sewing classes for all the granddaughters. But I decided that I would do a class with my oldest granddaughter because she is now old enough to do most of it on her own! Eight years old is a great time to start your little ones sewing, because they are so excited about it and they are getting the coordination that is needed to run the foot pedal and guide the fabric at the same time!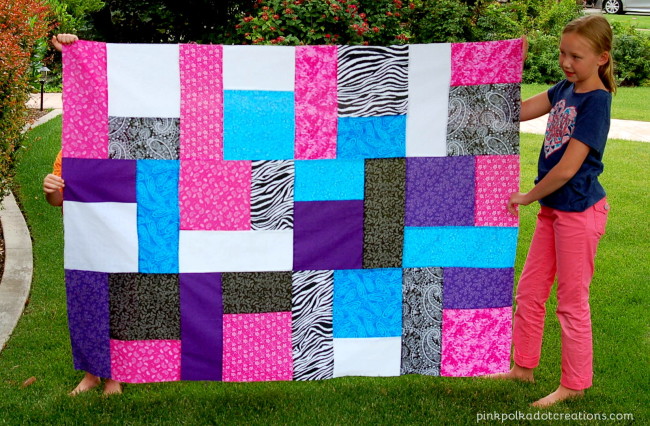 This pattern is called "Turning Twenty", but we only did twelve blocks! It is a perfect size for a lap quilt for her!
When we decided to make this quilt, I took her to JoAnn's and let her pick out 12 fat quarters of fabric. I told her that she could do any colors that she liked. I knew for sure that there would be pink in there, but I love the other colors that she chose to go with the pink! She said that they are the colors of the Monster High dolls and the each color reminds her of a different doll!
Her mom helped me cut out all of the blocks because I am still having a bit of time using my rotary cutter, and this is one quilt that you can cut 4 fat quarters at the same time and I knew that I would never be able to go through all of those layers! Thank goodness for moms, right?
She went right to town on this quilt and was loving every minute of it! She kept telling me that she LOVED sewing and how much fun she was having! She did ALL
of the sewing on this quilt. I did all of the pinning and the pressing.
She had all twelve of the blocks sewn together on the first day! I was very impressed with how straight her seams were! We only had to unpick a few times, but that is okay because we wanted to get it just right for when we started assembling all of those blocks!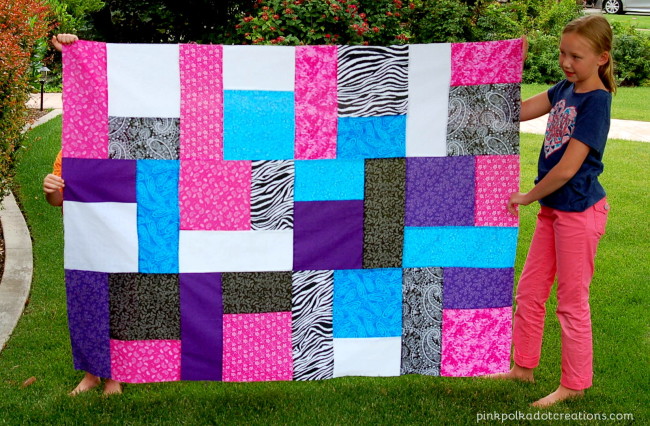 The next day when she came to my house, we laid it all out and she sewed it all together! Look at how all the corners match up perfectly! She did such a great job! (this quilt is sideways, because they weren't tall enough to hold it up right side!) Now all she has to do is to put a border all away around the edges. We will do that at the next sewing class, then I will quilt it and bind it with the zebra print. When we were deciding to make a quilt the first question she asked was "Can I have a minky back?" So we will have to go find a fun minky to put on the back of this!
We also decided that it was time to start a sewing kit. So we got some of the basics and she can now have them for other projects. She is so excited about sewing right now, that I think we are going to have to find another project to keep the enthusiasm going! :)
Little brother had to get in the picture too! Do you think that it is about time for school to start?
Do you have someone that wants to learn how to sew? This is a great project if they have some of the basic skills down already. It is just straight lines and simple blocks. When it came time to sew the blocks together she got a little nervous because I told her she had to sew over the pins that were at the corners. But after the first one she was a pro and was able to sew the entire quilt top together! I love this bonding time together and that she loves to do some of the same things that I do! Life is Good! :)
Thanks for visiting today!
Have a great Weekend!