Mason Jar Roundup -15 Top Ideas!

Today I thought it would be fun to do a mason jar roundup! I love, love, love the versatility of mason jars. I also love that they are not just for canning anymore!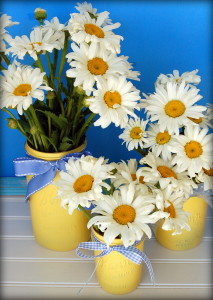 Here is a great tutorial on how to make painted mason jars.
These are so super easy, all you need are some jars and a can of spray paint! Of course these can be done in any color and for almost any occasion.
I love the look of these Epsom Salt Luminaries, she made them for Christmas, but I think they would be beautiful any time of the year. I would probably tie a ribbon around the middle, but that is just because I have a thing for ribbon! :)
These doilies and burlap jars make me swoon!
These are so romantic and would be perfect for weddings or candlelight dinners! I have these on my "to try" list! :)
Another thing on my "to do" list is this Mason Jar Soap Dispenser.
I love the look of these and there is a full tutorial at this link!
How about these beautiful floating candles!
I love the simplicity of these, yet they are elegant enough for a wedding!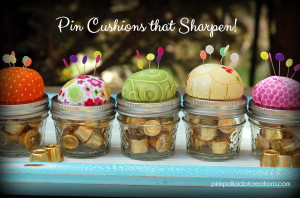 These pin cushions made with small mason jars are a great little gift idea and they also sharpen your pins when you use them!
Here is another fun thing to do with your mason jars! Write on the jar with a hot glue gun before spray painting! I love the look of these. I also love just the spray painted Kerr jars because the writing shows up so cute!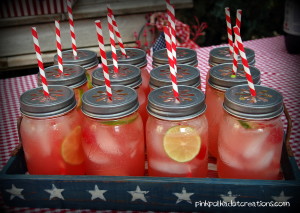 Of course they are perfect to serve your ice cold Cherry Limeade drinks in too!
Here's another great idea! Cute Ribbon Storage! :)
How about this darling sand and candle display? Beautiful!
I love this tutorial on how to make colored tinted jars, and you probably already have all the things you need to make these little darlings!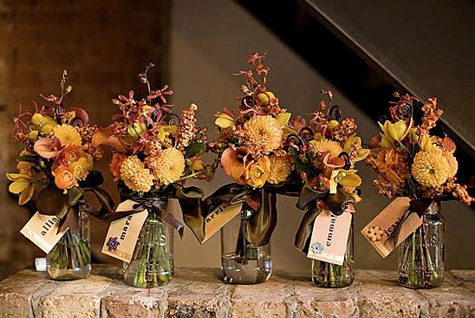 How about these beautiful name tags for receptions!
They would be fun for a dinner party and each guest could take home their own little bouquet!
Apothecary candy jars. So cute!
And of course they are the perfect packaging to put cookies in to give away to someone special!
Here is one last idea, Solar lights using mason jars! Genius!
So do you have any mason jars at your home that could have a new use? I know that I have a couple of these projects that I am excited to try out!
I hope that you have a great day everyone! Love Ya!
If you have not had a chance to check out my shop yet, I would love to have you visit! Just click on the link at the top right next to the home link! Check back often, as I will be adding new things on a regular basis.
Pin It
Tags: 15 uses for mason jars, candy jars with mason jars, crafts, decorating with mason jars, doilies and burlap mason jars, drink glasses using mason jars, for the home, how to make mason jar apothecary jars, how to make mason jar candles, how to make mason jar pin cushions, how to make mason jar soap dispensers, how to make mason jar solar lights, how to package cookies with mason jars, ideas for mason jars, mason jar roundup, mason jars, practical ideas for mason jars, ribbon storage with mason jars, tutorials