DIY Christmas Book Angels
How is everyone doing on their Christmas preparations? We had our big Sinterklaas Party last weekend and it was so fun!
The kids all had a great time and we had a jolly old visitor come!
After he left we gave everyone their Christmas jammies and blankets and I gave each family one of these Christmas book angels!
My husband wrote a letter about an experience that he had while in the hospital a couple of months back. And I told each person in the room what an angel they had been to my husband and I during that time. Each one of them did something that showed they were an angel to us!
We played a music video of the song "Angels Among Us" by Alabama.
It was a special evening and it was perfect to start off the Christmas season with the spirit of love and service!
These DIY Christmas Book Angels are fun to make and I thought that perhaps some of you would like to make some too!
They are easy to do, but were a little bit hard on my poor arthritic hands!
You will need a hard back book, that is about 100-150 pages. I also used bigger books and carefully cut them in half.
Using an Exacto knife, cut off both the front and back covers. If you are using a larger book, cut it down to about 150 pages.
1. Fold the right corner down to meet the center of the page.
2. Fold that again to meet the center of the page.
3. Open up the fold and fold up the little triangle. It will be tucked up in side the page.
4. Refold the page. You have one done…only a ton more to go!! :)
You can see in the center picture what your angel will look like as you work your way through the pages.
These are great to work on while you are watching a fun Christmas movie!
After you are finished, you will need to spray paint the book angel gold. A metallic gold works the best with the glittered ornament head. You could spray it with spray adhesive and sprinkle with glitter if you want. I did not do that, because I did not want the glitter mess!

The angel has a gold glittered ornament for the head, some gold ribbon and accordion folded wings.
To make the wings, I folded 3 pages landscape style in an accordion style and glued them together. Then find the middle and put a staple to hold it together. Then spread it out to look like wings.
To put the angels together, simply hot glue the ornament for the head. There is a little hole in the top, that the ornament loop fits perfectly in.
Tie a gold ribbon bow around the neck.
Then hot glue the wings on the back. I did not paint the wings…I left them the natural page color and I love that!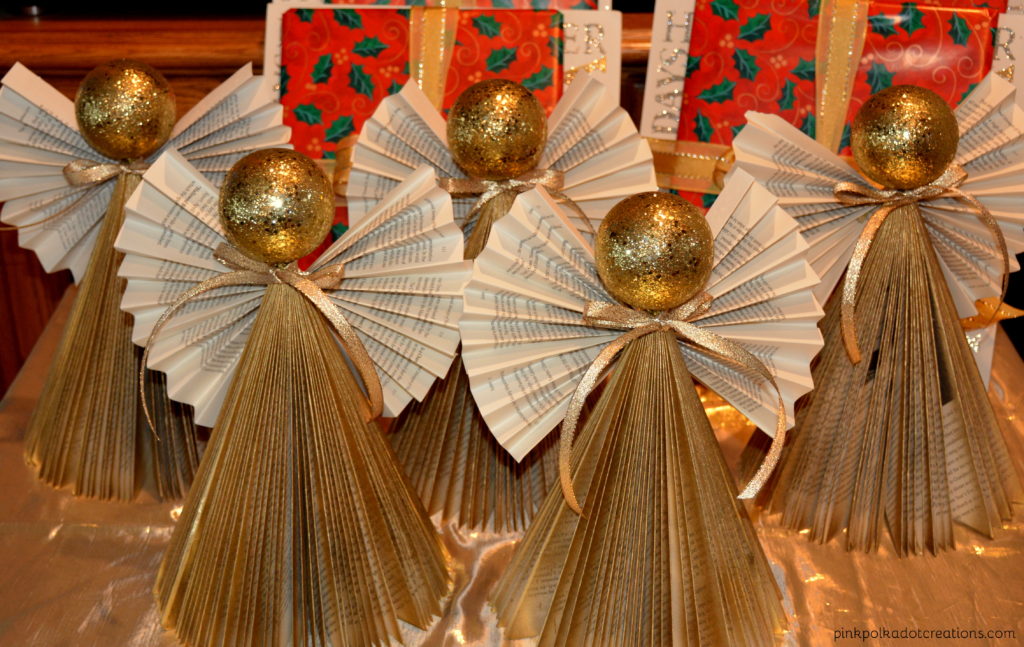 We had a whole choir of angels!
So that is how to make your own DIY Christmas Book Angels. Do any of you need a fun Christmas angel to give to the angels in your life??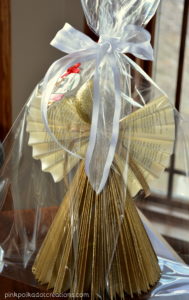 My friend, gave me some large cellophane bags and they are perfect for tying these up for a darling little gift!
Thanks for Visiting! Be someone's angel today!