My granddaughter and I made pillows, pillows, and more pillows! I guess you could say that we had Pillow-Mania! I am just about done with my sewing room makeover and I have two window seats that needed lots of pillows.
So we went to work making pillows…we made tall bag pillows, square pillows, pieced pillows and flower pillows!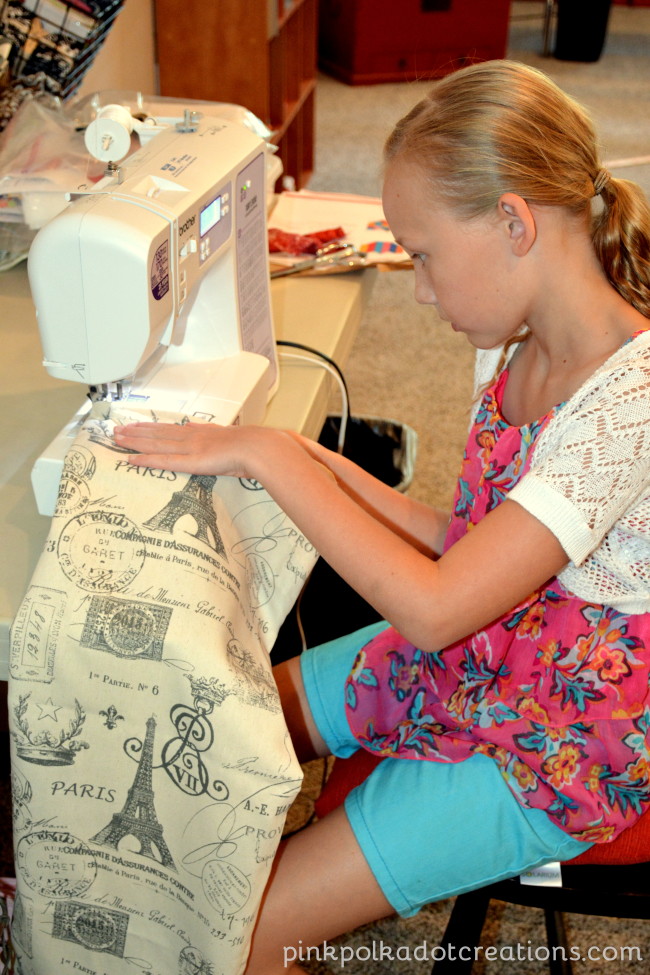 My granddaughter is getting great at making pillows! I cut them out and she would sew around them, turn and stuff them and then I would do the hand sewing to sew them closed. We had a pretty good system going!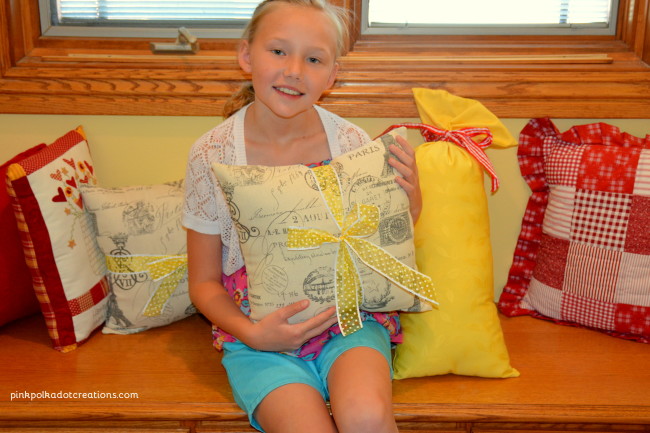 We did two different window seats and she picked out her favorite pillow on each of the seats. We made most of these pillows, but my granddaughter went house shopping and found a few pillows that I had in a spare bedroom that matched perfectly!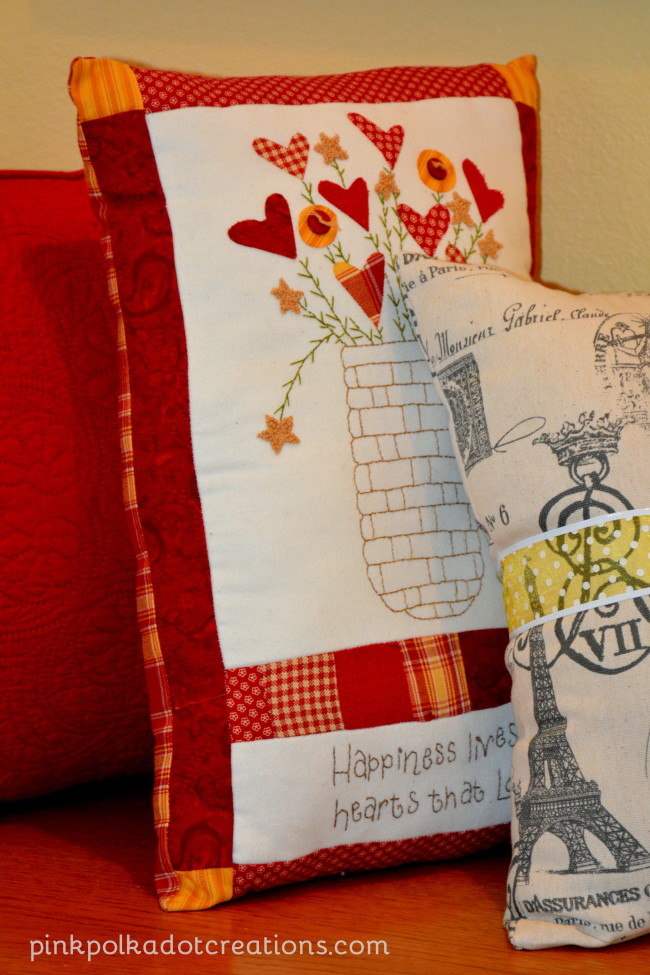 This is one that I had done earlier that she found in the spare bedroom and it was perfect…with the red and yellow colors!
So this is what one of the window seats looks like! I am loving the red and yellow with a little bit of grey in there. This truly is my happy place!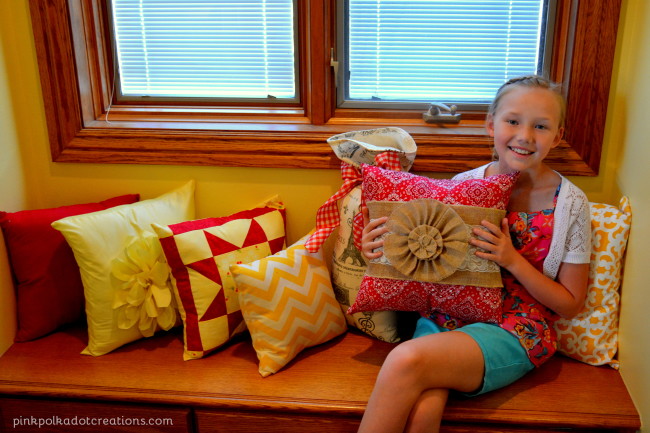 This is the pillow that she picked from the second window seat. She picked out the bandana fabric and added the burlap wrap that we stole from another room! We bought a couple of the pillows envelopes from Hobby Lobby and all we had to do was make a pillow form like we did here, from the Wal-mart bed pillows. We bought 7 Wal-Mart pillows to make 10 pillows! They were on sale for less than 4 dollars, so they are definitely the way to go, even if you just cut them open and use the stuffing to fill the pillows.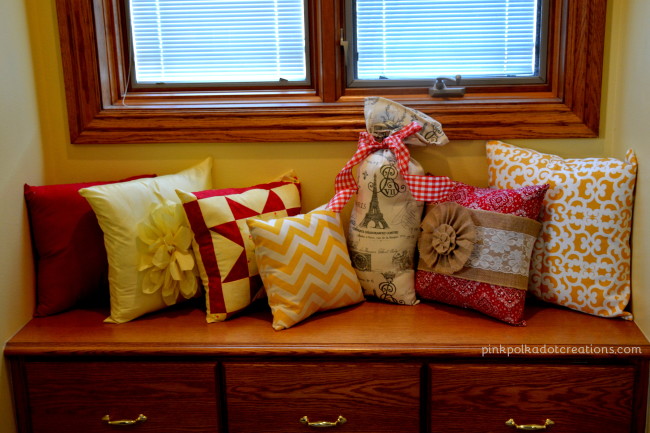 I love all of the goodness here! We had a great time making and arranging these pillows and I am so glad that I had my own personal interior decorator! My granddaughter has been a great help and a great worker.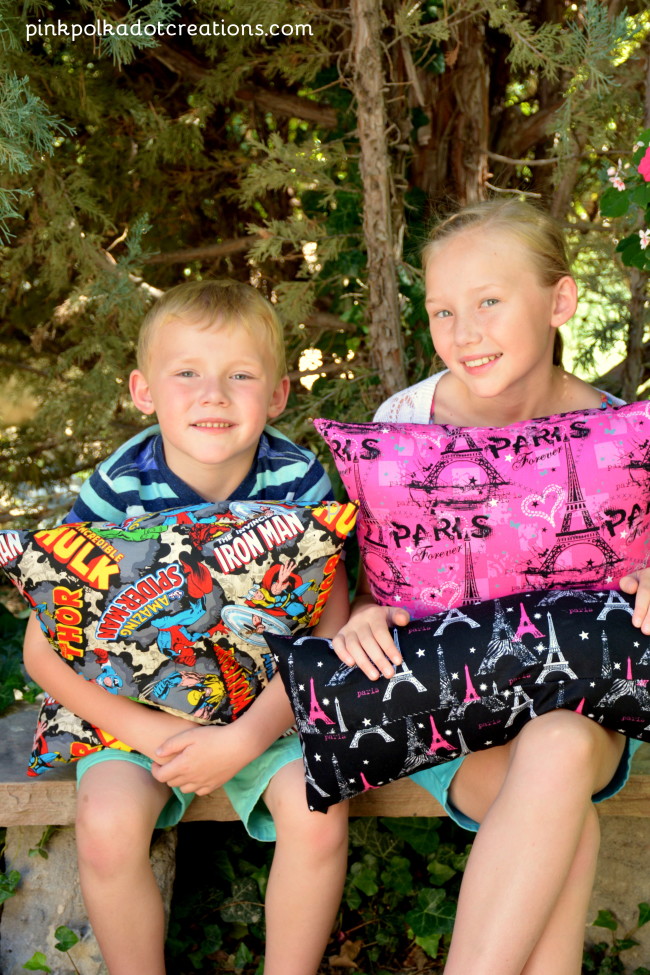 And then if all those pillows were not enough…we had to make a few more pillows for their bedrooms! We really had pillow-mania! My granddaughter has all of the sudden gotten an obsession for Paris, so she picked two fun fabrics to go on her bed. My grandson's room is done in super hero's, so when he saw this fabric he was not about to be left out! :)
So that is our pillow-mania! We had a great time together and hopefully we made a few fun memories! I have put all the finishing touches on my sewing room and it is truly my happy place, and it is now ready for my reveal! So stay tuned!
Thanks for visiting today!