Today I am finally showing you some of my sewing room makeover ideas! It has been a fun project to do with my granddaughter and we have enjoyed seeing it all come together! But we would get part of it done and cleaned and organized and then we would make pillows, pillows and more pillows...so we would have to clean up that mess and then I quilted my Americana quilt in between times and had to clean that all up! This room definitely gets used!
So here is a wide view of my sewing room. This is a big, long bonus room that is above the garage. I love that I have room to lay my quilts out on the floor when measuring for binding or just to lay the blocks out to see what it looks like. This is a big open room and I have plenty of room to spread out in!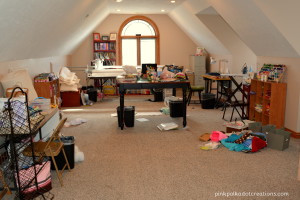 This is the before picture. I mostly just organized and decorated this room.
These pictures are from the entrance as you would walk into this room. I bought a door rack from the container store to put all of my books for quilt patterns, bag patterns and the big book on the bottom rack is all stitchery patterns! The wooden box in the bottom right corner holds all of my embroidery floss! Each one of those little bags has a different color in them! My granddaughter and I had to re-organize several of the colors and put them back in place…they are all numerical. I moved my mannequin from down in my kitchen to this corner in my sewing room. My granddaughter put a new apron on her and added ribbons to the hat! So cute! I found the antique can at Hobby Lobby and it is going to house all of my mom's old buttons!
I found these two basket stands and ladder and we filled them with all of the quilt kits that I have not made yet…I know it is a little embarrassing! I have a lot of work to do! I keep telling myself that I cannot buy anymore quilt kits until I have finished up a few of these…now I just need to listen to myself. :) The little portable Brother sewing machine in the top right picture is where everyone who comes to sew with me sits! They have their own little work station.
This is where the bulk of the work gets done in my sewing room. Some of the sewing room ideas for this makeover are, that I have a high cutting table with two mats on it and two rulers. I have my scraps of fabric organized by color in the two cubicles on each side of this table, with the threads organized by color on the top of one of the cupboards. My sewing machine in the top right picture is an OLD Bernina Industrial sewing machine. It works so good that right now I would never give it up! It is an industrial machine…so it goes very fast! No one really likes to sew on it but me! :) And the picture in the middle is my Handi Quilter 16 long arm quilting machine! I am loving this machine, even though I feel like I am still learning on it! (There is a sneak peek of the Americana quilt that my friend and I are making!)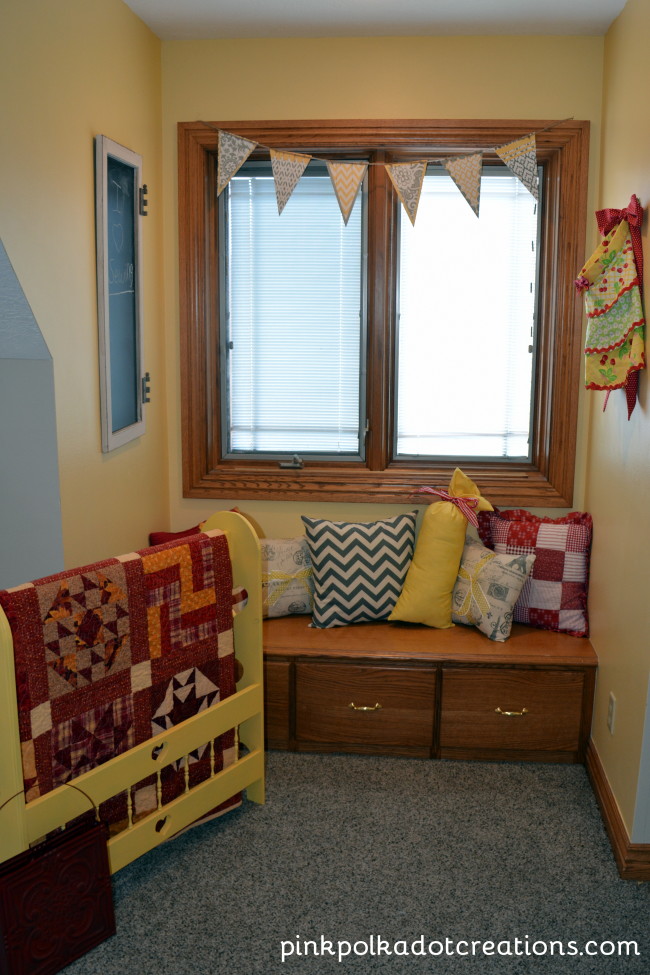 Here is where the fun part comes in…I painted the window alcoves a delicious butter yellow and we accented with the red and grey! I have two window seats and they have never been decorated…so now they are and they make me very happy! The red and yellow quilt is one that a dear friend, Bev, taught me how to make. It was is a pieced quilt that she taught a group of us how to make . We made a couple of blocks a month and they are all different.
I hung a fun red and yellow apron on the wall with a doorknob hanger. The table in the bottom right houses my light box. This is where I trace all my patterns for stitching and for quilt appliques. I just traced another one of my blocks of the month, it is so nice to trace, cut and iron all in the same space! I found this cute banner at the craft store and the fun chalkboard. My granddaughter wrote this fun message on it.
Here is my other window alcove. I found this darling red sign and a fun red basket shelf. I then added my fun vinyl saying above the window and with all the fun pillows this is just a super happy place!
To finish off the decor for my sewing room, I had to add a few quilts. The one on the bottom two pictures are a quilt that I made when I was only about 11 or 12 years old! We learned how to cross stitch in primary and we made a fun sampler pillow. Well, I had my stitching done in just a matter of days, so my mom took me down to the fabric store and we bought a kit that had stamped quilt squares! I cross stitched half of the squares and my mom sewed the other half! Then she made it into this quilt and hand quilted it for me! I used it a lot when I first got married and some of the edges are really worn. I need to see if I can restore it back to the original state! I have very fond memories of this quilt and it has a lot of love in it! The quilt on the top is one that my sister made me after our mom passed away. It has all of her scraps in it! It also is very precious to me and means a lot.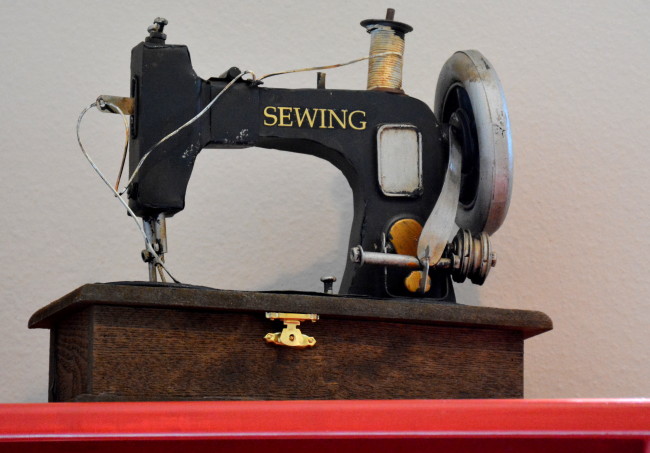 This fun little antique sewing machine decoration sits on the top of my book shelf. It is a reminder to me that sewing has gone on through all the ages and that it can bring people together and you can create many precious memories while you are sewing. I am so grateful that I had a mother that taught me how to sew. She made me unpick it, if I did it wrong and do it over and that is how I learned a lot of my sewing skills. I hope that I have passed this on to my daughter and hopefully now I can pass it on to my granddaughters!
Now that I have my own little "Happy Place" that I can sew, quilt, and create lots of great memories…my husband might not ever be able to find me! :)
Do you have your own little happy place? It might be your kitchen, a reading nook, or perhaps an outdoor room. I hope that you can find a little space that makes you happy and that you can share that happiness with someone you love.
Thanks for visiting today…have a great weekend!