Well, are you ready for a new month and the Feb. 2017 Visiting Teaching Handout?
This month the lesson from The Church of Jesus Christ of Latter Day Saints is:
"Christ's Atonement is Evidence of God's Love".
This lesson is perfect for the month of February or the month of Love!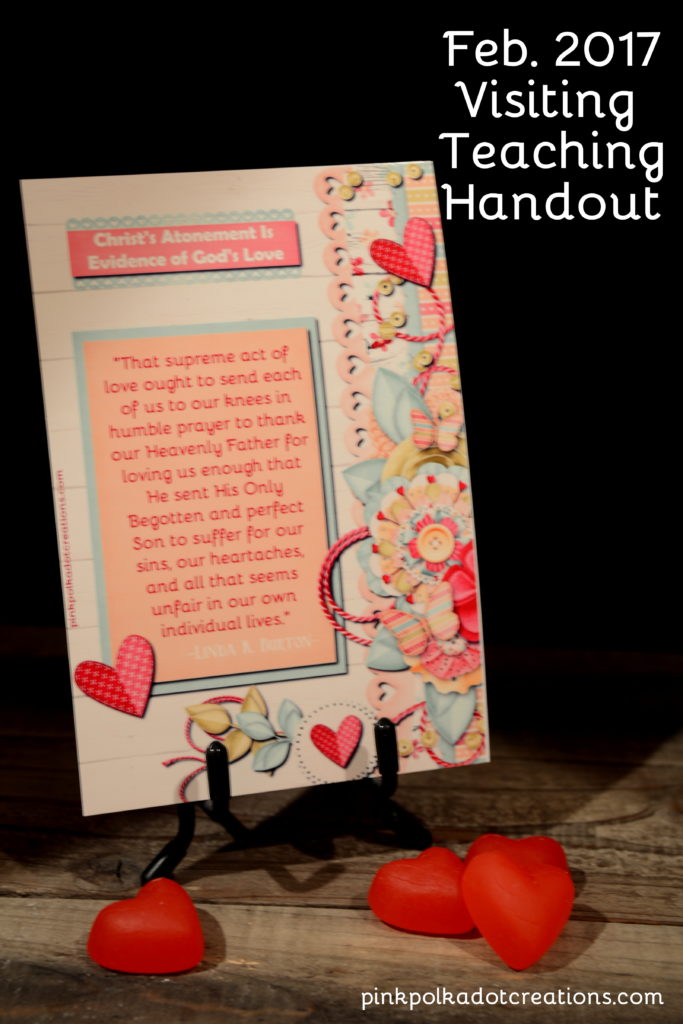 I chose the quote from Linda K. Burton about "That supreme act of love from our Heavenly Father." And from His Only Begotten , perfect Son. Love This!

This is the message card. For those of you that would like to print it as a jpeg, right click over the image. Then go to "save image as" and save in a folder. You can then print from there or send it out to your favorite photo processing center. As always, the handouts are formatted to a 4 x 6 size.
Here is the blank card for those of you that would like to translate. Or for those of you that need a note card, an invite, or a handout for a lesson. But please remember, that all of my handouts are for personal use only.
Those of you that would like the PDF format…just click on the link or links below:
I did not do a specific handout for this month. But here are a couple of ideas that you could use with your message:
The bath bombs that I did would be a fun handout. There is also a tag that you can print should you decide to do those.
You could also make some yummy Valentine Muddy Buddies with Circus Animal Cookies! These would be really cute just in a cellophane bag!
Of course, Ju-Ju hearts or conversation hearts would be fun to do. Really, anything with hearts would work. So let your imagination run wild!
So that is my Feb. 2017 Visiting Teaching Handout. As always…please remember that it is the visit that is important…not the handout!
Thanks for Stopping By, Happy Visiting this Month!
The images for these handouts are from "justsoscrappy.com", from the "Tea for Two" collection. They are used with a CU licence.